Due to an influx of spam accounts getting through and joining the site, user registrations have once again been disabled until further notice as we work on a different solution.
Uchi Hiroki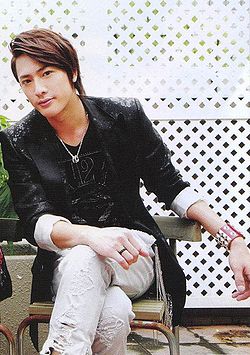 Uchi Hiroki is a former member of Johnny & Associates groups NEWS and Kanjani8.
Profile
Name: Uchi Hiroki (内博貴)
Nicknames: Uchi, Ucchi, Ucchan, Honey Toast (by Subaru), Hiyoko, Hiyo, Piroki, Prince of Eito, Shakkun (by Ryo), Pinku
Birthday: September 10, 1986
Birthplace: Habikinoshi, Osaka Prefecture, Japan
Height: 176-177cm (his own words)
Weight: changes between 66-55kg
Blood Type: AB
Hobbies: Golf, driving, online games, cooking, taking baths and buying clothes to his dogs
Family: Parents (Hiroshi and Kayo), one younger sister (Aoi)
Speciality: Baseball
Pet: Toy poodles - Leon and Maron, papillon Poodle mix - Mickey, chihuahua - Uni
Favorite Food: His mother's cooking
Favorite Drink: Caramel macchiato, jasmine tea
Favorite Song: "Akai Sweet Pea" by Matsuda Seiko, "Part Of Your World" (The Little Mermaid OST)
Favorite Season: Fall
Information
Uchi Hiroki entered Johnny's Entertainment in April of 1999 when he was 12 years old. He was put into the group Kanjani8 and later was picked to participate in the group NEWS together with Nishikido Ryo. He is known as one of the odder members of NEWS as he always answers questions creatively.
In July 2005, he was temporarily suspended after being caught drinking in public while being under the legal drinking of 20. At that time, Uchi was acting in drama called Ganbatte Ikimasshoi; he was replaced by fellow Johnnys-member, Taguchi Junnosuke of KAT-TUN.
It was announced in January of 2007 that Uchi and Kusano Hironori were off their suspension and instead put in training, receiving the title "trainee". This title is even below "Junior" level so it basically meant that the two of them were going to start from scratch. For many months it was silent but in May it was announced that Uchi, together with Kusano, would star in Shonentai's PLAYZONE 2007 musical. The three members of Shounentai said in an official statement at johnnys-net.jp that they hoped that both Uchi and Kusano would be able to leave the "trainee" status once the shows are over at the end of September.
In January 2008, it was said that Uchi and Kusano Hironori were graduated from their trainee position. As for graduating, Uchi acted in a drama called Isshun no Kaze ni Nare, also starring Nishikido Ryo. Later, he starred the drama Osen. In January 2010 Nikkan Sports reported that Uchi Hiroki will not return to either NEWS nor Kanjani8, he will participate in solo activities from now on.
In October 2013 his name was moved from Johnny's Jr. homepage at Johnny's-net. He has been given his own section in Johnny's-net as well as in Johnny's-web.
Trivia
First word he ever said was "cappuccino".
His first kiss was in kindergarten. Said he was really popular back then and there was a line of people who wanted to kiss him.
Domoto Koichi called him "true Kansai person"
Really loves dogs.
Once said if he could be an animal he'd liked to be a pink poodle.
Has horseback riding license.
Plays guitar (owns 1959 Gibson Les Paul Special Double Cutaway)
Collects aroma candles and bath salt.
Loves movies, manga, romance and detective novels.
Huge fan of Disney. "Little Mermaid" is his favorite movie. Good at impression of Winnie The Pooh "I want to eat honey. Puu".
Was a big fan of Britney Spears. Favorite song: "Lucky".
Wanted to cosplay Sailor Moon.
Charm point: his arms, "because are longer than average".
Underwent surgery twice because of appendicitis and an opening in his lung (pneumothorax).
Afraid of insects, especially cockroaches.
His image color in Kanjani8 was pink.
Nishikido Ryo was his best friend in Kanjani8 and NEWS.
Was the captain of the West baseball team during Johnny's Sports Day.
Closest relationship in JE with Uekusa Katsuhide from Shonentai and Kamenashi Kazuya. Good friends with Taguchi Junnosuke.
Good friends with Miyao Shuntarou (ballet dancer) and Kato Seishiro after starring in Yamato Nadeshiko Shichi Henge.
Yada Akiko became his ideal of woman after starring in Boku no Ikiru Michi.
Wants to share his room/house with Kamenashi Kazuya. Also loving his pasta very much.
Joined JE via audition - which he only attended to, because he got 500 yen from his mother.
If he hadn't entered the entertainment world, he would be a baseball player, but dreamed to be a pilot.
Loves his mother very, very much and was often teased about it.
His grandmother from mother's side is from very high class family.
His grandmother told him that he has royal blood in him... which Ryo liked to tease him about.
Apparently his grandmother has a royal scroll at home with a family tree, ascending to the Emperor Murakami (926 – 967 AD).
Works
Dramas
Movies
Theater Play
PLAYZONE'07 Change2Chance
PLAYZONE'09 ~Taiyou Kara no Tegami~ (PLAYZONE'09 ~太陽からの手紙~)
Guys & Dolls [April 2010]
Endless SHOCK [July 2010]
Guys & Dolls [August 2010]
Endless SHOCK [February-March 2011]
Ikemen Desu ne [October-November 2011]
Endless SHOCK [January-April 2012]
Duet (They're Playing Our Song) [September-October 2012]
Za Odasaku [May-June 2013]
Endless SHOCK [September 2013]
Za Odasaku [April-May 2014]
Endless SHOCK [September-October 2014]
Peer Gynt [July 2015]
Endless SHOCK [September-October 2015]
Concerts
Uchi Hiroki Nenmatsu Nenshi Rock na Nakamatachi Daishuugou (内博貴 年末年始 Rockな仲間たち大集合) LIVE 2008
Uchi Hiroki Uchi HIROCKY (UCHI 博貴 内 HIROCKY) LIVE 2009 (March)
Uchi Hiroki with Five and Question? LIVE 2009-2010 (December-January)
Uchi Hiroki with Question? ~Come on a my House!~ LIVE 2010 (April)
Uchi Hiroki with Question? LIVE 2010 (2010 December)
Uchi Hiroki with Question? LIVE 2011 (2011 August)
Uchi Hiroki with Question? LIVE 2011 (2011 December)
Uchi Hiroki with Question? LIVE 2012 (2012 May)
Uchi Hiroki with Question? LIVE 2012 (2012 September) Johnny's Dome Theatre ~Summary~
Uchi Hiroki Kurie Series (2013 July)