New user registrations have been disabled until further notice. If you would like to create an account, please message
Generasia on Facebook
. Thank you!
Kusano Hironori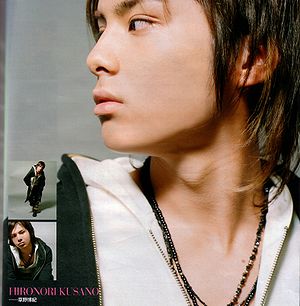 Kusano Hironori is a former member of Johnny's Entertainment group NEWS. He is currently a Johnny's Jr.
Profile
Name: Kusano Hironori (草野博紀)
Nicknames: Hiro, Kussa, Notti, Kusatsuchi
Birthday: February 15, 1988
Birthplace: Yokohama, Kanagawa Prefecture, Japan
Height: 170cm
Weight: 55kg
Shoe Size: 29cm
Blood Type: B
Family: Parents, 2 Older Sisters, 1 Younger Sister
Pet: Dog (Rikki)
Favorite Foods: Curry rice, Omurice
Disliked Foods: Spicy and bitter food, Green Pepper, Eggplant, Tomato
Weak Point: Ticklish
Favorite Girl Type: Treats others nicely
Weird Habits: Touches his nose
Radio Show: NEWS Kick and Spin Muzik
Favorite Artists: Usher, Alicia Keys, Beyoncé and Justin Timberlake
Information
Kusano Hironori entered Johnny's Entertainment in February of 2001 at the age of 13. As a Junior, he was a huge fan of Kamenashi Kazuya of KAT-TUN. He was a member of K.K.Kity before being put into NEWS, where he was the youngest and most energetic member.
In 2006 he was photographed with an alcoholic drink in his hand while under the legal drinking age of 20 years. Though he denies the claim that he was drinking it, due to Uchi Hiroki's suspension Johnny's Entertainment issued an apology and put NEWS on hiatus for a year.
In January 2007, Kusano and Uchi returned from suspension but instead of returning to their groups, they were instead demoted to the level of "Trainee" which is lower than the "Junior" title. It was announced in May however that Kusano and Uchi would participate in Shounentai's PLAYZONE 2007 musical.
As of January 2008, Kusano has graduated from the title of "Trainee". Although Uchi Hiroki's solo activities was announced with a dorama, Kusano's are still unclear. Preparations are being made for his own return but since he is still attending Hosei University, no definite plans have been made.
In April 2008, he went to New York to spend a year for singing and dancing lessons.
Works
Dramas
Theater Play
PLAYZONE'07 Change2Chance
Television Shows