New user registrations have been disabled until further notice. If you would like to create an account, please message
Generasia on Facebook
. Thank you!
Kato Shigeaki
Kato Shigeaki is a member of Johnny's Entertainment group NEWS.
Profile
Stage Name: Kato Shigeaki (加藤シゲアキ)
Real Name: Kato Shigeaki (加藤成亮)
Nickname: Shige
Birthday: July 11, 1987
Birthplace: Osaka, Osaka Prefecture, Japan
Height: 175cm (5'9")
Weight: 60kg (132 lbs)
Blood Type: A
Pets: Dog (Nana)
Radio Shows: SHIGET TOGETHER (2005-2008), SORASHIGE BOOK (2011-)
Information
Kato Shigeaki joined Johnny's Entertainment in April of 1999 and was originally part of the unit J-Support a.k.a K.K.Kity with, amongst others, Koyama Keiichiro and Kusano Hironori before he was selected to be in NEWS in 2003. At first, his role was a minor one with little exposure and promotion. After 2006, the group structure changed, pairing him with Koyama Keiichiro and creating the duo KoyaShige. The last member loss effectively dissolved the sub-unit structure of NEWS. With Tegoshi Yuya and Masuda Takahisa as main vocalists and Koyama Keiichiro as leader and spokesperson, Kato took the role of advisor who keeps a level head.
In January 2012, his debut novel "Pink and Grey" was published, which made him the first JE idol to become a writer. Two novels and a short story collection followed. In 2012, "Pink and Grey" was adapted into a manga; 2016 a movie adaptation followed featuring Hey! Say! JUMP's Nakajima Yuto in the main role. His short story collection "Kasa wo motanai aritachi wa"(Of ants and umbrellas) inspired the drama of the same name.
Kato pays the guitar, has composed several songs for fellow members as well as all of his own solos. His interest in photography prompted the series "PhotoShigenic", which ran from 2012 to 2015 in Wink Up. In 2016, he directed the PV for his solo "Escort" as well as some of the video material shown during the QUARTETTO tour.
By 2016, Kato's popularity had made a significant jump reaching about the same level as Masuda Takahisa's. [1]
Vocal Profile
Voice Type: Basso cantante (High lyric bass-baritone)
Trivia
In NEWS, Kato is assigned the color green and he is associated with the shape of a circle. The letter "W" in "NEWS" is sometimes referred to as standing for "writer".
He graduated in March 2010 from Aoyama Gakuin (law department), becoming the 3rd member in NEWS after Koyama Keiichiro and Yamashita Tomohisa to graduate from university.
Kato's image is dominated by him being smart, creative and rather introverted. He's also shown to complain a lot.
Kato has expressed support for the LGBTQ+ community in several ways, e.g. by featuring LGBTQ+ themed songs on this radio program, covering LGBT issues on TV programs that he hosts and writing a short story with a gay protagonist. His solo song "Ayame" is built around the theme of diversity explicitly including different sexual orientations.
He wrote his first novel in the span of six weeks.
Kato's hobbies include cooking and fishing.
Kato loves movies and has a great interest in directing.
His photos of Koyama Keiichiro during their trip to New York were published in 2009 as postcards and could be purchased as merchandise for Koyama's stage play "CALL".
In the movie adaptation of "Pink and Grey", he appears in a small cameo role.
He is famously bad at sports.
Kato is allergic to cats but still likes them. Therefore, the entries to his first J-web "Wagahai wa neko darou" were written from his "imaginary" cat Wagahai's point of view. The series was inspired by the book "Wagahai wa neko de aru" (I am a cat) by Natsume Soseki.
He is left handed.
He has narcolepsy.
Works
Dramas
CM
Theater Play
[2008] Konnanyatte Mimashita.
[2009] SEMINAR
[2011] 6 gatsu no Bitter Orange
[2014] Naka no Hito
Television Show
Publications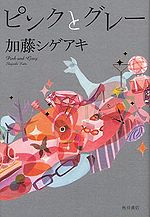 Books
[2012.01.28] Pink and Grey (ピンクとグレー)
[2013.02.26] Senko Scramble (閃光スクランブル)
[2014.03.21] Burn. (-バーン-)
[2015.06.01] Kasa wo Motonai Aritachi wa (傘をもたない蟻たちは)
[2017.12.12] Tuberose de matteru AGE22 (チュベローズで待ってる AGE22)
[2017.12.12] Tuberose de matteru AGE32 (チュベローズで待ってる AGE32)