New user registrations have been disabled until further notice. If you would like to create an account, please message
Generasia on Facebook
. Thank you!
Tegoshi Yuya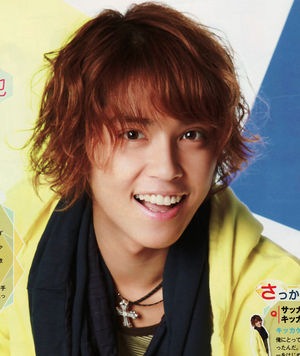 Tegoshi Yuya is a member of Johnny's Entertainment group NEWS as well as the duo Tegomass.
Profile[1]
Name: Tegoshi Yuya (手越祐也)
Nicknames: Tegoshi, Tesshi, Tegonyan
Birthdate: November 11, 1987
Birthplace: Yokohama, Kanagawa Prefecture, Japan
University: Waseda University but he droped-out in 2010.
Blood Type: B
Height: 170cm
Weight: 56kg
Pets: Dogs Tiny and Skull
Favorite Colors: Black, White, and Pink
Favorite season: Fall
Family:Father (deceased in 2015), mother, grandmother
Hobbies: Soccer
Favorite food: Yakiniku
Disliked sport: basketball
Favorite words: Popopopo (ポォポォポォー), Ti (テイ)
Favorite singer: Celine Dion
Disliked animal: insect, spider
Fear: height
High School: Horikoshi
Pet: Tiny (Papillon), Skull (Tea Cup Poodle)
Information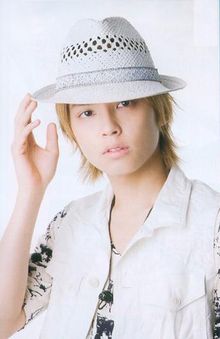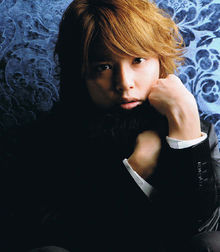 Tegoshi was born in Yokohama, Kanagawa, Japan. He, his mother and grandmother live together now. As matter of fact, he lost his father in January 2015. He confessed that in front of his fans. He is only child in his family.
He played soccer when he was a little and enjoyed bowling and billiards. He was quite good at doing sports. According to what he said, it is good for his fans to cheer Tegoshi. [2]
Tegoshi Yuya joined Johnny's Entertainement in December 1, 2002.[3] He debuted with eight other boys as NEWS only 8 months after joining the company. He is now recognized as possibly the best singer in NEWS.
Along with Masuda Takahisa, they formed the special unit Tegomass, debuting in Sweden in 2006. Their single was titled Miso Soup, and they have released two more singles under the name, to this date.
Prior to this, He took the exam for Aoyama Gakuin where Kato Shigeaki studies, but he failed the test and instead passed the test for Horikoshi High School and is now in Waseda University studying Psychology through Online courses, as his schedule would not permit him to attend lectures regularly. He is aiming for a major in Human Sciences. He dropped out in 2010 to fully focus on his career.
Vocal Profile
Trivia
He introduces himself by putting his right hand palm out in front of his face, a gesture given to him by Domoto Tsuyoshi.
During live performances he likes to twirl his index finger at the camera.
He is considered spoilt by his bandmates and once forced Masuda onto a smaller bed in a hotel room.
His bandmates often describe him as being "harmlessly self-centered."
In an appearance on Domoto Kyoudai, he said that Yamashita Tomohisa was his most admired senpai because he saw Yamapi's dramas and thought that he was cool.
He often hangs out with bandmates Masuda Takahisa and Koyama Keiichiro.
It is well known that bandmate Nishikido Ryo likes him a lot, often doting on him and coining the nickname Tegonyan.
His mother and grandmother post his posters all around the house.
He gave Masuda the nickname Massu.
He likes to bite his lips.
He is a fan of L'Arc~en~Ciel and Koda Kumi.
He gets along well with Masuda Takahisa, so even on days off they go to the gym and train together, and go to a sentō afterwards.
He has played soccer for over 10 years.
He usually wears contact lenses.
He owns a Papillon dog named Tiny, which he dotes on. He even said that Tiny is his girlfriend.
He has a driver's license.
In an appearance on the music show, Utaban, during late 2007, Tegoshi has stated that his face has changed so much over the past years that people have asked him if he had plastic surgery done (which he hadn't).
He is the seiyuu for Mumble, main character of Happy Feet, in the Japanese-dubbing version of this Academy Award-winning animated film.
When he was younger,he had no fashion sense.
Works
Doramas
Movies
Voice Acting
Plays
[2007] Tegoraji (テゴラジ)
[2009] DREAM BOYS
CM
Television Shows
Radio
[2005-2006] NEWS Tegoshi Yuya no What A Wonderful Music! (NEWS 手越祐也のWhat A Wonderful Music!)
Discography
Solo songs
YOU-world is yours-
Sunadokei (with Masuda Takahisa) (Non-album song)
Stars (from NEWS Best Unreleased Recordings)
Ai Nante (from NEWS Best Unreleased Recordings)
Gombaiko (from NEWS Best Unreleased Recordings)
ADDICT (from Chankapana "S" edition) - lyrics/music
Lovin' U (from NEWS (album)
Anata (from "White")
Encore (from "Quartetto")
Original Composition
Over (lyrics with Kato Shigeaki)
Trash box (lyrics)
Kanade (lyrics/music)
Publications
Magazines
[2011.01.xx] POTATO February 2011 Issue (Feature)
[2011.06.xx] Myojo August 2011 Issue (Cover & Feature)
References