Due to an influx of spam accounts getting through and joining the site, user registrations have once again been disabled until further notice as we work on a different solution.
Tegomass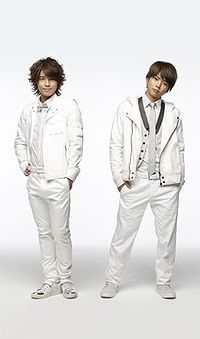 Tegomass (テゴマス) is a Johnny's Entertainment male unit. It is composed of Tegoshi Yuya and Masuda Takahisa from the group NEWS. The unit's name comes from the start of each member's last names. They originally released the single "Miso Soup" in Sweden in November 2006 and held several promotions there. A month later in December, the duo released the Japanese version of the single in Japan.
Members
Information
Tegomass did a promotion trip in Sweden from November 14-17 in 2006.[1] On the 14th they were occupied with various interviews for TV and newspapers, but on the 15th they held a promotion even at SpyBar in Stockholm. There, Tegomass performed "Miso Soup" (in English), as well as "Hajimete no Asa" live on stage. After their performance, Tegomass held a handshaking event for all the fans and the fans were also able to say a few words to them. The Swedish edition of the single "Miso Soup" (which includes the title track in English and as karaoke track) could be bought during this event, along with the Swedish edition of Shuuji to Akira's single "Seishun Amigo". On the evening the same night (from around 7:30 PM to 10:00 PM), there was a release party, also at SpyBar, for journalists and fans over 20 years of age who signed up on the guest list.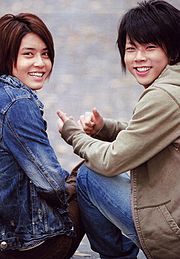 A month later, Tegomass released their debut single in Japan, which was also "Miso Soup" but with Japanese lyrics. The single reached #1 on the Oricon weekly chart and sold 88,160 copies in its first week.[2]
In March 2007, Tegomass was the special supporter of the 38th National High-School Volleyball Championship. The theme song was "Marui Chikara", one of the b-sides of "Kiss ~Kaeri Michi no Love Song~", and the duo performed the song a cappella for approximately 5,200 people at Saitama Super Arena.[3]
Despite the comeback of NEWS as a group and theories of being a one-time unit, Tegomass released a second single in May 16th, "Kiss ~Kaeri Michi no Love Song~". The title track was used as the ending theme song for the TBS anime series Love Com, while the B-side, "Kimi+Boku=LOVE?", was the opening theme. Unlike "Miso Soup", the single reached #2 on the Oricon weekly chart, but it managed to have better sales, with 96,073 copies sold in the first week. In June 16th, Tegomass represented Japan in the 18th Taiwan Golden Melody Awards. The next day, they did a small live performance in Taipei for approximately 7,000 fans.[4]
A new single was released in June 18th 2008, more than a year after "Kiss ~Kaeri Michi no Love Song~". "Aiaigasa" was chosen as the ending theme for the TV Tokyo anime Neo Angelique Abyss.[5] A promotional event was held on the 17th, limited to 280 fans. Tegomass sang five songs and distributed personalized umbrellas.[6][7] "Aiaigasa" ranked at #1 on the Oricon weekly chart, selling 90,240 copies in its first week.
In 2009, Tegomass was set to go back to Sweden. They would do a performance in May 30th at Nalen, in Stockholm, and have a fan meeting with the release of a new single.[8][9] However, the visit got cancelled, reportedly due to the H1N1 influenza.[10] In May 27th, the Jimusho announced Tegomass' first tour. Starting from July 22nd to August 20th, they performed at Osaka, Tokyo, Hiroshima, Miyagi, Hokkaido and Fukuoka. In addition, the duo released their fourth single in July 8th, "Tanabata Matsuri", and a week later, their debut album, titled Tegomass no Uta. Both releases topped the Oricon weekly ranking at #1, with roughly 80,000 copies sold each.[11][12]
Discography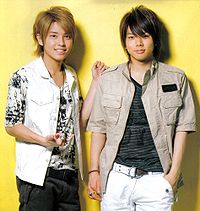 Albums
Singles
DVDs
Concerts
[2006.12.31] Johnny's Countdown Live 2006-2007 (ジャニーズカウントダウンライブ2006-2007)
[2007.12.31] Johnny's Countdown 2007-2008
[2008.06.17] Tegomass "Aiaigasa" Hatsubai Kinen LIVE Event (テゴマス『アイアイ傘』発売記念LIVEイベント)
[2009.07.22-2009.08.20] Tegomass 1st Live Tegomass no Uta♪ (テゴマス 1stライブ テゴマスのうた♪)
[2010.05.01-2010.08.01] Tegomass 2nd Live Tegomass no Ai (テゴマス 2nd ライブ テゴマスのあい)
External Links