New user registrations have been disabled until further notice. If you would like to create an account, please message
Generasia on Facebook
. Thank you!
SMAP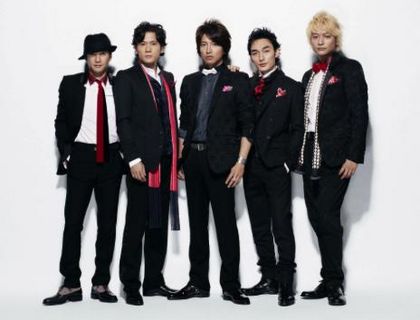 SMAP is a Japanese pop group handled by Johnny & Associates. They debuted in 1991 under Victor Entertainment with the single "Can't Stop!! -LOVING-". SMAP stands for Sports Music Assemble People.
It was announced on 14th August 2016 that SMAP will disband on 31st Dec 2016.
Members
Former Members
History
Originally a six-person group, former member Mori Katsuyuki left in 1996 to pursue a motorcycle racing career. SMAP are members of the ubiquitous Johnny's Entertainment talent agency, and somewhat responsible for its rise to fame, with the members appearing in commercials and TV dramas, as well as releasing numerous singles and albums. As a music group they debuted in 1991 with the single, "Can't Stop!! -LOVING-", and have since released numerous other singles and albums. Their records typically sell well and singles like "Gambarimashou" and "Celery" have been huge sellers. Despite some minor slumps in popularity they continue to remain in the public focus, thanks mainly to TV show SMAPxSMAP.
Discography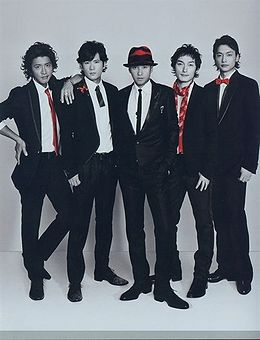 Studio Albums
Best Albums
Mini-Albums
Remix Albums
Instrumental Albums
Symphonic Albums
Singles
Digital Singles
Other Singles
Video Releases
Compilations / Other
Publications
Books
[1996.12] Bistro SMAP Kanzen Recipe SMAP x SMAP
[1998.12] Bistro SMAP Oishii Recipe SMAP x SMAP
[2000.01] Bistro SMAP Karada ni Ii Recipe SMAP x SMAP
[2000.04] Pick up!SMAP!
[2004.12] SMAP Sorezore no Michi The one and only SMAP 5-nin wa, Doko e Mukatte Hashirinuko to Shiteirunoka!?
[2008.01] SMAP Otakara Photo Book Festivo! Special Edition
[2008.03] SMAP Hatachi
[2008.07] SMAP Chronicle
[2009.01] Johnny's Okkake Map 2009 (Featured)
[2010.09] SMAP Magazine Super-fashion&Music Assemble Photo-magazine
[2011.06] Ouchi de Kantan! Bistro SMAP
[2012.05] SMAP X SMAP COMPLETE BOOK Gekkan Sumasuma Shimbun Vol.1 -PINK-
[2012.06] SMAP x SMAP COMPLETE BOOK Gekkan Sumasuma Shinbun Vol.2 -RED-
[2012.07] SMAP X SMAP COMPLETE BOOK Gekkan Sumasuma Shimbun Vol.3 -BLUE-
[2012.08] SMAP X SMAP COMPLETE BOOK Gekkan Sumasuma Shimbun Vol.4 -YELLOW-
[2012.09] SMAP X SMAP COMPLETE BOOK Gekkan Sumasuma Shimbun Vol.5 -GREEN-
[2013.04] SMAP ni Aitai! Part1 Kimura Takuya, Inagaki Goro, Mori Katsuyuki
[2013.04] SMAP ni Aitai! Part2 Nakai Masahiro, Katori Shingo, Kusanagi Tsuyoshi
Band Scores
[2003.02] Sekai ni Hitotsu dake no Hana (世界に一つだけの花)
Magazines
[2010.10] POTATO 2010 November (Feature)
[2011.08] Wink up September 2011 Issue (Feature)
[2011.08] Popolo October 2011 Issue (Feature)
[2011.09] POTATO October 2011 Issue (Feature)
[2011.10] POTATO November 2011 Issue (Feature)
[2011.10] Popolo December 2011 Issue (Feature)
[2011.10] Ure Pia First Issue (Feature)
Works
TV
TV Shows
External Links