Due to an influx of spam accounts getting through and joining the site, user registrations have once again been disabled until further notice as we work on a different solution.
KinKi Kids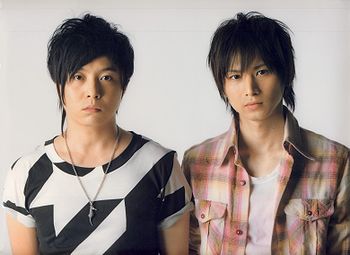 KinKi Kids is a Johnny & Associates male unit.
Members
Profile
History
They both joined on May 5, 1991 and met at a Hikaru Genji's concert on the same day. Although they share the same last name, they are not blood related.
In 1992 they started appearing together in magezines. Until this time they didn't have a formal name as a unit. Then on December 31, 1992 they backdanced for SMAP at NHK as "Kanzai Boya". Nakai Masahiro apparently did not approve of this, so when kinki appeared on the first broadcast of KISS shita? SMAP on April 4, 1993 he renamed them KinKi Kids. Using all uppercase Ks became standard in 1994.
Every single released since their debut had been number one, giving them a place in the Guinness Book of World Records.
On November 14, 2007, the 10th Studio Album was released as the 2nd part of the 10th anniversary project (along with the Best-Hit Album "39"). "Φ", which is the first Studio Album not to be a latin alphabet (Since all the albums are titled from A to I), is supposed to unit 1 & 0 as a commemoration for their 10th anniversary. It is featured with the KinKi Kids 10th Anniversary in TOKYO DOME as a DVD, and is supposed to be a different work from usual, by KinKi Kids and fans.
After the year-end tour "We are Ø'n39!! and U?", KinKi Kids is the artist with the most number of perfomances in the New Year's Day (30).
Discography
Albums
Best Albums
Singles
Other Singles
Video Releases
Concerts / Live
Video Collection
Works
Television
Programs
[1993.04.04-1996.09.24] KISS Shita?SMAP (KISSした?SMAP)
[1996.04.07-1996.09.29] Sore Ike KinKi Daibouken (それ行けKinKi大冒険)
[1996.10.06-1998.03.29] Sore Ike KinKi Daihousou (それ行けKinKi大放送)
[1996.10.14-1997.03.17] Maketara Akan (まけたらアカン)
[1996.10.16-1997.03.12] Toki-kin Kyuukou Suki da yo! Sukiyanen (Toki-kin急行 好きだよ!好きやねん) (with TOKIO)
[1996.10.17-1997.09.11] Barikin7 Kenja no Senryaku (バリキン7 賢者の戦略)
[1996.10.19-2001.03.31] LOVE LOVE Aishiteru (LOVE LOVEあいしてる)
[1997.04.12-1997.09.15] Star Dokkiri Daisakusen (スターどっきり大作戦)
[1998.04.05-1998.09.27] GYU!to Dakishimetai! (GYU!っと抱きしめたい!)
[1998.10.04-1999.09.26] KinKi Kids no Gyu! (KinKi KidsのGyu!)
[2001.04.08-] Shin Domoto Kyoudai (新堂本兄弟)
CM
[1994] Kinki Nippon Tourist
[1995-1997] Benesse
[1997-1998] Nissan Motor
[1997-1999] Panasonic
[1998-1999] House Foods
[1998-1999] All Nippon Airways
[2000-] Morinaga
[2001-2003] NTT DoCoMo Kansai
[2002-2004] UC Card
[2004-] Suntory
[2007-] Asahi Soft Drinks
Radio
[1994-] KinKi Kids Donna Monya! (KinKi Kids どんなもんヤ!)
[1995-2007] KinKi Kids Kinkira KinKi World (KinKi Kids キンキラKinKiワールド)
Filmography
Drama
Movies
Stage Play
[1993.08.06-1993.08.24] ANOTHER
External Links