Due to an influx of spam accounts getting through and joining the site, user registrations have once again been disabled until further notice as we work on a different solution.
Kis-My-Ft2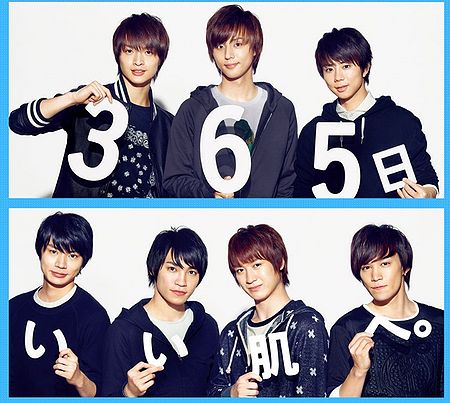 Kis-My-Ft2 is a Japanese pop group from the talent agency Johnny & Associates composed of seven members. They are sometimes also seen as Kis-My-Ft II, and are called Kisumai or Kisumai Futto Tsu by Japanese fans.
Members
Former Member
Sub-Units
Information
2005-2010: Pre-Debut
In August 2005, two Johnny's Jr. units, Kis-My-Ft and A.B.C. Jr., combined to form Kis-My-Ft2. The name comes from the first letter from each of their last names; Kitayama Hiromitsu, Iida Kyohei, Senga Kento, Miyata Toshiya, Yokoo Wataru, Fujigaya Taisuke, Tamamori Yuta and Nikaido Takashi ("ni" in Kanji is the number 2). They performed as an eight member group until end of March 2006 when Iida Kyohei left Johnny's due to his studies, leaving Kis-My-Ft2 without its "I".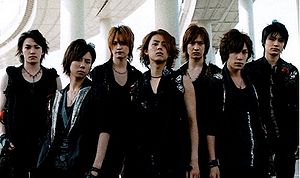 The unique feature about the group is that all its members do tricks and acrobatic moves with rollerskates. The unit is modelled after one of Johnny's Entertainment older groups Hikaru GENJI and are known to perform their songs such as Sayonara no Jounetsu, Areno no Megapolis, Paradise Ginga, StarLight, Kaze no Naka no Shounen, Winning Run, and Garasu no Juudai.
As a Johnny's Jr. group, they perform at The Shounen Club, back dance at concerts of the debuted groups of their company and also held concerts together with the other juniors. And sometimes they also support some stage plays produced by their company.
In 2008 they held their first solo concerts (along with A.B.C-Z) at Yokohama Arena and Yoyogi Stadium. And it was planned that they would have their own concert tour in the end of 2009.
In 2009 they got their own stage play for the first time, together with Uchi Hiroki and Yara Tomoyuki. They play the PLAYZONE 2009, which until then was always performed by Shounentai. They also held their first solo concert as a group, Kis-My-Ft ni Aeru de Show.

In early 2010 they once again held concerts, this time with the title Kis-My-Ft ni 010 Aeru de Show. This year also marked their CM debut. They got to do CM for dwango.jp, where they also release 2 digital singles: Fire Beat and Inori. On September they got to do a musical together with A.B.C-Z, Shounentachi ~Koushi Naki Rougoku~. In the end of the year they once again held concerts, which lasted until early the next year.
2011: Brown Envelopes
On February 12th, 2011, during their concert, Kis-My-Ft ni Aeru de Show vol.3, they got a brown envelope to open during the MC. It announced that they will have their debut in May under avex trax. But due to the Touhoku earthquake and tsunami that hit Japan, the single release got postponed until summer.
During their concert on July 29 in Yokohama they got another brown envelope announcing that they would held their first concert in Tokyo Dome on August 28. With their official debut on August 10, it became the shortest time any music artist has ever had from their debut to a Tokyo Dome concert. Previously this record was held by Hey! Say! JUMP and Tackey & Tsubasa with Tokyo Dome concerts 38 days after their official debut.
During the Tokyo Dome concert they once again received a brown envelope announcing that in 2012 the group will tour around 47 prefectures of Japan and 5 Asian counties: South Korea, Taiwan, Hong Kong, Thailand and Singapore.
2012: TV Shows
In 2012 Kis-My-Ft2 got their own regular TV Show to host. It started with HamaKisu (濱キス), which was first aired as a special show in December 2011 and March 2012. It was hosted by all Kis-My-Ft2 members together with Hamaguchi Masaru. The title of the TV show came from combining the names of the hosts. This regular show aired from April until September. At the last episode they made an announcement that the show will be renewed and will air with a different title. The next week the new show, KisuHama Learning (キス濱ラーニング), aired its first episode with the same members.
Kitayama Hiromitsu got to join the J'J (Johnny's Journey) series with the title J'J Kitayama Hiromitsu Hitoribocchi Indo Oudan Backpack No Tabi. This show aired from July until September and follows Kitayama's journey in India.
Starting August Kis-My-Ft2 also host the show Kisumai BUSAIKU!? (キスマイ BUSAIKU!?).
Discography
Albums
Best Albums
Singles
Digital Singles
Video Releases
Other Video Releases
Compilations / Other
Pre-debut Songs
Concerts
Solo
A.B.C-Z Kis-My-Ft2 First Concert (11-13 Oct, 8-9 Nov 2008)
Kis-My-Ft ni Aeru de Show (03 Oct - 20 Dec 2009)
Kis-My-Ft ni 010 Aeru de Show (2010.03.30-05.05)
Kis-My-Ft ni Aeru de Show vol.3 (2010.12.28-29, 2011.01.06-07, 2011.02.11-12)
Together with Others
Johnny's Jr.'s Daibouken (2006.08.15-24)
YOUtachi no Ongaku Daiundoukai (2006.09.30-10.01)
Johnny's Jr.'s Daibouken (2007.08.15-24)
SUMMARY 2008 (2008.08.02-09.05)
KAT-TUN WORLD BIG TOUR (2010.07.16-08.28)
TV & Cinema
Shows
Stage Play
Main
Others
Publications
Photobooks
Books
External Links