New user registrations have been disabled until further notice. If you would like to create an account, please message
Generasia on Facebook
. Thank you!
Fujigaya Taisuke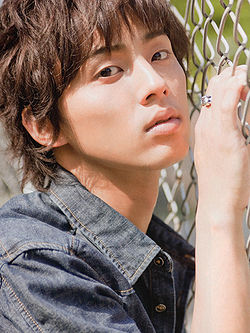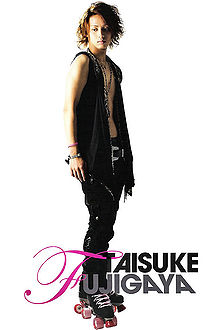 Fujigaya Taisuke is a member of Johnny's Entertainment group Kis-My-Ft2. He is the 'F' in Kis-My-Ft2.
Profile
Name: Fujigaya Taisuke (藤ヶ谷太輔)
Nicknames: Taipi, Gaya, Tai-chan, Fujigaya-otousan
Birthdate: June 25, 1987
Birthplace: Kanagawa Prefecture, Japan
Blood Type: AB
Height: 175cm
Weight: 55kg
Family: Parents, two younger brothers
Hobbies: Rollerskating, dancing, singing, acting, writing lyrics, and shopping
Strong Point: Always cheerful
Weak Point: Will always arrive at the last minute
Special Ability: High pitch when singing
Favourite Sport: Basketball
Favourite Food: Chinese food, Yakiniku, Sushi
Dislike: Coriander
Favourite item of Clothing: Jeans, jackets
Treasures the most: Experiences, friends and his work
Admired Sempai:Sakurai Sho,Takizawa Hideaki andYamashita Tomohisa
Favorite Song: "Seppaku no Tsuki" by Kinki Kids
Favorite Movie: "Roman Holiday"
Favorite Book: "Misaki Number 1"
Entered Johnnys: November 8th, 1998
Good freind with: Miyadate Ryota
Discography
Compilations / Other
TV & Cinema
Dramas
Publications
Books
[2011.09.xx] "Ikemen desu ne" Official Photo Book (Feature)
Magazines
[2011.01.xx] Duet 2011 Febrary Issue (Cover & Feature)
[2011.01.xx] Wink up February 2011 Issue (Cover & Feature)
[2011.01.xx] COOL TRANS 2011 March (Cover & Feature)
[2011.06.xx] Myojo August 2011 Issue (Cover & Feature)
[2011.07.xx] duet August 2011 Issue (Cover & Feature)
[2011.07.xx] Wink up August 2011 Issue (Cover & Feature)
[2011.07.xx] POTATO August 2011 Issue (Cover & Feature)
Trivia
He is a regular for Hyakushiki and also appears on Hadaka no Shounen.
He talks a lot and likes to make people laugh. Kitayama Hiromitsu once said that he is very loud.
He is mischievious but also gets affected by things very easily.
He taught Nikaido Takashi how to skate.
Tanaka Koki said that he was honest, hard-working, pure, and straight-forward.
He can work like a real performer but at the same time he can play like a primary school kid.
He gets along most with Senga who he considers a play mate.
He doesnt like girls who talk informally or like guys.
He is always strict with the juniors during practise.
He likes to hear fans say "kakkoi" when he sings and dances.
Tamamori Yuta believes he is better at telling funny stories than rapping.
Nikaido once asked when Fujigaya would be getting rid of his fringe during an interview.
He always says whats on his mind, but will never say things to hurt people.
He was known as Fujigaya-otousan when he was apart of B.A.D. and was continued to be called that during the earlier shows of Hadaka no Shounen.
He failed the audition to JE but the guy to whom he handed his number card to was apparently Johnny so he was called back.
He is known as the mood-maker and the most talkative person in the group. Members often tease him asking if he even breathes in between those talks.
He is the resident rapper of the group since he does most of the rap parts of their songs. He's also one of the lead vocals.
He had almost quitted the company thinking they won't get to debut, but he was stopped by Tanaka Koki (a senior in their company)
He is called manly but has a girly side on him too. Yokoo had revealed once that Fujigaya's eyes sparkles whenever he sees something cute.
He loves to borrow things from people but he tends to forget to return it earning complaints from them.
He gets affected by thing easily.
He talks a lot, & in fact a lot of the members have said that if no one interrupted him he'd talk until he died for lack of air.