New user registrations have been disabled until further notice. If you would like to create an account, please message
Generasia on Facebook
. Thank you!
Tamamori Yuta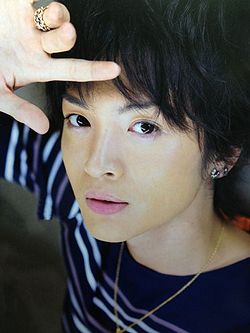 Tamamori Yuta is a member of Johnny's Entertainment group Kis-My-Ft2.
Profile
Name: Tamamori Yuta (玉森裕太)
Nicknames: Tama-chan, Tama
Birthdate: March 17, 1990
Blood Type: B
Height: 179cm
Weight: 60kg
Hobbies: Sleeping
Family: Mother, father, younger brother
Pets: Two poodles
Strong Point: Can become friends with anyone
Weak Point: Gets tired of things fast
Admired Sempai: Yamashita Tomohisa
Special Ability: Can notice things fast, learned surfing in third grade
Favourite Sport: Soccer
Favourite Food: Tofu
Favourite Item Of Clothing: Shirts
Treasures The Most: Graduation booklet
Favorite Song: "Yubiwa" by Yamashita Tomohisa
Entered Johnny's: December 1st, 2002
TV & Cinema
Dramas
Movies
Publications
Books
[2011.09.xx] "Ikemen desu ne" Official Photo Book (Feature)
Magazines
[2011.06.xx] Popolo August 2011 Issue (Cover & Feature)
[2011.07.xx] duet August 2011 Issue (Cover & Feature)
[2011.07.xx] Wink up August 2011 Issue (Cover & Feature)
[2011.07.xx] POTATO August 2011 Issue (Cover & Feature)
Trivia
He is always in a daze, and is known to get Fujigaya Taisuke angry quite a bit.
He had a hard time getting along with the girls in his class.
He is considered to have a unique dance style, Kitayama Hiromitsu said he flows like Tako.
He is considered the little "sister" of the group.
Yaotome Hikaru of Hey! Say! JUMP said in an interview that he wanted someone to convince Tamamori to wear a dress.
He has a caring, gentle nature and he doesn't talk much about stuff other than work.
He learned how to surf when he was young and still enjoys surfing.
His best friend in the group is Miyata Toshiya
He cried once during practice because of something said by another member.
He wants to dance calmly like Kitayama and with a stylish expression.
He's often said that he has no real hobby.
He loves saying cute stuff, like adding "-san" to all things, even foods. ("-san is added as honorifics to Japanese people, equivalent to "Mr." or "Ms.")
His mother was the one who applied for him, and quite literally had to drag him to the audition.
He liked baseball and joined the school's team, but the baseball shirts had a tight fit around the neck and he hated it so he quit.
He is the 'T' in Kis-My-Ft2.
He does everything at his own pace.