New user registrations have been disabled until further notice. If you would like to create an account, please message
Generasia on Facebook
. Thank you!
Miyata Toshiya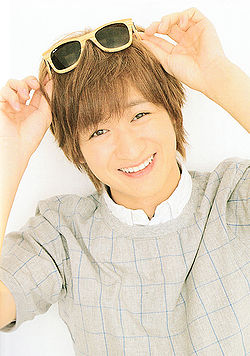 Miyata Toshiya is a member of Johnny's Entertainment group Kis-My-Ft2.
Profile
Name: Miyata Toshiya (宮田俊哉)
Nicknames: Mitsuchi, Mii-kun, Miyacchi
Birth Date: September 14, 1988
Birth Place: Kanagawa Prefecture, Japan
Family: Mom, dad, older sister, and younger brother
Blood Type: A
Height: 173cm
Weight: 61kg
Foot size: 28.5 cm
Hobbies: Watching anime
Admired Sempai: Taguchi Junnosuke and Maruyama Ryuhei
Favourite Sport: Soccer
Favourite Food: Meat, white rice, sushi
Dislike: Watermelon, gum
Entered Johnnys: February 4th, 2001
Groups:
Works
Filmography
Drama
Movie
Stage Plays
Publications
Magazines
[2011.09.xx] LOOK at STAR! November 2011 Issue (Feature)
Trivia
He is the 'M' in Kis-My-Ft2.
He is known for his big nose.
He's an otaku.
He entered Johnny's the same time as Yokoo Wataru and Nikaido Takashi and in fact stretched with Yokoo at the audition.
He attended and graduated from Kokushikan University in the Political and Economical Department.
His best friend within the group is Tamamori Yuta.
Outside of the group, his best friends are Sakuma Daisuke of Snow Man and Tsukada Ryoichi of A.B.C-Z.
Before Kis-My-Ft2, he was in the junior group A.B.C. Jr. with fellow members Tamamori Yuta, Nikaido Takashi, and Senga Kento.
He has a severe fear of heights.
He doesn't know how to swim.
He's called the most mature by the other members.
He's often teased by the other members and enjoys it for the attention.
When asked about his charm point he said nothing.
Plays airsoft with Tamamori Yuta and Senga Kento.
He enjoys people that are tsundere.
He knows a lot of interesting facts though most are known to be more or less useless.
He is hardworking and serious about everything.
Kitayama Hiromitsu calls him the Neighborhood Ojisan.
He finds magazine interviews fun and enjoyable.
He never worries about anything, a trait he is admired for.
He rarely gets angry though he and Nikaido Takashi will argue.
It takes him the longest to learn the choreography.
He is considered as the kindest in the group. Everyone in the group will readily defend him for his kindness and the way he always looks after the other members.
He is also known as the stingy one in the group, with the others joking that when he loans you money he calculates interest rates for it on-the-spot.
Tamamori Yuta often complains about his slow driving.