New user registrations have been disabled until further notice. If you would like to create an account, please message
Generasia on Facebook
. Thank you!
Senga Kento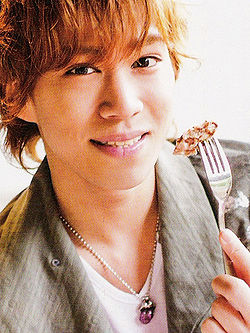 Senga Kento (千賀健永) is a member of Johnny's Entertainment group Kis-My-Ft2.
Profile
Name: Senga Kento (千賀健永)
Nicknames: Sen-chan, Gasucho, Gacchan
Birth Date: March 23, 1991
Birth Place: Nagoya, Aichi Prefecture, Japan
Blood Type: AB
Height: 172cm
Weight: 62kg
Hobbies: Listening to music, karaoke
Strong Point: Honest and friendly
Weak Point: Very silly person
Special Ability: Dancing
Favourite Sport: Dodge Ball
Favourite Food: Green pepper with shreaded meat
Favourite item of Clothing: Caps/Hats
Treasures the most: His aims/goals in life
Entered Johnnys: May 2003
Groups:
Works
Filmography
Drama
Movie
Trivia
Wants to be a skilled guitar player
He is "clueless" and a "risk-taker"
Claims he has low self-esteem and is a negative person.
Afraid of heights, but goes on rides to please others, specifically Nikaido Takashi.
Plays airsoft with Tamamori Yuta and Miyata Toshiya.
Creates his own dance moves
His idea of "sexy" is saying, "hmm"
Talks during his sleep
His personality is compared to Ayukawa Taiyo of Ya-Ya-yah, i.e. being clueness.
Believes he looks like an "idiot" when other members of his band pokes fun of his speech.
Fujigaya Taisuke believes he is a "natural idiot."
He had taken up dance lessons since pre-school and had competed on national championships before joining JE. He's also tagged as the best dancer in Kisumai.
He claims that he is really scared of bugs and mosquitoes but he feels sorry if he's going to squish them.
He is the 'S' in Kis-My-Ft2.
He was a member of the temporary group "Butoukan".
He has the worst luck out of all the members.