New user registrations have been disabled until further notice. If you would like to create an account, please message
Generasia on Facebook
. Thank you!
Nikaido Takashi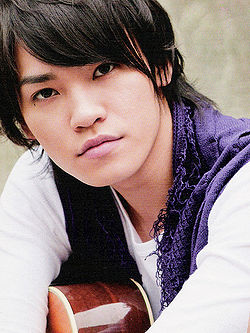 Nikaido Takashi (二階堂高嗣) is a member of Johnny's Entertainment junior group Kis-My-Ft2.
Profile
Nicknames: Taa-Kun, Nika
Birth Date: August 6, 1990
Blood Type: B
Height: 172cm
Weight: 60kg
Shoe size: 26.5cm
Family: Dad, Mom, Elder Sister, 3 Dogs (Maru, MoMo, and Mikan).
Interest/Forte: Dance/Will not be late for dates or meetings.
Hobbies: Observing people, dancing
Strong Point: Doesnt take little things to heart, wont be late when meeting anyone
Weak Point: Lives in his own world
Special Ability: Can befriend people quickly even if he just met them
Favourite Food: Meat, rice, fish, yakiniku
Disliked Food: Green Pepper, Green Onion
Favourite Colours: Black, White, Orange
Favourite Sports: Soccer
Favourite Subject: Mathematics
Disliked Subjects: Everything other than Mathematics
Favourite animal: Elephant
Favourite phrase: Not defeated!
Favourite item of Clothing: Wallet (made it himself and is very proud of it)
Treasures the most: Family
Entered Johnny's: February 4th, 2001
Groups:
Works
Filmography
Drama
Movie
Trivia
He entered Johnny's the same time as Yokoo Wataru and Miyata Toshiya.
He likes scary rides and often drags Senga Kento to the theme park.
He thinks of himself as a bunny when he is lonely.
He is very ambitious, versatile and tends to forget everything around him.
He looks up to Kitayama Hiromitsu, Fujigaya Taisuke and Yokoo Wataru a lot.
He quarrels with Senga often over trivial matters, mostly because they are so similar.
He is also the critic of the group, and will say whatever is on his mind.
He considers Akanishi Jin of KAT-TUN kakkoi/sexy and wants to be just like him.
He wants to be able to act as good as Kamenashi Kazuya of KAT-TUN
He is the brat and the biggest complainer in the group. He can be sarcastic at times even though he's one of the youngest members.
He can do a lot of impersonations perfectly.
He is a scaredy cat too even though he's known as a man with strong principle. Tamamori Yuta said that while they were staying in a hotel during a concert tour, Nikaido came to his room asking him to accompany him to the bathroom with a worried face.
He had tried bungee jumping more to the reason that he lost in the group's game that he had to do it.
He loves to borrow things from Yokoo or to anyone. But most of the time, to Yokoo.
He is the '2' in Kis-My-Ft2.
He loves Mathematics.