New user registrations have been disabled until further notice. If you would like to create an account, please message
Generasia on Facebook
. Thank you!
Ya-Ya-yah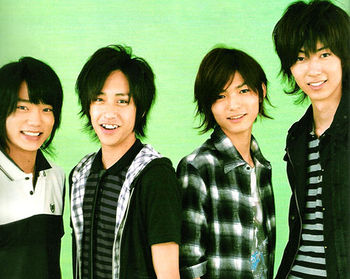 Ya-Ya-yah was a Johnny's Entertainment Junior group. They disbanded in 2007.
Members
Former Members
Information
Originally Ya-Ya-yah was formed with seven members and the first initials of their surnames were used for the group name (Yabu, Akama, Yamashita, Ayukawa, Yoshida, Andou, Hoshino) however as the group evolved and members were added and removed, the name stayed the same. Ando Yasuhiro and Yoshida Yuuki were the first to leave the group for unknown reasons before the release of their first single. Soon, Yaotome Hikaru began appearing with the group though he was not officially added as a member until after Akama Naoya and Hoshino Masaki left.
Ya-Ya-yah has released two singles. One was recorded under the name YA-YA but only featured four members (Yabu, Akama, Yamashita, Ayukawa). It was released in 2002. The other, also released in 2002, with five members, was Yuuki 100% / Sekai ga Hitotsu ni Naru Made. The song Yuuki 100%, which was originally sung by Hikaru GENJI, was used as the opening theme song of the children's anime Nintama Rantarou, and the other song, Sekai ga Hitotsu ni Naru Made, was the ending theme song.
Ya-Ya-yah had their own self-titled variety show that aired every Sunday on TV Tokyo. This show used to also often feature K.K.K. from the group K.K.Kity but when the group was split up with the formation of NEWS the members' participation lessened. The show generally involved musical acts from the Johnny's Entertainment as well as games and other features.
On September 24th, 2007, it was announced that Yabu Kota and Yaotome Hikaru would be joining the new group Hey! Say! JUMP. It is as of now unknown as to whether Ya-Ya-yah's activities will be continued. Soon after, J Storm updated their website with the news that Ya-Ya-yah's long running TV program will be ending October 27 and replaced with one featuring Hey! Say! JUMP.
On November 30, 2007, Ayukawa Taiyo quit Johnny's Entertainment, along with the official disbandment of the unit.
Discography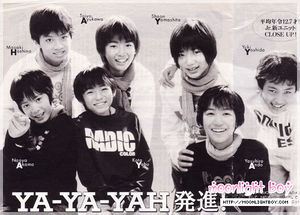 Original Songs
2002 - 2007
LOVE together 2002
LET'S GO!
Maybe your love
Ai koto ba wa Ya-Ya-yah
Singin' for you
Stompin
Just wanna lovin' you
Up Down Ya-Ya-yah
HA・RU・NA・TSU・A・KI・FU・YU
START!
Never Stop the Music
2 of Us
Kaze ni Notte
Himawari no Melody
Ikujinashi
Jewel Star
SummerxSummerxSummer
To the Freedom
Itoshi no Playgirl
Te wo Tsunaide Yukou
Ima Susumou
Baby Babe
Singles
Plays & Musicals
[2002] SHOW Geki SHOCK
[2003] SHOCK~is Real Shock~
[2004] Stand By Me
[2005] DREAM BOY
[2006] One!-the history of Tackey-
Television Shows
External Links