Due to an influx of spam accounts getting through and joining the site, user registrations have once again been disabled until further notice as we work on a different solution.
Kanjani8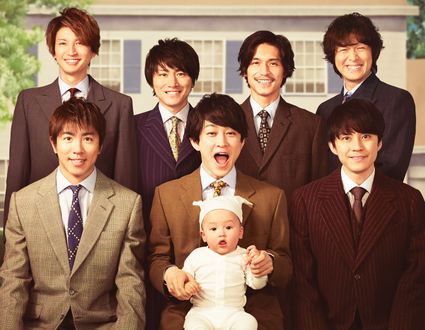 Kanjani∞ (関ジャニ∞ (エイト)) is a six member idol group under Johnny & Associates. Their record company is Teichiku Entertainment.
Members
Former Member
Information
In December, 2002 the group was created out of members of Kansai Juniors. At the time, the 7 members were appearing on the TV program "J³KANSAI" on Kansai TV. In the Kansai area, Kansai TV is on channel 8, so Kitagawa Johnny added another member, Ohkura Tadayoshi, to match the channel number and their unit was than called as Kanjani8 (関ジャニ8). Shortly after their formation, they held their first concert, titled "Kanjani8 Xmas Party 2002" at the Osaka Shouchikuza theater, where they performed their first song as an 8-member group, "Do you agree?"
On August 25th, 2004 they released their first single, Naniwa Iroha Bushi which was first limited to the Kansai area but later (September 22nd) was released nationally as well. The limited-release CD debuted at a record #1 on the Oricon Enka chart, and a #8 on the overall chart. The nationwide release reached #1 on both the enka and overall charts. At this time, the numerical "8" in their name was turned onto its side and made into an infinity symbol (∞).
The members are known for being very close, possibly even the closest in all of Johnny's, shown by their annual barbecues and birthday celebrations together.
In concerts they have been known to dress up as "Kanjani Sentai 8 Ranger" and do skits. Their ranger outfits of course are in their image colors.
In 2005, Uchi Hiroki was suspended from all activities with Kanjani8 due to an underaged drinking incident. Other than a part in the musical PLAYZONE, Uchi had remained away from the public eye. In 2007 he was brought onstage during a Kanjani8 concert where the members welcomed him back as a member of their unit, although there was no official statement at the time.
In January 2008, Uchi Hiroki officially graduated from his "trainee" status. It is uncertain whether Uchi will return as a member of Kanjani8, but in the meantime he will pursue solo activities. Uchi starred in a dorama called Isshun no Kaze ni Nare, along with Nishikido Ryo.
Sub-units
3BAKA (Yokoyama, Shibutani, Murakami)
Before the formation of Kanjani8, these three members were often grouped together so they called them with this name.
"Baka" is Japanese for "stupid, moron" and so on.
San Kyoudai (Yuu, Chipa, Baru)
"San Kyoudai" means "Three Brothers," so the three members act as brothers. Yuu (Yokoyama) is the eldest, Chipa (Yasuda) is the middle, and Baru (Shibutani) is the youngest. (In reality, Shibutani is older than Yasuda.)
Their first performance was at the 2003 Xmas Party concert.
The lyrics are written by Yuu, the music by Chipa, and Baru does the vocals.
While performing as San Kyoudai, they wear gakuran, japanese boys high school uniform. Yuu's jacket is very long, Chipa's is normal, and Baru's is very short.
Have four songs: Purin (2003), Amechan (2004), Mikan (2004), and Onigishi (2005).
"Purin" and "Onigishi" appear on Kanjani8's first album, KJ1 F.T.O. "Mikan" is on their 1st DVD, "Excite!!". "Purin" and "Amechan" appear on their 2nd DVD, "Spirits!!". Their 3rd DVD, "Heat up!" is set to contain "Onigishi."
Kanjimi3 (Maruyama, Yasuda, Ohkura)
The name, which is a play on "Kanjani8" but instead of meaning "Kansai Johnny's 8" it means "Kansai Plain 3" (because the three are often made fun of for being the "plain" members), was chosen by fans through the TV program "8 no Gimon."
the word jimi is a Japanese slang for plain.
Shibutani renamed them "Ohyamada" though, and they seem to use this name now.
The "Ohyamada" name comes from Maruyama and Yasuda's unit Yamada (see below), to which "a big person was added." It's not the "Oh" from Ohkura's name, it's because he's a "big person."
Subaru BAND (Shibutani, Maruyama, Yasuda, Ohkura)
Shibutani sings, Maruyama plays bass, Yasuda plays guitar, and Ohkura plays drums in this rock band-styled unit.
Their song "ONE" (lyrics by Shibutani, music by Yasuda) appeared in their first two DVDs, as well as their first album KJ1 F.T.O.
Yamada (Maruyama, Yasuda)
The name is taken from Maruyama's "yama" and Yasuda's "da," to form a common surname.
Matsubara kazuhiro (Shibutani, Murakami)
V.WEST (Uchi, Maruyama, Yasuda, Ohkura)
Formerly included members Imayama Tooru, and Mizuno Kiyohito but when they left, Ohkura Tadayoshi was added to play drums.
They were formed before Kanjani8 and performed on TV as well as had concerts of their own.
Since the formation of Kanjani8, they've only performed as a unit in Kanjani8 concerts, and not on their own.
Discography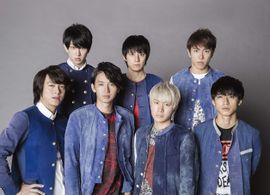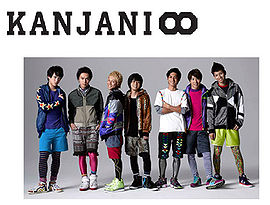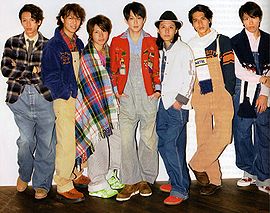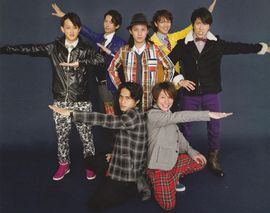 Albums
Best Albums
Mini-Albums
Singles
Video Releases
Compilations / Other
TV & Cinema
Television Shows
-ended – J³Kansai (Kansai TV, 2002.10.02 – 2003.03.26)
-ended – Urajani (TV Tokyo, 2004.04.06 – 2005.03.29)
-ended – ∞ no Gimon (TV Tokyo, 2005.04.05 – 2005.09.27)
-ended – Honjani (Kansai TV & Fuji TV, 2003.06.10 – 2007.04.25)
-ended – Suka☆J (TV Tokyo, 2005.10.04 – 2007.03.27)
-ended – Oishinsuke (TV Asahi, 2007.04.23 – 2007.09.10)
-ended – Mucha Buri (TV Tokyo, 2007.04.03 – 2008.03.25)
Ariehen Sekai (TV Tokyo, 2008.04.15 - present)
Bouken JAPAN! Kanjani∞MAP (TV Asahi, 2010.04.04 – present)
Radio
Kanjani8 Yokoyama Yuu & Murakami Shingo no Recomen! (Bunka Housou; Yokoyama and Murakami only)
Murakami Shingo no Shuukan Kanjani Tsuushin (ABC Radio)
Kikujani 8 (MBS Radio)
Publications
Magazines
[2010.01.xx] ARENA 37 Degree Special 2010 March Issue (Cover & Feature)
[2010.04.xx] POTATO 2010 May Issue (Feature)
[2010.07.xx] Gekkan Songs August 2010 (Feature)
[2011.01.xx] POTATO February 2011 Issue (Feature)
[2011.02.xx] Popolo April 2011 Issue (Feature)
[2011.03.xx] Popolo May 2011 Issue (Feature)
[2011.04.xx] duet 2011 May Issue (Cover & Feature)
[2011.04.xx] Popolo June 2011 Issue (Feature)
[2011.05.xx] Popolo July 2011 Issue (Feature)
[2011.06.xx] Popolo August 2011 Issue (Feature)
[2011.07.xx] Popolo September 2011 Issue (Feature)
[2011.07.xx] Myojo September 2011 Issue (Feature)
[2011.07.xx] duet August 2011 Issue (Feature)
[2011.07.xx] Wink up August 2011 Issue (Feature)
[2011.08.xx] duet September 2011 Issue (Feature)
[2011.08.xx] Wink up September 2011 Issue (Feature)
[2011.08.xx] POTATO September 2011 Issue (Feature)
[2011.08.xx] Myojo October 2011 Issue (Feature)
[2011.08.xx] Popolo October 2011 Issue (Feature)
[2011.08.xx] FRaU 2011 September Issue (Feature)
[2011.09.xx] POTATO October 2011 Issue (Feature)
[2011.09.xx] Popolo November 2011 Issue (Feature)
[2011.10.xx] POTATO November 2011 Issue (Feature)
[2011.10.xx] duet November 2011 Issue (Feature)
[2011.10.xx] Popolo December 2011 Issue (Feature)
External Links