New user registrations have been disabled until further notice. If you would like to create an account, please message
Generasia on Facebook
. Thank you!
Masuda Takahisa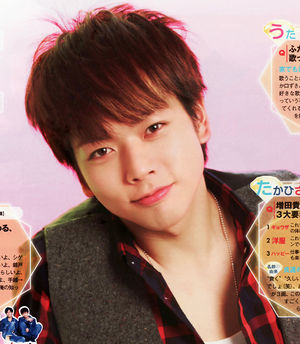 Masuda Takahisa is a member of Johnny's Entertainment group NEWS as well as the duo Tegomass.
Profile
Name: Masuda Takahisa (増田貴久)
Nickname: Massu (まっすー)
Birthdate: July 4, 1986
Height: 171cm
Weight: 68kg
Blood Type: O
Information
Masuda Takahisa joined Johnny's Jimusho in November of 1998. Masuda is known, along with Tegoshi Yuya, to be one of the best singers in NEWS and has many solo parts. Some of his solo songs are the Taiko-drum song, Akatsuki, It's BAD, and Pumpkin. His latest solo is called SUPERMAN. He also participated in the duet piece Sunadokei with Tegoshi Yuya, and in 2006 released a single as a duet with Tegoshi as Tegomass titled Miso Soup, which was also released in Sweden.
Vocal Profile
Trivia
He's a clean addict. He loves things to be clean.
Is very careful with money.
He sometimes teaches the other NEWS members to dance.
He likes to wear yellow.
Has perfect eye vision.
Loves to eat and can cook. He learned from his sister.
Loves girls with pretty eyes.
Is scared of bugs.
Is scared of dogs because he once got bitten when he was younger.
Is very sweet to his friends.
Used to learn piano when he was younger but he quit after 2 years.
Has lots of muscle. His arms are like steel.
Took care of Tegoshi Yuya when they were in Sweden. He considers Tegoshi as a brother.
Sometimes wear nail polish on his fingers.
He was in the soccer club for six years during elementary school, and was in the basketball club during middle school.
His dream is to be a "big star".
Masuda really respects Takizawa Hideaki (Tackey & Tsubasa) and Kimura Takuya (SMAP).
Is good friends with Nakamaru Yuichi (KAT-TUN) and Imai Tsubasa.
Likes pigs.
Is talented in sports.
His favorite food is gyoza. This is something all the NEWS members know.
Is very passive is love, the type of person who can't confess himself. If possible he'd like the girl to confess. He's also bad at asking for e-mail or phone numbers.
Is skilled at rollerblade BMX.
Wakes up very early. (On Chichin Puipui, Koyama commented that he wakes up 3 hours before they meet)
His favorite color is orange.
Works
Doramas
Plays
[2001] PLAYZONE2001
[2003] SHOCK~is Real Shock~
[2007] Machimasu
[2009] Ame no Hi no Mori no Naka
CM
Television Shows
Radio
[2005.04-] Masuda Takahisa no MASTER HITS (増田貴久のMASTER HITS)