Due to an influx of spam accounts getting through and joining the site, user registrations have once again been disabled until further notice as we work on a different solution.
Matsuda Seiko
Matsuda Seiko (松田聖子) is a Japanese pop singer-songwriter and is one of Japan's most influential female artists. She got her start as an Idol starting her acting career in 1979, and made her debut as a kayokyoku singer in 1980 with "Hadashi no Kisetsu". Her next single "Aoi Sangoshou" was a breakout hit, and Matsuda became a cultural phenomenon; influencing not only music at the time but also fashion trends. Starting with the release of her 1980 single "Kaze wa Aki Iro / Eighteen" and running through 1988's "Tabidachi wa Freesia", setting a record for 25 consecutive #1 singles on the Oricon chart.
Profile
Stage Name : Matsuda Seiko (松田聖子)
Real Name : Kamachi Noriko (蒲池法子)
Birth Date : March 10, 1962
Birth Place : Fukuoka Prefecture, Japan
Height : 159cm (5'2 ½ in.)
Weight : 40kg (88.2 lbs.)
Measurements : 80 / 56 / 84 cm. (31 / 22 / 33 in.)
Blood Type: A
Daughter : SAYAKA
Information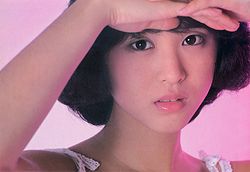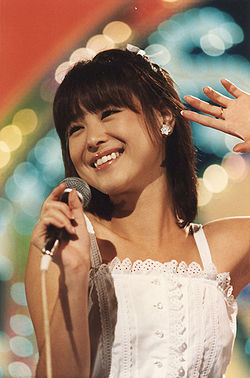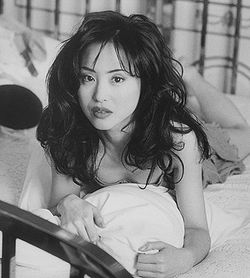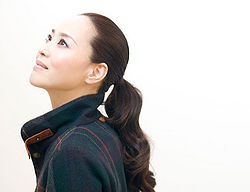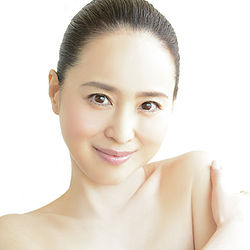 Matsuda Seiko started auditioning when she was in her first year of high school in 1978 for CBS Records' Miss Seventeen contest. Singing Sakurada Junko's "Kimagure Venus", Matsuda would pass the Kyushu region auditions and eventually win the competition later on. Although at first her parents didn't want their daughter in the idol business, they let Matsuda sign onto Sun Music Productions a year after her victory.
Matsuda first debuted as an actress, however, in the 1979 dorama Odaiji ni. She would also become an regular on the NHK Show Let's Go Young and a DJ for radio show "The Punch-Punch-Punch". She finally made her singing debut in early 1980, releasing the single "Hadashi no Kisetsu" with the catchphrase "I Want to Hold You! Miss Sony" (抱きしめたい! ミス・ソニー).
After that release, Matsuda quickly became a top idol, recognized by her trademark short hairstyle. By the end of 1980, she hit the top of the sales charts for the sale of Bromide cards and would go to win Rookie of the Year awards at various music festivals and award ceremonies. She would also catch the No. 1 spot in a survey asked to men of who they wanted to marry in 1984.
In May of 1985, Matsuda would go to Mexico to star in the television dorama Caribe Ai no Symphony, which became one of the top shows during the prime-time during that year. She eventually married her co-star, actor Kanda Masaki, before the year was up and gave birth to their first daughter, SAYAKA, a year after. She was given the nickname Mama Idol afterward because of her wish to become a mother, but still be an idol.
Matsuda soon pursued an additional career path when she opened up her own fashion shop "Flawless" in 1988. Then two years later, she made her debut on the American music scene with her first U.S.A-released English album seiko. While promoting the album, Matsuda gained the nickname "Eternal Young Girl" as she performed all over America, including New York City. But the album didn't chart and didn't sell enough to make Matsuda an American idol. She wouldn't give up, however, as she released several more singles later on ("Good For You", "all to you", and "just for tonight"), which did enter the Billboard charts in top 20 positions.
In May 1996, Matsuda would go on to appear semi-nude in the American magazine BIKINI and also changed record labels to Universal Music Japan as she released the single "Anata ni Aitakute ~Missing You~". The single was Matsuda's first #1 single to chart in eight years and sold over a million copies. But with success there is loss -- she divorced Kanda Masaki in 1997. She would later remarry to a close friend of two years in 1998 until they divorced in 2000.
To celebrate the new millennium, Matsuda once again changed labels to Sony Music Japan from 2002 until 2009, when she changed back to Universal Music Japan. She would release the album Sunshine in 2004, which was her first top ten album since 1997's My Story, charting at #6. She also celebrated her twenty-fifth anniversary a year later by having the fairy tour at various places, including the Saitama Super Arena. Attended by 5,000 fans, Matsuda showed off a new skill to them -- singing in Chinese.
Matsuda used to hold the record of 25 consecutive No. 1 singles and the record for most #1's by a female artist until Hamasaki Ayumi surpassed her in March 2006. She is known for having been reported in many scandals by the media and repeatedly changing record labels. In 2012, she married Hiromasa Kawana, a non celebrity. Many of her Albums were re-released in Blu-spec CD format in 2009. 13 Blu-spec Albums charted the Oricon Top 100 Album Charts at the same time. From time to time, Albums get a re-release and some topping the Oricon Top 300 Charts, for example Pineapple's release on 2013 charted at 300. Her daughter Sayaka died on December 18, 2021.
Discography
Studio Albums
Best Albums
Soundtrack Albums
Other Albums
Singles
Split Singles
UK/USA Singles
Special Releases
PV Collection
Live Concert
Works
Dramas
Films
Voice Acting
Radio
Citations / Awards
1980: Nippon Television Music Festival for Rookie of the Year Award
1980: Young Song Big Prize for Best New Face Grand Prix Award
1980: Ginza Music Festival for Special Judge Honorable Mention Award
1980: Shinjuku Music Festival for Gold Prize
1980: Yokohama Music Festival for Rookie of the Year Award
1980: You Choose All-Japan Song Music Festival for Rookie of the Year Award
1980: Japan Music Awards for Rookie of the Year Award
1980: FNS Music Festival for Rookie of the Year Award
1980: Japan Cable Radio Awards for Rookie of the Year
1980: All-Japan Cable Big Prize for Rookie of the Year Award
1980: 22nd Annual Japan Record Awards for Rookie of the Year Award
1981: Nippon Television Music Festival for Golden Pigeon Award
1981: Japan Music Awards for Broadcast Music Award
1981: You Choose All-Japan Song Music Festival for Judge's Honorable Mention Award
1981: 23rd Annual Japan Record Awards for Golden Idol Award
1982: CBS Sony for Hit Award
1982: Nippon Television Music Festival for Top Idol Award
1982: You Choose All-Japan Song Music Festival for Special Award
1982: Japan Music Awards for Broadcast Music Award
1982: FNS Music Festival for Grand Prix Award
1982: Japan Cable Radio Awards for Music Award
1982: All-Japan Cable Big Prize for Superior Star Award
1982: 24th Japan Record Awards for Gold Prize
1983: CBS Sony for Hit Award
1983: Nippon Television Music Festival for Top Idol Award
1983: You Choose All-Japan Song Music Festival for Golden Grand Prix Award
1983: All-Japan Cable Big Prize for Best Broadcast of Music Award
1983: 25th Annual Japan Record Awards for Gold Prize and Best Album Award
1986: 28th Annual Japan Record Awards for Album Award
1988: CBS Sony for Golden Disc Award
1990: Nikkan Sports Film Award for Topic Award
1992: 32nd Annual Japan Record Awards for Best Vocals Award
2009: 18th Japan Movie Critics Awards for Judges' Special Prize ("Hotaru no Haka")
External Link