New user registrations have been disabled until further notice. If you would like to create an account, please message
Generasia on Facebook
. Thank you!
Matsu Takako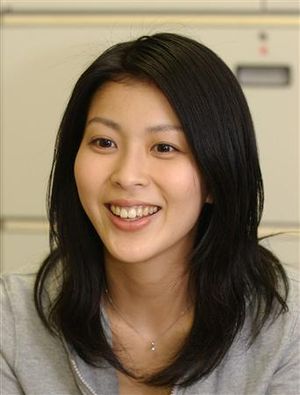 Matsu Takako is a Japanese actress and pop singer. She debuted as a theater actress in 1993.
Profile
Stage Name: Matsu Takako (松たか子)
Real Name: Sahashi Takako (佐橋隆子)
Maiden Name: Fujima Takako (藤間隆子)
Buyou Name: Matsumoto Kouka (松本幸華)
Birthdate: June 10, 1977
Blood Type: A
Ethnicity: 75% Japanese 25% Korean
Height: 166cm
Weight: 43kg
Bust: 80
Waist: 57
Hips: 83
Information
Matsu Takako first emerged as a theater actress in 1993, when she was just 16, in Ninjo Banashi Bunshichi Mottoi. It wasn't until in 1994, after she played lead in the dorama Hana no Ran did she gain media notice. Coming from the family of kabuki actors, it is no wonder that she took where her family left off. Afterwards, she had played lead roles in various television dramas, film and theater. At 1996, she had secured her position as one of the top actress in Japan after acting side-by-side SMAP's Kimura Takuya in Long Vacation. At one point, she had to switched high schools because Shirayuri Gakuen, the school she previously enrolled, was prohibiting its students to enter the entertainment scene. She then switched to Horietsu High School. She was also cited as the youngest to host Kouhaku Uta Gassen in 1996 at the age of 19.
In 1997, she had added her medium by debuting as a J-Pop artist, showing her versatility as an artist in general. Over the years, she had received many citations and awards, most noteworthy of which is the 2004's Best Actress of the Year, making her one of the most cited actress ever.
In December 28 2007, she married to music producer Sahashi Yoshiyuki.
Discography
Albums
Singles
DVD / VHS
Filmography
Films
[1997] Tokyo Biyori
[1998] Shigatsu monogatari
[1998] San luen oi sai gei
[2004] Kakushiken Oni no tsume
[2006] The Uchoten Hotel
[2006] Bravestory
[2007] Tokyo Tower ~Okan to Boku to, Tokidoki, Okan~
[2007] HERO
[2008] K-20
[2014] FROZEN (Japanese Dub)
Doramas
[1994] Hana no Ran
[1995] Kura
[1996] Long Vacation
[1996] Hideyoshi
[1996] Konna Watashi ni Dare ga Shita
[1997] Ryoma is going
[1997] Boku ga Boku de Aru Tame ni
[1997] Koto no Renka
[1997] Hitotsu Yane no Shita
[1997] Love Generation
[1997] Shuntoo
[1999] Kai
[1999] Konya wa Eigyootyuu
[2000] Omiai Kekkon
[2001] HERO
[2001] Chushingura
[2001] Akarui Hoo e Akarui Hoo e
[2002] Tokyo Story
[2003] Itsumo Futari De
[2005] Hiroshima August 6, 1945
[2006] HERO SP
[2006] Yakusha Damashii
[2009] Saka no Ue no Kumo
Theater
[1993] Ninjo Banashi Bunshichi Mottoi
[1994] Koiki na Yuurei, Ajisai
[1994] Taki no Shiraito, Jyunsaihan
[1995-2005] The Man of La Mancha
[1995-1998] Hamlet
[1999] Tengai no Hana
[1999-2001] Szechuan no Zennin
[2000] Okepi
[2000] Voyage ~ Funajyoo no Syanikusai ~
[2001] Natsu Hoteru
[2002] Arashigaoka
[2002] Mozart!
[2003] NODA MAP Oil
[2004] Ohatsu
[2004] Roningai
[2004] Miss Saigon
[2005] Caucasus no Hakuboku no Wa
[2005] NODA MAP Tsumi to Batsu
[2007] Hibari
[2007] Romance
[2008] SISTERS
[2009] NODA MAP Piper
[2009] Jane Eyre
CM
Toshiba Reizooko / Kawaribanko
Shiseido
Yamazaki Baking Co., Ltd
Loat Pharmaceutical
Panahome
Coca-Cola
Suntory
Citations / Awards
Kinokuniya Engekishoo
Erandole Awards - Rookie Award, 1997
22nd Media Film Awards - Best Rookie Award, 1997
12th Japan Golden Disc Awards - The Best New Artist of the Year Award, 1997
1997 Japan's New Heroine - first place
34th Golden Arrow Awards - Broadcast Rookie Award and Best Rookie Award, 1997
21st Matsuo Entertainment Awards - Rookie Award, 2000
Education, Culture and Arts Minister Rookie Award in theater acting division, 2000
10th Hashida Award television division 2002
Best Actress of the Year 2004
External Links