New user registrations have been disabled until further notice. If you would like to create an account, please message
Generasia on Facebook
. Thank you!
Sato Atsuhiro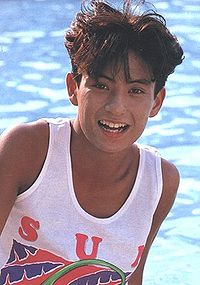 Sato Atsuhiro (佐藤アツヒロ) is a member of Johnny's Entertainment and is best known for being a member of Hikaru GENJI from 1987 to 1995.
Profile
Stage Name: Sato Atsuhiro (佐藤アツヒロ)
Real name: Sato Atsuhiro (佐藤敦啓)
Birthdate: 1973-08-30
Birthplace: Yawatashi, Kyoto, Japan
Nickname: A-kun
Image colour: Yellow
Blood Type: A
Height: 168cm
History
Sato Atsuhiro was born on August 30, 1973. When he was in his 3rd year of primary school, during the 2nd term, he moved to Fujisawa, Kanagawa. In 1986, aged 13, he joined Johnny's Entertainment as a "scholarship student" instead of passing an audition. The following year, he debuted with Hikaru GENJI where he was the youngest member. At the time, he was still in junior high, so he still had to attend classes so he was sometimes absent from Hikaru GENJI appearances. His catchphrase at the time was "超新星からのメッセージ" ("Message from a supernova").
In 1995, Hikaru GENJI SUPER 5 disbanded and he changed his name to アツヒロ サトウ (Sato Atsuhiro) and released his first solo single. He also released two albums under that name, then released his last album under his real name. In 1998, he changed his name to 佐藤アツヒロ (Sato Atsuhiro), his current name.
He is one of the more popular "senpais" in the company, younger members often mention hanging out with him. Domoto Tsuyoshi (KinKi Kids) joined the company because he admired him. He is also a member of the unofficial Johnny's group NO BORDER (other members include Yamaguchi Tatsuya (TOKIO), Domoto Koichi (KinKi Kids), Matsumoto Jun (Arashi), Takizawa Hideaki (Tackey & Tsubasa), Yamashita Tomohisa (NEWS), Murakami Shingo (Kanjani8), Ikuta Toma (junior)).
Discography
Albums
Singles
Works
Dramas
[1987-1989] Abunai Shounen 1, 2, 3 (あぶない少年1、2、3)
[1988] Starlight Kids Shin Hokutoshichisei Densetsu (スターライト・キッズ 新・北斗七星伝説)
[1991] Waka-sama Samurai Torimonochou (若さま侍捕物帖)
[1992] Hikoushounen-tachi (非行少年たち)
[1992] Eiga Mitai na Koi Shitai (映画みたいな恋したい)
[1995] Heart ni S (ハートにS)
[1995] Christmas Kiss ~Eve ni Aimashou (クリスマスキス〜イブに逢いましょう)
[1995] Cinderella no Kutsu (シンデレラの靴)
[1997] Suna no Shiro (砂の城)
[1997] P.A. Private Actress (P.A. プライベートアクトレス)
[1998] Ofukuro ni Sasageru Uta (おふくろに捧げる歌)
[1999] Douyou Wide Gekijou Keishichou Josei Sousahan (土曜ワイド劇場 警視庁・女性捜査班)
[2002] Ise Shima, Shinju no Umi ni Kieta Futari no Onna (伊勢志摩、真珠の海に消えたふたりの女)
[2002] Onna to Otoko to Mystery Eki ni Tatatsu Hito (女と男とミステリー駅に佇つ人)
[2002] Douyou Wide Gekijou Drama Omatsuri Bengoshi Sawada Gorou "Aomori Nebuta Matsuri ~ Tokushima Awa Odori Matsuri, Nihon Juudan Ni Oomatsuri 1600kilo wo Musubu Renzoku Satsujin (土曜ワイド劇場ドラマお祭り弁護士 澤田吾朗「青森ねぶた祭~徳島阿波おどり、日本縦断二大祭り1600キロを結ぶ連続殺人!」)
[2006] Nervous na Mushi Mushi(ナーバスな虫々)
Films
[1988] Fu-Shi-Gi-Na BABY (ふ・し・ぎ・なBABY)
[2005] Geki x Shine Tour 2005 "Dokuro Shiro no Shichinin ~ Aodokuro" (ゲキ×シネ ツアー2005「髑髏城の七人~アオドクロ」)
[2007] Geki x Shine Tour 2007 "Dokuro Shiro no Shichinin ~ Aodokuro" (ゲキ×シネ ツアー2007「髑髏城の七人~アオドクロ」)
[2008] Geki x Shine Tour 2008 "Dokuro Shiro no Shichinin ~ Aodokuro" (ゲキ×シネ ツアー2008「髑髏城の七人~アオドクロ」)
Stage Plays
[2000] Lullaby Mata wa Hyakunen no Komuri Uta (ララバイまたは百年の子守唄)
[2000] Inuyasha (犬夜叉)
[2000] France Engeki Creation ~Shiagari no Yoi Tegami~(フランス演劇クレアシオン~仕上がりのよい手紙~)
[2000] Koi no Dai Kyuu Koukyoukyoku(恋の第九交響曲)
[2001] Inuyasha (犬夜叉)
[2001] Déjà Vu '01 ~ Ishuuin Keibuho no Yuuutsu (デジャ・ヴュ'01~伊集院警部補の憂鬱)
[2001] Shitsuon ~ Yoru no Ongaku ~(室温~夜の音楽~)
[2001] Shicha no Nyoubou ~ Asanuno You Damari Ai no Machi ~(質屋の女房~麻布陽だまり愛の町~)
[2002] Arigatou Saboten-sensei (ありがとうサボテン先生)
[2002] PLAY ZONE 2002 Aiji (少年隊PLAY ZONE 2002 愛史)
[2002] Tsukikage Juuban Shoubu Dai 7ban ~ Ai no Arashi ~(月影十番勝負第7番~愛の嵐~)
[2002] Nanabousei (七芒星)
[2003] Yashagaike (夜叉ヶ池)
[2003] Bowing Bowing (ボーイング・ボーイング)
[2003] Musical Tenshi wa Hitomi wo Tojite (ミュージカル天使は瞳を閉じて)
[2004] エドガーさんは行方不明
[2004] LYNX
[2004] PLAY ZONE 2004 WEST SIDE STORY (少年隊PLAY ZONE 2004 WEST SIDE STORY)
[2004] Dokuro no Shichinin ~ Aodokuro (髑髏城の七人~アオドクロ)
[2004] TAPE
[2005] (いとこ同士)
[2005] PLAY ZONE 2005 -20th Anniversary-(少年隊PLAY ZONE 2005 -20th Anniversary-)
[2005] Team ARAGOTO~Strong Play of The World~Vol.1 Ebi Daioh (Team ARAGOTO~Strong Play of The World~Vol.1エビ大王)
[2006] MYTH
[2006] PLAY ZONE 2006 Change(少年隊PLAY ZONE 2006 Change
[2006] Kabata Koushinkyoku ~ Kizaki Hijouhen ~(蒲田行進曲~城崎非情編~)
[2006] "@The Globe Project Vol.2" "Kyodai Uchuujin Nanimo Sezu Kaeru" "Ore-tachi ni Asu wa... Attehoshii" (「@The Globe Project Vol.2」『巨大宇宙人何もせず帰る』『俺たちに明日は‥‥あってほしい』)
[2007] Jigoku Hakkei... Ukiyo Hyakkei (地獄八景‥浮世百景)
[2007] PLAY ZONE 2007 Change2Chance(少年隊PLAY ZONE 2007 Change2Chance)
[2008] Puu Series Episode I Amatsukaze ~Amatsukaze~ (プーシリーズEpisodeIアマツカゼ 〜天つ風〜)
[2008] HYMNS
[2008] Ai to Seishun no Takaratsuka ~ Koi yori Seimei yori mo ~(愛と青春の宝塚~恋よりも生命よりも~)