Due to an influx of spam accounts getting through and joining the site, user registrations have once again been disabled until further notice as we work on a different solution.
Fujimoto Miki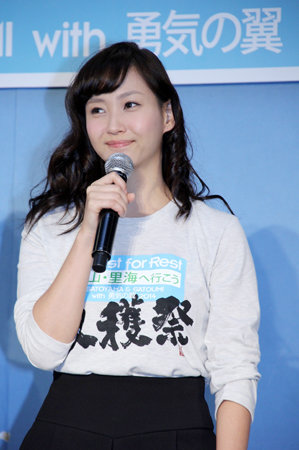 Fujimoto Miki (藤本美貴) is a Japanese pop singer and talent managed by JP.ROOM. She is best known as a former member of Morning Musume and a soloist within Hello! Project. She is part of Morning Musume OG.
Profile
Name: Fujimoto Miki (藤本美貴)
Nicknames: Mikitty (ミキティ)
Birthday: February 26, 1985
Blood type: A
Height: 155 cm
Hobbies: Enjoying movies
Favorite color: Black, white
Favorite flowers: Sunflowers
Favorite phrase: "Have fun!"
Favorite season: Summer
Disliked food: Scallions, cauliflower, broccoli, taro
Favorite song: Romantic Ukare MODE
Favorite artists: Amuro Namie, Christina Aguilera, Matsuura Aya
Hello! Project groups:
Other:
History
Fujimoto started off in 1999 when she audition at the avex dream 2000 audition but didn't pass. Later on, she was originally part of the group of finalists in the fourth generation Morning Musume auditions that resulted in the induction of Ishikawa Rika, Yoshizawa Hitomi, Kago Ai, and Tsuji Nozomi. While not selected at that time, in early 2001 Fujimoto was contacted again and offered a chance to debut as a solo artist. After training for a little more than a year, she made her solo debut with her first single, "Aenai Nagai Nichiyoubi." According to her Morning Musume x Tsunku 2 interview, she worked as a receptionist at Up-Front Agency during her training period.
In 2002, Tsunku pooled Fujimoto along with two other Hello! Project soloists, Goto Maki (a former Morning Musume member) and Matsuura Aya, to form Gomattou. The group released one single.
After a successful performance on the Kouhaku Uta Gassen New Year's Eve music program, Tsunku made the surprise announcement in 2003 to add Fujimoto to Morning Musume as a part of the sixth generation, sidelining her solo career indefinitely. Fujimoto gradually became one of the main vocals of the singles. Later that same year, she was added to the Country Musume roster along with Konno Asami, going on to release three singles as a part of the group.
Fujimoto was added to the futsal team Gatas Brilhantes H.P. in February 2004.
When Yaguchi Mari abruptly resigned from the group in April 2005, Fujimoto became the subleader of Morning Musume, supporting Yoshizawa Hitomi as the new leader.
In June 2006, it was announced that Fujimoto would form a new unit called GAM along with Matsuura Aya. GAM released three singles over the coming months, and then their first album in May 2007. A concert tour began on May 26th, 2007.
On May 6th, 2007, Yoshizawa Hitomi graduated from Morning Musume and Fujimoto Miki became the new leader with Takahashi Ai taking her former place as subleader.
On May 25th, 2007, Fujimoto was revealed in Friday magazine to have been dating a boyfriend, Shouji Tomoharu, who is part of comedy duo Shinagawa Shouji. Fujimoto herself confirmed that the story is true in a radio interview within days of the story breaking. As a result, on June 1st, Fujimoto, following in the footsteps of Yaguchi Mari, quit Morning Musume. She remained in Hello! Project as a solo artist. She continued to perform in GAM with Matsuura Aya on their first tour, but the group went effectively inactive after the tour ended.
She released her first single in five years on April 2008, entitled Okitegami. The A-side of the single was also done by Horiuchi Takao at the same time, causing an official battle between the two. About a year later, Fujimoto announced that she was she was engaged to Shouji Tomoharu and was getting married in July 2009.
On September 11, 2011 Fujimoto Miki announced that she was pregnant. On March 27, 2012, Fujimoto gave birth to the couple's first child, a son.
Discography
Albums
Singles
Compilations / Other
DVDs
Publications
Photobooks
Books
[2012.10.03] First mama book
[2013.11.30] Fujimoto Miki ga Amitai! Mikitty no Kawaii Daily Baby Knit (藤本美貴が編みたい!ミキティのかわいいデイリーベビーニット)
Works
Filmography
Movies
TV Programs
TV Dramas
Anime
Commercials
Theater
Radio
Morning Musume OG Concert
Trivia
Morning Musume 3rd Addition Audition songs:
Sang Hamasaki Ayumi's "Depend on you" for her Avex dream audition.
Came up with "Mikitty" as a nickname for herself prior to her debut and derives from mixing "Miki" and "Kitty" (because she is a big fan of Hello Kitty).
Close friends with Matsuura Aya and Yoshizawa Hitomi.
Her role models include Amuro Namie and Nakazawa Yuko.
Due to her "strong," brusque image, it is common among Japanese fans to call her "Miki-sama."
Coincidentally, figure skater Ando Miki also has the same nickname of "Mikitty." Fujimoto has said herself that it "felt like [she] had a new relative."
Is a self-confessed homebody.
As a child, wanted to become an enka singer due to the influence of her grandmother.
Would want to be a nursing home caretaker if she hadn't become a singer.
She commented during Ishikawa Rika's graduation on May 4th, 2005, that there was a time when she and Ishikawa did not get along very well -- to the point that it even influenced TV programs, according to a Musume DOKYU! producer.
Attended Hokkaido Akabira High School, but dropped out in April 2001 to pursue her solo career.
Originally debuted as an actress first on TV Tokyo's "Shin Bishoujo Nikki."
Around the time of her debut, photos taken with various guys at clubs surfaced via tabloids, but the scandal was rather minor and brief.
Yoshizawa Hitomi calls her "Kuwagata" (stag beetle), her only nickname not to be name-related.
She holds the shortest tenure as Morning Musume's leader, with her leadership lasting a mere 25 days.
She is the youngest child in her family (Hello! Morning #318)
External Links