Due to an influx of spam accounts getting through and joining the site, user registrations have once again been disabled until further notice as we work on a different solution.
Goto Maki
Goto Maki (後藤真希) is an Japanese urban pop singer, currently signed to avex trax. Goto originally made her debut in 1999 as part of Hello! Project, and as the only third generation member of Morning Musume. She has sold over 1,576,761 copies in Japan alone being the second best-selling solo artist in Hello! Project. Early in Summer 2008, Goto left Hello! Project and moved to the rhythm zone label. In 2010 she transferred to avex trax.
Profile
Birth Name: Goto Maki (後藤真希)
Nicknames: Gottchan, Gottsuan, Gocchin, Gomaki, Goma-chan, Makirin
Date of Birth: September 23, 1985
Blood Type: O
Height: 160 cm (5'3)
Family: Husband, daughter, son, Brother Goto Yuuki
Bands / Groups:
Shuffle Units
History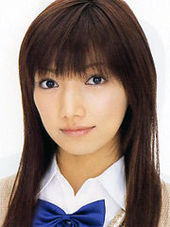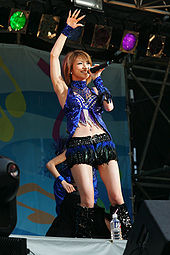 Goto Maki joined Morning Musume when she was just 13 years old and became almost an instant favorite, helping them reach number one with the song LOVE Machine. She soon established herself as a talented singer and dancer and took the lead on a large number of Morning Musume tracks.
In 2002 she graduated from Morning Musume to pursue a solo career and has since released four albums, as well as a number of singles. She was also in the Morning Musume ten year anniversary group, Morning Musume Tanjou 10nen Kinentai.
On October 28, 2007, Nikkan Sports reported that her graduation from Hello! Project had been announced by UFA and took place on the last date of her 2007 Fall tour. According to the article, her graduation is in response to her brother, Goto Yuuki's arrest, as well as different ideas in the direction of her singing career.
Early in Summer 2008, Goto signed up with rhythm zone sub-label of avex trax. She performed Hear me at a-nation 2008 (a song that would later be re-released as Mine with KEN THE 360 on her debut mini-album) and Whitney Houston's Saving All My Love for You. Goto proceeded to release digital singles and PVs for new songs Fly Away, Lady-Rise, and with... as part of her SWEET BLACK Project. Fly Away was the first song Goto had written the lyrics to herself. Digitally, these singles fared extremely well. Goto collaborated with ravex to release Golden LUV feat. Goto Maki - it was Goto's first time collaborating with anyone.
While with avex, Goto got the chance to participate in the TOKYO GIRLS COLLECTION Fashion Show.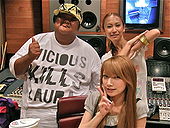 2009 saw the release of her physical debut with the album SWEET BLACK, listed under the artist known as SWEET BLACK Feat. Goto Maki, though the songs were actually written and performed by Goto herself. The mini-album had 8 tracks, and featured many collaborations with artists such as Bigga Raiji, KG, and KEN THE 360. A limited version release of the album was sold with a 64-page photobook as well as a hand-drawn cover. With this mini-album under her belt, Goto performed at various events including the SPLASH Festival 2009 and a-nation 2009. She has stated in an interview that following her run as SWEET BLACK feat. Goto Maki, she will start to release under her proper name.
In early 2010, Goto witnessed the death of her mother, Goto Tokiko, in their home in Edogawa, Tokyo. Her death was apparently caused by a fatal fall from the third story of their house while Tokiko was under the influence of alcohol on the 23rd of January. Goto herself found her at around 11 PM, and she was rushed to the hospital before passing away on the 24th. A funeral service was held on the 28th, attended by Goto and several former Hello! Project members.
After a brief hiatus, Goto returned to the music scene announcing her official debut (as opposed to her collaboration with SWEET BLACK, Goto's works from this point forward would bear only her name). The mini-album "ONE", released on July 28th, features five new songs all under the name of 'Goto Maki'. Goto put on a mini-live, which was recorded and streamed live online, in which she discussed the album and performed three songs.
As promotion for this release, Goto appeared on several Television shows. One particular show, Kinyoubi no Suma tachi e, aired a 2-hour special on her life and included interviews with Goto as well as a performance of one of her new songs, 華詩-hanauta-, written for her mother. This episode reached 19.3% ratings for the show, making it the most watched program of the day. On June 22, 2011, Maki announced on her official website that she will take an indefinite hiatus from the beginning of 2012.
She came back in 2014, promoting the game Monster Hunter. In April she opened her Blog. In July, she married a non celebrity. She gave birth to a girl on December 7, 2015. At Halloween 2016, she announced on her Blog, that she's 5 month pregnant. On March 25, she gave birth to a boy.
In 2019, it was revealed that Goto had been conducting an extramarital affair with an old friend, with whom she'd meet in secret at hotels. Goto's husband attempted to sue the friend, who claimed that Goto's marriage was on its way to collapse and that there had allegedly been domestic abuse. Goto publicly admitted to the affair on her blog, but claimed that the alleged domestic abuse was overexaggerated. She chose to remain with her husband and claims they are working hard to restore their marriage.
In April 2020, she started 2 Youtube Channels. One for Lifestyle Topics and the other one for Gaming.
Discography
Albums
Mini-Albums
Cover Albums
Best Albums
Singles
Split Singles
Digital Singles
Video Releases
Other Video Releases
Compilations / Other
Filmography
Movies
Dramas
Stage Plays
Works
TV
Commercials
Radio
[2003-????] Young Town Douyoubi (ヤングタウン土曜日)
[2003-2005] Goto Maki no Makkinkin RADIO (後藤真希のマッキンキンRADIO)
[2009-] SWEET BLACK Girls
Publications
Photobooks
[2001.11.06] Goto Maki (後藤真希)
[2003.03.21] maki
[2003.09.??] Pocket Morning Musume. (Vol.2) (ポケットモーニング娘。(Vol.2) (With Abe Natsumi, Yaguchi Mari, Iida Kaori)
[2003.06.27] more maki
[2004.04.24] PRISM
[2004.07.23] Alo-Hello! Goto Maki (アロハロ!後藤真希)
[2005.04.26] Dear...
[2006.08.21] FOXY FUNGO
[2011.11.27] go to natura…
Essay Books
[2002.09.??] Goto Maki myself (後藤真希myself)
[2002.12.??] Goto Maki Otakara Photo BOOK (後藤真希お宝フォトBOOK)
[2003.09.23] 99 no Goto Maki (99の後藤真希)
[2003.12.??] Goto Maki Seishun no Sokuseki (後藤真希 青春の足跡)
[2005.04.07] Goto Maki Chronicle 1999 - 2004 (19992004―後藤真希クロニクル)
Pamphlets
[2003.09.30] Goto Maki in Hello! Project 2003 Natsu (後藤真希 in Hello! Project 2003夏)
[2004.03.13] Goto Maki in Hello! Project 2004 Winter (後藤真希 in Hello! Project 2004 Winter)
[2004.06.30] Maki Goto Photobook Concert Tour 2004 Spring ~Magane Shoku ni Nuccha e!~ (Maki Goto Photobook Concert Tour 2004 Spring~真金色に塗っちゃえ!~)
[2004.09.28] Goto Maki in Hello! Project 2004 summer (後藤真希 in Hello! Project 2004 summer)
[2005.07.06] Nochiura Natsumi Live "TRIANGLE ENERGY" (後浦なつみライブTRIANGLE ENERGY」) (With Nochiura Natsumi)
[2005.10.25] Goto Maki + Melon Kinenbi Hello! Project 2005 Natsu no Kayou Shoo 05 Serekushon! Korekushon! (後藤真希+メロン記念日Hello!Project2005夏の歌謡ショー―05'セレクション!コレクション!) (With Melon Kinenbi)
[2006.04.07] Goto Maki & Matsuura Aya in Hello! Project 2006 Winter (後藤真希&松浦亜弥in Hello!Project 2006 Winter) (With Matsuura Aya)
Magazines
[2010.07.xx] Gekkan Songs August 2010 (Feature)
[2011.02.xx] YOU MUSIC March 2011 Issue (Feature)
Trivia
From the date she first joined (August 22, 1999) to the date she graduated (September 23, 2002), Goto's tenure in Morning Musume lasted 1,128 days.
Hobbies: Cooking, enjoying movies
Favorite Colors: Deep blue, gray, yellow, white, pale pink
Favorite Flowers: Baby's breaths
Favorite Food: Mont blanc, ice cream, rice
Disliked Food: Liver, sea urchin, avocado, papaya
External links