Due to an influx of spam accounts getting through and joining the site, user registrations have once again been disabled until further notice as we work on a different solution.
Kaga Kaede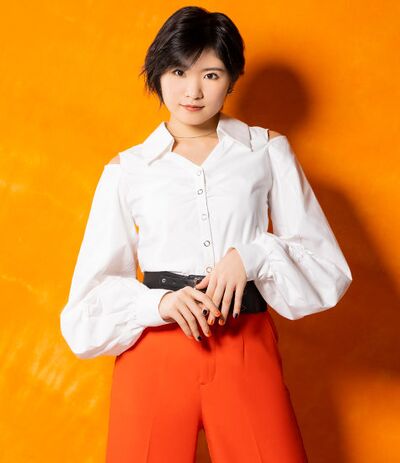 Kaga Kaede (加賀楓) is a former Japanese pop singer and idol managed by Up-Front Promotion and part of Hello! Project. She was a thirteenth generation member of Morning Musume.
Profile
Name: Kaga Kaede (加賀楓)
Nickname: Kaedi (かえでぃ)
Birthdate: November 30, 1999
Blood Type: A
Height: 163cm
Hobbies: Reading, karaoke, watching anime
Specialties: Trumpet, kendo (1st Dan)
Favorite Food: Natto, ground meat
Looks Up To: Sayashi Riho
Hello! Project groups:
History
Kaga Kaede first appeared as a participant in the Morning Musume 11th Generation ~Suppin Utahime~ Audition in the summer of 2012, but failed to become a finalist. She later passed a separate audition and became a member of the Hello Pro Kenshuusei in November, and was later officially introduced at the December "Hello Pro Kenshuusei Happyoukai 2012 ~12gatsu no Nama Tamago Show!~" concert on December 9, 2012.
After the lack of finalists in the first run and second re-run of the Morning Musume 13th Generation audition, it was announced that the winners would be chosen from the Hello Pro Kenshuusei. Kaga was revealed as one of two winners of the Morning Musume 13th Generation Shinseiki Audition on December 12, 2016, alongside fellow Hello Pro Kenshuusei member Yokoyama Reina, in an announcement at Nippon Budokan during the last performance of the Morning Musume fall tour.
Kaga was named the official tourism ambassador for Kaga Onsen-kyo (加賀温泉郷) in Ishikawa Prefecture on April 18, 2018. Her continued appointment to the role of official tourism ambassador for Kaga Onsen-kyo was announced in October 2020.
On December 10, 2022, Kaga graduated from Morning Musume '22 and Hello! Project.
Discography
Digital Releases
Publications
Photobooks
[2019.11.30] Kaede (楓)
[2020.10.29] Iroha Kaede (イロハカエデ)
[2021.11.30] Maple Sugar (メープルシュガー)
[2020.09.09] Hello Pro Visual Photobook 2020 AUTUMN Vol.2 (ハロプロビジュアルフォトブック2020 AUTUMN Vol.2) (Niinuma Kisora, Kamikokuryo Moe, Tanimoto Ami, Kaga Kaede, Hirai Miyo, Morito Chisaki, Kishimoto Yumeno, Kobayashi Honoka, Shimakura Rika, Asakura Kiki, Satoyoshi Utano, Ono Mizuho, Makino Maria, Yokoyama Reina, Dambara Ruru, Sasaki Rikako, Inoue Rei)
[2021.04.10] Hello Pro Visual Photobook 2021 SPRING Vol.4 (ハロプロビジュアルフォトブック2021 SPRING Vol.4) (Akiyama Mao, Asakura Kiki, Ikuta Erina, Ishida Ayumi, Ise Layla, Ichioka Reina, Inaba Manaka, Inoue Rei, Uemura Akari, Eguchi Saya, Okamura Homare, Okamura Minami, Oda Sakura, Onoda Saori, Ono Mizuho, Kaga Kaede, Kasahara Momona)
[2021.11.10] Hello Pro Visual Photobook 2021 Autumn Vol.7 (ハロプロビジュアルフォトブック2021 Autumn Vol.7) (Oda Sakura, Nonaka Miki, Makino Maria, Haga Akane, Kaga Kaede, Yamazaki Mei, Matsumoto Wakana, Inoue Rei, Dambara Ruru, Tanimoto Ami, Ono Mizuho, Akiyama Mao, Ichioka Reina, Yamazaki Yuhane, Kiyono Momohime, Hirai Miyo, Kobayashi Honoka)
Works
Filmography
TV Programs
Internet
Commercials
[2017] Marukome Morning Misoshiru
[2020] Kaga Onsenkyo Night Bar "Watashi ni Niau Mono" (加賀温泉郷ナイトバル 「私に似合うもの」)
[2020] Kaga Onsenkyo Night Bar "Itsumo no" (加賀温泉郷ナイトバル 「いつもの」)
[2021] AVIOT TE-D01q Wireless Earbuds
Theater
Radio
Trivia
Her official Morning Musume image color is

Italian red

.
Takes Kendo lessons.
Her favorite Hello! Project songs are "Onna ga Medatte Naze Ikenai", "One・Two・Three", and "Tsumetai Kaze to Kataomoi" by Morning Musume, and "Love take it all" by °C-ute.
Her favorite season is summer.
Favorite flower is fragrant olive.
Her father is Deb, lead vocalist for the metal band The King of Metal Slime.
Wrote in a magazine that her dream is to become a person people look up to and want to be like.
Favorite sports are marathon, soccer, martial arts, and kendo.
Has referred to herself as an anime otaku.
Her motto is "Do everything until the end".
Her favorite music genres are rock and anison.
Her favorite Morning Musume album is "No.5"; her favorite songs from the album are "Tomodachi ga Ki ni Itteru Otoko Kara no Dengon" and "Hey! Mirai".
In a promotional twitter video for Morning Musume's 68th single, Kaede revealed for the first time that while completing her Hello Pro Kenshuusei registration she confused "birthplace" for "place of residence", accidentally listing where she lived (Tokyo) instead of her birthplace of Chiba Prefecture. Since it had been announced already, she was instructed to keep her mistake a secret until this moment.
External Links