Due to an influx of spam accounts getting through and joining the site, user registrations have once again been disabled until further notice as we work on a different solution.
Ogawa Makoto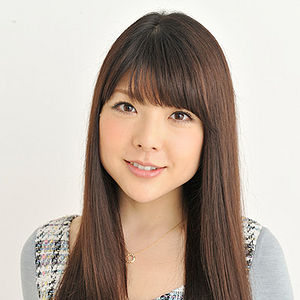 Ogawa Makoto (小川麻琴, born October 29, 1987) was a fifth generation member of Morning Musume. She joined the group in August 2001 along with fellow fifth generation members Takahashi Ai, Niigaki Risa, and Konno Asami.
She graduated from Morning Musume on August 27, 2006. She was studying English in New Zealand. She returned in 2008 as an MC in some concerts. She then graduated from Hello! Project in 2009 with the rest of the Elder Club. She is now part of Morning Musume OG.
Profile
Name: Ogawa Makoto (小川麻琴)
Nicknames: Mako, Makocchan, Makko
Birthdate: October 29, 1987
Birthplace: Kashiwazaki, Niigata, Japan
Blood type: O
Height: 156 cm
Hobby: Taking a sitz bath
Favorite food: Pumpkin, squash
Disliked food: Asparagus
Favorite word: 友達 (tomodachi - friend)
Favorite colors: Blue, pink, yellow, red, black, white
Favorite flowers: Sunflower, tulips
Favorite season: Summer
Specialty: "Swimming, I guess?"
Hello! Project groups:
Special Groups:
Other:
History
Ogawa Makoto was selected from Love Audition 21 to join Morning Musume as a fifth generation member on August 26, 2001, along with Takahashi Ai, Konno Asami, and Niigaki Risa. She made her debut appearance on the single "Mr. Moonlight ~Ai no Big Band~," and first appeared on the fourth studio album, 4th Ikimasshoi!.
Prior to joining Morning Musume, Ogawa was enrolled at the entertainment school "Apple Little Performers" (ALP) in Niigata, where she was one of the top students. She has also been a model for magazines and campaigns, such as one for automobile safety for the elderly.
In September 2002, the fifth generation were placed into the Morning Musume subgroups, and Ogawa was added to the Petitmoni roster. However, unlike the other newly shuffled Tanpopo and Minimoni, the new line-up of Petitmoni never released a single. They had one original song, "WOW WOW WOW", but it was only released on the Petit Best 4 album and performed during concerts.
Ogawa was placed in Morning Musume Otome Gumi in January 2003 and released two singles as a part of the group before it went inactive.
On June 22, 2003, Ogawa sprained her hip during the Edokko Chuushingura musical mini-live at the Meijiza Theater in Tokyo. Consequently, she was sidelined to a wheelchair for several live performances during the release of "Shabondama" (for the HEY! HEY! HEY! MUSIC CHAMP appearance as a part of SALT5, she performed sitting on a stool).
She was an original member of the futsal team Gatas Brilhantes H.P. when it was formed in September 2003, but retired from the group in March 2004. In March 2006, she became a member of the kickball team Metro Rabbits H.P..
On April 28, 2006, alongside Konno Asami, Ogawa announced that she would graduate from Morning Musume in order to study English abroad. She graduated on August 27, 2006, after the final performance of Ribbon no Kishi The Musical. Officially, she remained a member of Hello! Project, however she came back in 2008 and graduated in 2009 from Hello! Project. She makes regular appearances in the TV Asahi show Jagaimon and has performed in various stage plays, concerts with non-Hello! Project artists, and some fan club events.
Makoto announced her reitrement from show business on March 14, 2015.
Works
Filmography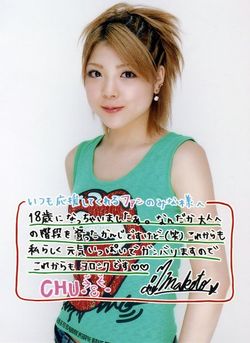 Films
TV Dramas
Theater
Photobooks
[2005.02.22] Ogawa Makoto (小川麻琴)
[2006.08.28] Natsu no Uta (夏ノ詩(なつのうた))

Trivia
Made her CD debut on a cheer song for the J2 soccer team, Albirex Niigata, when she belonged to ALP. Due to her extensive former commercial experience, along with Niigaki Risa's own tie-ins, a new requirement was added to all auditions after Love Audition 21 stating that applicants could not have had prior attachment to any agency.
Love Audition 21 audition songs:
She is commonly referred to as "the new Yasuda Kei" character by both fans and fellow members, largely because of her "obaachan" (old lady) image in terms of mannerisms and speech. Ishibashi Takaaki and Nakai Masahiro also have frequently teased her on Utaban as being "the new Kemeko."
She has two sisters.
External Links