Due to an influx of spam accounts getting through and joining the site, user registrations have once again been disabled until further notice as we work on a different solution.
Nakazawa Yuko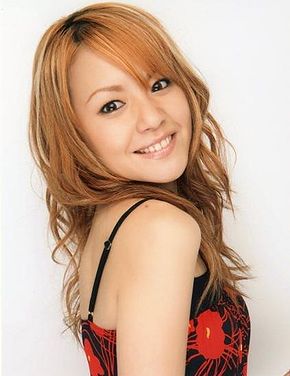 Nakazawa Yuko is one of the five original members of Morning Musume, and was one of the oldest members of Hello! Project. She (along with Heike Michiyo) also served as the leaders of the entire Hello! Project. She graduated from Hello! Project along with the rest of the Elder Club, but is still signed with Up-Front. Is part of Morning Musume OG.
Profile
Name: Nakazawa Yuko (中澤裕子)
Nicknames: Yuu-chan, "Big Sis", Misoji (Three Decades Old)
Birthday: June 19, 1973
Birthplace: Fukuchiyama, Kyoto, Japan
Blood type: O
Height: 159 cm
Hobbies: Map driving
Favorite phrase: "Survival of the fittest..."
Favorite color: Purple
Favorite flowers: Cherry blossoms
Favorite season: Summer
Favorite food: Squid, boiled fresh white rice
Disliked food: Bananas, tomatoes, miso soup with bean curd and onions
Habits: Bites tongue when asleep
Hello! Project groups:
Other:
History
Nakazawa joined Morning Musume in 1997 as a part of the first generation and was Morning Musume's first leader. She graduated in April 2001 and was the first member to start a solo career in addition to being a member of Morning Musume.
She has also acted in doramas such as Beauty 7, Gokusen, and had the title role as the mother of a four year old in Homemaker. After graduating from Morning Musume., she became the host of Hello! Morning, a position she held until Yasuda Kei took over after her own graduation in 2003. Nakazawa frequently appeared as a guest and as a regular on news and skit segments in the show.
In December of 2011 it was announced that she was engaged and to be married in the Spring of 2012. She planned to move to his home in Fukuoka after the marriage, but said she would continue to work. The marriage papers were handed in on April 1st, 2012, while the ceremony was held around the beginning of June in Hawaii. During an event for her 39th birthday on June 19, 2012 Yuko announced that she is five months pregnant.
It was announced that Yuko gave birth to a baby girl on November 27, 2012. On May 7, 2015 she gave birth to a boy.
Trivia
From the date Morning Musume was formed (September 7, 1997) to the date she graduated (April 15, 2001), Nakazawa's tenure in Morning Musume lasted 1,316 days.
She worked as an OL prior to joining Morning Musume at age 24.
She is known as an older sister figure within Hello! Project but is also famous for her aggressive, yankii-like (delinquent) personality as well.
She has grown accustomed to usually speak in Tokyo dialect, and has usually suggested fellow members from Kansai (Heike Michiyo, Kago Ai, and more recently Mitsui Aika) to speak in Tokyo dialect while in Hello! Project. Ironically, she is known for bursting out in her native Kansai dialect whenever she is annoyed, usually "scaring" younger members.
Was particularly close to Ichii Sayaka before her graduation from Morning Musume and Hello! Project, and still remains fairly a close friend to her and her new family.
She used to be a big fan of punk music.
She has one sister (as well as a niece).
She has two chihuahuas, Taro (male) and Hana (female).
Has stated that her reason for graduating from Morning Musume was that she began to feel physically limited from keeping up with the group's activities because of her age.
At one point, she hated bananas so much that she felt repulsed just being in the same room as them. However, when asked by Tsuji Nozomi what had changed about her since she had graduated from Morning Musume, Nakazawa said that she could now be in the same room as someone eating a banana and be fine with it.
Is not a big fan of using phones and is known for not answering the phone, so much so that Yasuda Kei has said it is a "miracle" if Nakazawa answers the phone.
Discography
Albums
Best Albums
Singles
Other Singles
Compilations / Other
DVDs
Concerts
Morning Musume OG Concert
Works
Filmography
Movies
TV Dramas
Commercials
[2011] DHCプロティンダイエット (HC Protein Diet)
Theater
[2001] フットルース (Footloose)
[2003] 江戸の花嫁 (Edo no Hanayome)
[2005] 笠置シズ子物語 わが歌ブギウギ (Kasagi Shizuko Monogatari Wagauta Boogie Woogie)
[2006] アパッチ砦の攻防「戸惑いの日曜日」 (Apache Toride no Koubou "Tomadoi no Nichiyoubi")
[2007] ぶるー・ブルー・バースディ (Blue Blue Birthday)
[2007] 佐賀のがばいばあちゃん (Saka no Gabai Baachan)
[2010] (Boku wa Juuni-hitoe ni Koi wo Suru)
Radio
[2000-2001] 中澤裕子のallnightnippon SUPER! (Nakazawa Yuko no All Night Nippon SUPER!)
[2002-2004] ヤングタウン土曜日 (Young Town Douyoubi)
[2004-2006] 気ままにクラシック (Ki mama ni Classic)
[2005-____] マジアサ! (Majiasa!)
Photobooks
Essay Books
External links