It is thanks to each and every one of you that has made Generasia the largest resource for Asian media info. To our wonderful contributors, thank you!
Tanaka Reina
From generasia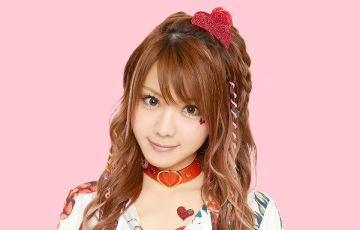 Tanaka Reina (田中れいな) is a Japanese pop singer managed by Up-Front Promotion and a vocalist for the band LoVendoЯ. She was previously part of Hello! Project as a sixth generation member of Morning Musume.
Profile
Birth Name: Tanaka Reina (田中麗奈)
Stage Name: Tanaka Reina (田中れいな)
Nicknames: Tanakacchi (田中っち), 07 (Rei-Na), Reina (れいな), Reinya (れいにゃ)
Birthday: November 11, 1989
Blood type: O
Height: 152.4cm (5'0)
Skills: Can play without sleep
Hobbies: Observing people, texting, recording TV shows
Motto: If you're allowed to be yourself, you won't do bad things to people!, Don't do things to people that you wouldn't want for people to do to you
Favorite food: Cartilage, broccoli, enoki mushrooms, chocolate
Favorite words: Otsukareina, "GanbaReina"
Favorite colors: Pink
Hello! Project groups:
Other:
History
Tanaka Reina was selected from the Morning Musume LOVE Audition 2002 to join Morning Musume as a member of the sixth generation, along with Kamei Eri and Michishige Sayumi. She first appeared on the single "Shabondama" and her first studio album was "Ai no Dai 6 Kan". In 2003, she was the leader of the one-shot Hello! Project unit Aa!, along with Natsuyaki Miyabi and Suzuki Airi.
Tanaka is well-known for being the lead vocalist on her debut single. She sang a solo version of "Memory Seishun no Hikari" on the fanclub special Best Shot Vol.4. Since being the center position for "Ambitious! Yashinteki de Ii Jan", Tanaka has gotten several solo lines in songs, and she gradually worked her way up to being one of the lead vocalists in such songs like "Mikan" and "Resonant Blue". She was also the leader of High-King and a lead vocalist in their single, "C\C (Cinderella\Complex)".
In early 2008, she was announced as the voice actor for Kirara, the main character in Sanrio's Onegai My Melody Kirara☆. In 2011 after fellow member Mitsui Aika was put on rest for an injury, she took over the role of Osamu Tezuka in the 2011 Morning Musume stage play Reborn ~Inochi no Audition~.
Tsunku announced a new audition for young girls to be in a band with Tanaka in June 2012, searching for female vocalists and guitarists. The band members were announced on November 19, 2012 (vocalist Okada Marina and guitarists Uozumi Yuki and Miyazawa Marin), and at the same time, Tanaka's graduation from Hello! Project was announced. She graduated on May 21, 2013 at Nippon Budokan, on the final day of Morning Musume's spring 2013 concert tour.
Discography
Digital Singles
Compilations / Other
DVDs
Publications
Photobooks
[2004.11.19] Tanaka Reina (田中れいな)
[2005.10.17] Reina (れいな)
[2006.05.10] Shoujo R (少女R)
[2007.02.01] Alo Hello! Tanaka Reina Photobook (アロハロ! 田中れいな 写真集)
[2007.09.27] GIRL
[2008.02.27] Re:(Return) (Re:(リターン))
[2008.10.24] Very Reina
[2012.05.09] Kira★Kira (きら★きら)
[2003.07.16] Hello Hello! Morning Musume 6ki Members (ハロハロ! モーニング娘。6期メンバー写真集) (Kamei Eri, Michishige Sayumi, Tanaka Reina)
[2010.11.12] Hello Hello! ~Memories~ (ハロハロ!~Memories~) (Kamei Eri, Michishige Sayumi, Tanaka Reina)
Works
Filmography
Films
TV Programs
TV Dramas
Anime
Internet
Theater
Radio
[2007–2010] FIVE STARS
[2012–2013] Reina Time (れいなたいむ)
[2013–] LoVendoЯ no Rabu on (LoVendoЯの『らぶおん』; LoVendoЯ's Love Sound)
[2013–] LoVendoЯ no Level-Я (LoVendoЯのLV-Я)
Publications
Trivia
Her official Morning Musume image color is light blue.
She shares her name in kanji with Japanese actress Tanaka Rena (田中麗奈). To avoid confusion, Tanaka adopted hiragana symbols (れいな) for her given name when she joined Morning Musume.
She originally auditioned for Morning Musume during the Love Audition 21 auditions for the fifth generation and was even featured on the MUSIX page. She is the only member to audition twice to get into Morning Musume. However, Tanaka was not old enough to audition at this stage, so she added one year to her age in her application, knowing she wouldn't make it very far. She made it to the training camp but was expelled after her mishap was revealed.
Iida Kaori was the first to use "07" to refer to Tanaka (in an episode of Hello! Morning where she wrote her "07" on a flip card to identify Tanaka in a guessing game). Since then, "07" had been printed on her sleeves in some concerts, and other members such as Yoshizawa Hitomi and Fujimoto Miki have used "07" when writing.
Noted her favorite Morning Musume song to be "Renai Hunter" in a 2012 magazine interview.
Has said that her favorite Japanese act is the band Golden Bomber.
External Links