Due to an influx of spam accounts getting through and joining the site, user registrations have once again been disabled until further notice as we work on a different solution.
Konno Asami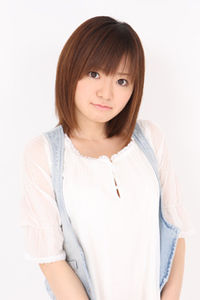 Konno Asami (紺野あさ美) was a fifth generation member of Morning Musume. She joined the group in August 2001 along with fellow fifth generation members Takahashi Ai, Ogawa Makoto, and Niigaki Risa. She graduated from Morning Musume and Hello! Project on July 23, 2006, to pursue her studies and enter a university.
She later rejoined Hello! Project as part of the Morning Musume OG to continue participating in Gatas Brilhantes H.P. and Ongaku Gatas while still maintaining her studies, thus being the first person to graduate from H!P and then rejoin as a member. In 2011 she left again and became an announcer for TV Tokyo.
Profile
Name: Konno Asami (紺野あさ美)
Nicknames: Konkon (こんこん), Konchan (紺ちゃん), Ponchan (ポンちゃん), Konbu, Bukkonbu, Acchan, Asa, Ojyamaru (おじゃマル)
Birthday: May 7, 1987
Blood type: B
Height: 156 cm
Hobbies: Exercising, listening to music, shopping, and talking
Special skill: Playing the trombone
Favorite word: 本気 (honki - seriousness)
Favorite color: White, brown, black and pink
Favorite food: Cheese, sushi, meat, lasagna, potatoes, sweets
Disliked food: Curry, strawberries, melon, cucumbers, mayonnaise, wasabi
Favorite season: Summer and winter
Favorite flowers: Snowdrops, cherry blossoms
Hello! Project groups:
Other:
Other:
History
Konno was selected from Love Audition 21 to join Morning Musume as a fifth generation member on August 26, 2001, along with Takahashi Ai, Ogawa Makoto, and Niigaki Risa. Although only three girls were expected to be chosen, Konno was the wildcard selection, despite having performed poorly in all areas of the audition. (Tsunku had called Konno "a failure".) She made her debut appearance on the single "Mr. Moonlight ~Ai no Big Band~," and first appeared on the fourth studio album, 4th Ikimasshoi!.
Later that year, Konno was the lead in the TV special Morning Musume tokuban: 13-nin-gakari no Kurisumasu. During this show she proclaimed that she was the "spare". The plot of the show was to prove to Konno that Morning Musume could work together as a 13 member unit and did in fact need and want her there.
She was unexpectedly thrust into a central position in the May 2002 musical, "Morning Town," receiving the lead role in the second half of the play.
In September 2002, the fifth generation were placed into the Morning Musume subgroups, and Konno was added to the Tanpopo roster along with Niigaki Risa. She participated in one single, "BE HAPPY Koi no Yajirobee."
Konno was placed in Morning Musume Sakura Gumi in January 2003 and released two singles as a part of the group before it went inactive.
Later that year in July, Konno was added to Country Musume along with Fujimoto Miki, going on to release three singles with the group.
Despite her weaker singing voice in comparison to the other members, Konno sang a solo version of "Papa ni Niteiru Kare" on the fanclub-only DVD release of Morning Musume Best Shot Vol. 3.
She was an original member of the futsal team Gatas Brilhantes H.P. when it was formed in September 2003, having the position of goalkeeper along with Tsuji Nozomi.
On April 28, 2006, Konno announced her graduation alongside Ogawa Makoto. She graduated from Morning Musume and Hello! Project on July 23, 2006, in order to take the high school graduation exam and enter a university.
On December 14, 2006, it was announced that Konno had been accepted to Keio University, Shonan Fujisawa campus (SFC). Keio University is considered the best private university in Japan.
On June 18, 2007 it was announced that Konno would be returning to H!P to continue her futsal career with Gatas Brilhantes H.P. It was also announced that she would preform in the summer concert in Nagoya on July 17, 2007. On September 12, 2007, she and other Gatas members would release Gatas' debut single "Narihajimeta Koi no Bell". [1] [2]
On March 31, 2009, Konno graduated from Hello! Project, alongside the rest of the Elder Club. She still remains under the management of Up-Front Agency.
On October 1, 2010, it was announced at the Hello! Project homepage that Konno will be an announcer for TV Tokyo starting April 2011.
Konno announced her marriage to Tokyo Yakult Swallows baseball player Sugiura Toshihiro on January 10, 2017, stating that the marriage had taken place several days earlier in the month on January 1st.
Works
Filmography
Movies
TV Dramas
TV Programs
Featured Singles
Radio
Photobooks
Trivia
From the date she first joined (August 26, 2001) to the date she graduated (July 23, 2006), Konno's tenure in Morning Musume lasted 1,792 days.
Morning Musume Love Audition 21 audition songs:
Certified level 3 for Japanese Kanji Proficiency Exam.
Has a brown belt in karate.
Was considered the most intelligent member of Morning Musume, having been a studious person in school, by scored the highest on Mecha-Mecha Iketeru!'s Bakajo Test and later graduating from Morning Musume to enter a university.
Is close friends with her fellow fifth generation members Takahashi Ai, Ogawa Makoto, and Niigaki Risa.
External Links