Due to an influx of spam accounts getting through and joining the site, user registrations have once again been disabled until further notice as we work on a different solution.
Makino Maria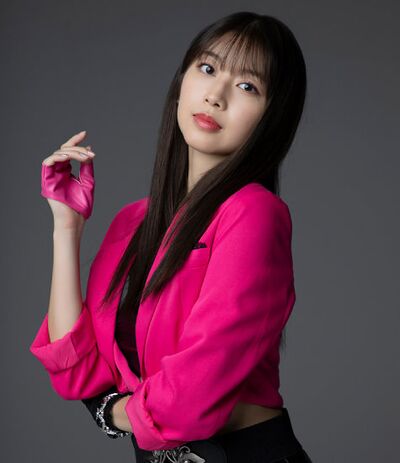 Makino Maria (牧野真莉愛) is a Japanese pop singer and idol managed by Up-Front Promotion and part of Hello! Project. She is a twelfth generation member of Morning Musume.
Profile
Name: Makino Maria (牧野真莉愛)
Nickname: Maria (まりあ), Makki (マッキー)
Birthdate: February 2, 2001
Blood Type: A
Height: 165.5cm
Hobbies: Watching baseball games, visiting Tokyo Disney
Specialties: Ballet, piano, calligraphy, making duck face, drawing
Favorite Food: Fresh cream, custard, peach, sponge cake, cheese pizza, seedless Kyohou grapes
Least Favorite Food: Squid (except in school lunch), spicy food
Favorite Color: Pink
Favorite Subject: Crafts, art
Looks Up To: Michishige Sayumi
Hello! Project groups:
History
Makino Maria joined Hello! Project as a member of the Hello! Pro Kenshuusei in 2012, and was first introduced at the December "Hello Pro Kenshuusei Happyoukai 2012 ~12gatsu no Nama Tamago Show!~" concert. Prior to joining she participated in the Morning Musume 11th generation audition.
She was chosen from Morning Musume's 12th generation "Golden Audition" to join the group on September 30, 2014, along with Ogata Haruna, Nonaka Miki, and Haga Akane. Makino's image color was officially changed from light pink to pink, the color formerly held by her respected 6th generation senior Michishige Sayumi, on July 12, 2019.
On February 2, 2021 it was announced that Maria would begin writing a new column in the official Hokkaido Nippon-Ham Fighters magazine "FORTE". The first edition of the column, titled "Fighters LOVErin Desu", was published in the issue released on February 15th.
Discography
Digital Releases
Video Releases
Publications
Photobooks
[2015.11.14] Makino Maria Mini Photobook "Greeting -Photobook-" (牧野真莉愛ミニ写真集『Greeting-Photobook-』)
[2016.08.06] Maria
[2017.08.30] Senkou Hanabi (せんこう花火; Sparkler Fireworks)
[2018.02.02] Maria 17sai (マリア17歳; Maria 17 Years Old)
[2018.08.25] Summer Days
[2019.02.02] María 18 años ([Es]: Maria 18 Years Old)
[2020.02.02] Maria19
[2021.02.02] Maria Hatachi (真莉愛 二十歳; Maria 20 Years Old)
[2022.02.02] M.21
[2022.08.31] Morning Musume Makino Maria Zenshuu 2018-2022 (モーニング娘。 牧野真莉愛 全集 2018 - 2022; Morning Musume Makino Maria Complete Works 2018-2022)
[2023.06.10] Dear MARIA
[2020.09.09] Hello Pro Visual Photobook 2020 AUTUMN Vol.2 (ハロプロビジュアルフォトブック2020 AUTUMN Vol.2) (Niinuma Kisora, Kamikokuryo Moe, Tanimoto Ami, Kaga Kaede, Hirai Miyo, Morito Chisaki, Kishimoto Yumeno, Kobayashi Honoka, Shimakura Rika, Asakura Kiki, Satoyoshi Utano, Ono Mizuho, Makino Maria, Yokoyama Reina, Dambara Ruru, Sasaki Rikako, Inoue Rei)
[2021.04.10] Hello Pro Visual Photobook 2021 SPRING Vol.6 (ハロプロビジュアルフォトブック2021 SPRING Vol.6) (Dambara Ruru, Niinuma Kisora, Nishida Shiori, Nonaka Miki, Haga Akane, Hashisako Rin, Hirai Miyo, Fukumura Mizuki, Maeda Kokoro, Makino Maria, Matsunaga Riai, Matsumoto Wakana, Morito Chisaki, Yamagishi Riko, Yamazaki Mei, Yamazaki Yuhane, Yokoyama Reina)
[2021.11.10] Hello Pro Visual Photobook 2021 Autumn Vol.7 (ハロプロビジュアルフォトブック2021 Autumn Vol.7) (Oda Sakura, Nonaka Miki, Makino Maria, Haga Akane, Kaga Kaede, Yamazaki Mei, Matsumoto Wakana, Inoue Rei, Dambara Ruru, Tanimoto Ami, Ono Mizuho, Akiyama Mao, Ichioka Reina, Yamazaki Yuhane, Kiyono Momohime, Hirai Miyo, Kobayashi Honoka)
Books
[2016.12.12] Morning Musume 12th Generation Official Book (モーニング娘。12期 オフィシャルブック)
Newspapers
Magazines
Works
Filmography
TV Programs
Internet
Anime
Commercials
Theater
Radio
Trivia
Was a finalist in the Morning Musume 11th Generation ~Suppin Utahime~ Audition.
Her favorite baseball team is the Hokkaido Nippon-Ham Fighters (it used to be the Chunichi Dragons), her favoriter player is Tsuyoshi Shinjo.
Her favorite Hello! Project songs are "Renai Revolution 21" and "The☆Pea~ce!" by Morning Musume and "Joshi Kashimashi Monogatari (2011 Dorimusu Ver.)" by Dream Morning Musume.
Her favorite season is winter.
Favorite flower is rose.
Favorite sport is baseball.
Her motto is "Kokkishin", to have self control; don't give into your desires easily.
Wrote in a magazine that her dream was to become like Michishige Sayumi.
Thinks her charm point is her long bellybutton.
Said the thing she wants to do most as part of Morning Musume is appear at the season opening ceremony of a baseball game.
Before debut the songs she wanted to dance the most with Morning Musume were "Ai no Gundan" and "Toki wo Koe Sora wo Koe".
Was in the Invention Club and Baseball Club in Elementary school.
Has the first level swimming ability certification.
Likes the manga "MAJOR"; was formerly a fan of "Kirarin Revolution".
Enjoys the television show "Gaki no Tsukai ya Arahende!!" and the baseball section of "Honoo no Taiikukai TV".
Became a fan of Morning Musume through her 11th Generation audition, during which she wanted to learn more and eventually strongly felt that she wanted to become part of the group.
Has family friends from Cebu Island in the Philippines.
External Links