Generasia would not be what it is today without the countless contributions by both staff and members alike! Thank you for all that you do!!
Kiyono Momohime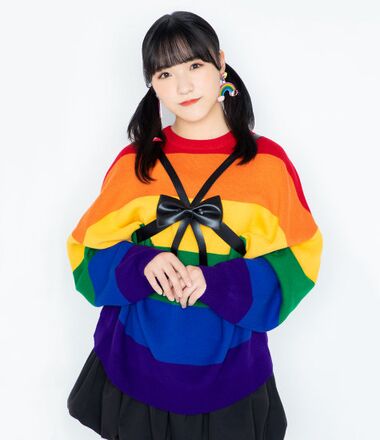 Kiyono Momohime (清野桃々姫) is a Japanese pop singer and idol managed by Up-Front Promotion and part of Hello! Project. She is a member of Ame no Mori Kawa Umi and the collective group BEYOOOOONDS.
Profile
Name: Kiyono Momohime (清野桃々姫)
Nickname: Purin (プリン)
Birthdate: December 22, 2004
Blood Type: A
Height: 151cm
Specialties: Human beatbox, dance, unicycle
Hobbies: Ribbons, collecting hair accessories, kite flying, skateboarding, guitar, creating & editing videos, sign language
Looks Up To: Tsugunaga Momoko
Hello! Project groups:
Other groups:
History
Kiyono Momohime was a member of the Tokyo branch of indie idol group Amorecarina until her graduation in 2015. She was also enrolled in the Avex Artist Academy's dance program in Tokyo, under which she was a member of the local idol duo Juri♡Puri during part of 2015, and acted as a junior model for a fashion magazine. The following year on January 15, 2016 she was revealed as a new member of the Hello Pro Kenshuusei through an announcement on the official Hello! Project website. Kiyono's first public introduction took place at the "Hello! Pro Kenshuusei Recital February/March 2016 ~SINGING!~" event on February 13, 2016.
On May 5, 2017 an announcement was made at the end of the "Hello! Project Kenshuusei Happyoukai 2017 ~Haru no Koukai Jitsuryoku Shindan Test~" event revealing that Hello Pro Kenshuusei members Kiyono Momohime and Takase Kurumi would debut in a new section that would focus on theater and performance, with no further information provided at the time. In an article for the release of the Hello Pro Maruwakari BOOK 2017 SUMMER, it was revealed that Takase and Kiyono and another unassigned Kenshuusei had been promoted to full members of Hello! Project, though their official profiles remained within the Hello Pro Kenshuusei section and they continued to participate in Kenshuusei events.
An update to the status of two previously announced new groups was published through the official website on March 30, 2018. The notice revealed that the groups would begin activities between Summer and Autumn 2018 and the new group Takase and Kiyono would become members of would have joint activities with the group Ichioka Reina would lead. New information on their respective concepts was also shared; Takase and Kiyono's group would be formed with the image of a small theater troupe that utlizes expressive power and elements of theater and comedy with their singing and dancing. In addition, new auditions for the groups were also announced with applicant information to be revealed in late April 2018, and a note that members could be chosen from both public applicants and members of Hello Pro Kenshuusei.
On January 3, 2021 Kiyono began releasing her first serialization through pop culture site "Real Sound". The series was titled "Himepure" (ひめぷれ) and focused on song playlists and recommmendations, making use of her love of music spanning a wide range of genres. On March 3 it was announced that Kiyono was undergoing an examination for worsening lower back sciatic nerve pain she'd been experiencing since January, and was told by the doctor to avoid dancing for a period of time. Her participation in the mini live release event for the single "Gekikara Love / Now Now Ningen / Konna Hazujanakatta!" was limited to singing only, with future live performances dependent on the results of her exam.
On March 10, 2021, after undergoing a detailed examination that showed no abnormalities in her spine, spinal cord, or bones, Kiyono was diagnosed with lumbar myofasciitis and ordered to continue resting. As a result she was absent from the March 14 and March 21 dates of the Hello! Project 2021 Haru "Kachou Fuugetsu" concert tour, where ANGERME member Kawamura Ayano filled her position.
Discography
Digital Releases
Publications
Photobooks
[2020.08.07] BEYOOOOONDS① (Ichioka Reina, Shimakura Rika, Nishida Shiori, Eguchi Saya, Takase Kurumi, Maeda Kokoro, Yamazaki Yuhane, Okamura Minami, Kiyono Momohime, Hirai Miyo, Kobayashi Honoka, Satoyoshi Utano)
[2021.08.07] BEYOOOOONDS②
Works
Filmography
Movies
TV Programs
Internet
Commercials
Music Videos
Theater
Radio
Trivia
Made her first live appearance at the "Hello! Pro Kenshuusei Recital February/March 2016 ~SINGING!~" event on February 13, 2016.
Was previously enrolled in the Avex Artist Academy dance program in Tokyo.
Acted as a junior model for a fashion magazine prior to joining the Kenshuusei.
Was formerly a member of the indie idol groups Juri♡Puri and Amorecarina.
Is the first Hello Pro Kenshuusei member born after the formation of the program in 2004.
Her favorite music genres are J-Pop, dance music, and western music.
Her favorite sport is dance.
Favorite school subject is art.
Her motto is "Always give my all!!" (常に全力!!).
Favorite food is kyoto style pickled vegetables.
Her favorite Hello! Project songs are "Odore! Morning Curry" and "Tsumetai Kaze to Kataomoi" by Morning Musume and "21ji Made no Cinderella" by Berryz Kobo.
Thinks her charm points are her long eyelashes and double eyelids.
Her future goal is to become a performer that can bring happiness to everyone in the world.
Is occasionally referred to as "Momohime-gensui Saiko Shireiken" (モモヒメ元帥最高司令官; Supreme Commander Marshal Momohime) by fans, after a gag role she played while delivering instructions to her seniors for the Hello! Project Hina Fes 2017 lottery.
Gallery
External Links