Due to an influx of spam accounts getting through and joining the site, user registrations have once again been disabled until further notice as we work on a different solution.
Juice=Juice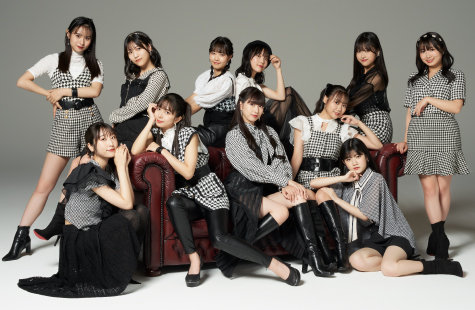 Juice=Juice (ジュース=ジュース) is a Japanese pop girl group managed by Up-Front Promotion and part of Hello! Project.
Members
Current Members
Member History
Founding Members on February 25, 2013
Miyazaki Yuka (宮崎由加, graduated June 17, 2019) (Peach)
Kanazawa Tomoko (金澤朋子, graduated November 24, 2021) (

Apple

)
Takagi Sayuki (高木紗友希, left February 12, 2021) (

Lemon

)
Otsuka Aina (大塚愛菜, left July 5, 2013) (

Orange

)
Miyamoto Karin (宮本佳林, graduated December 10, 2020) (

Grape

)
Uemura Akari (植村あかり) (

Melon

)
Joined June 26, 2017
Joined June 13, 2018
Joined June 14, 2019
Joined April 1, 2020
Joined July 7, 2021
Joined June 29, 2022
Joined May 23, 2023
History
Juice=Juice was formed in early February 2013 by producer Tsunku, through a letter announcement during the annual Hello! Project Winter concert tour. It was said to be the first of multiple new units created using members from the Hello! Pro Kenshuusei. The members, Miyamoto Karin, Takagi Sayuki, Otsuka Aina, and Kanazawa Tomoko from Hello! Pro Kenshuusei, and Miyazaki Yuka from Up-Front, were revealed at the concert. Tsunku stated that despite Yuka's not being a trainee, he decided to add her due to her already close relationship to Hello! Project through auditions and activity as a member of the SATOYAMA group GREEN FIELDS, and because he thought it would be fun and interesting. He also stated that the group would start at an indie level and work their way to a major debut, and that the lineup was not yet permanent, therefore as they worked to their debut he may add, remove, or change out members.
On February 25, 2013 Tsunku revealed the name of the group to be "Juice=Juice", stating that he wanted it to be always fresh and full of personality, and that in Japan anything is called "juice" whereas overseas unless it's 100% pure it's not "juice". Despite that he said they would not be a childlike group and that he wants them to reach beyond their limits with being cool. An official video announcement was also uploaded, where Tsunku revealed the name and meaning to the group members for the first time, and assigned them each a fruit and corresponding color. Karin recieved grape (purple), Sayuki lemon (yellow), Aina orange, Akari melon (green), Tomoko apple (red), and Yuka peach (pink).
The group's first live appearance took place at the "Hello! Project Haru no Dai Kansyasai Hinamatsuri Festival 2013" on March 2, 2013. Three months later at an event taking place on June 13, 2013 at Ikebukuro Sunshine City, Tsunku announced the group's major debut to take place sometime in the summer. He also announced that Miyazaki Yuka would be the leader and Kanazawa Tomoko would be the subleader. On July 5, 2013 it was suddenly announced that member Otsuka Aina would no longer be part of the group, or Hello! Pro Kenshuusei, due to contractual issues that were unable to be settled with her family. In response Tsunku stated that despite her leaving he would not be adding a new member to the group, but would continue to leave open the possibility for lineup changes in the future.
During a release day event for the group's first album, "First Squeeze!", on July 15, 2015 it was revealed that Juice=Juice would perform overseas for the first time as part of their "Juice=Juice LIVE MISSION 220 ~Code1→Begin to Run~" concert tour. Performances would take place in Taipei, Taiwan on October 3, 2015 and in Hong Kong, China on October 4, 2015. A few days after the special performances it was announced that Juice=Juice would act as the main characters in the 2016 Fuji TV drama series "Budokan", being produced with some collaboration from Tsunku.
The group's second overseas performance in Hong Kong was announced on December 20, 2016, to take place at an idol event titled "@JAMxTALE in Hong Kong 2017". On April 12, 2017 a world tour titled "Juice=Juice Live Around Tour 2017" was announced through episode #214 of the Hello! Project webshow "Hello Station". The tour included performances in the USA, the UK, France, Germany, Mexico, Thailand, and Malaysia, though specific dates were not made available immediately. In October it was revealed that the tour would be further expanded to include performances in Peru, Chile, and Brazil throughout December 2017.
A special edition of the Hello! Project webshow "Hello Station" was released on June 26, 2017, announcing the debut placements of three previously chosen Hello Pro Kenshuusei members and the group transfers of three Country Girls members. It was revealed during the episode that Dambara Ruru and Yanagawa Nanami would become new members of Juice=Juice.
During episode #274 of the Hello! Project webshow "Hello Station" on June 13, 2018, a surprise announcement revealed that former Country Girls member Inaba Manaka would become a new member of Juice=Juice and move back into full-time idol activities. A formal announcement followed on the official website, stating that she decided to take on full work again because there had been no problems with her physical condition since her limited capacity return in September 2017 - prior to which she had been on medical hiatus due to asthma.
On Novermber 2, 2018 it was announced that Yanagawa Nanami would graduate from Juice=Juice, Country Girls, and Hello! Project the following year on March 11, 2019. In her statement she said she wanted to move from "idol" and to grow as "Yanagawa Nanami", and mentioned furthering her education while moving toward a new goal. Current leader Miyazaki Yuka announced her graduation from Juice=Juice and Hello! Project through the official website, on December 21, 2018, to take place at the conclusion of Juice=Juice's Spring 2019 concert tour. In her statement she confirmed that she had been considering it for the year prior and chose the timing herself since the new members had become familiar with the group, also noting that she would continue in entertainment after graduating. Details on future activities would be revealed at a later date.
During the June 12, 2019 episode of the Hello! Project website "Hello Station" it was announced that current sub-leader Kanazawa Tomoko would become the new leader upon Miyazaki's graduation, with Takagi Sayuki stepping in as sub-leader. In a second surprise announcement it was revealed that new members from the Hello Pro Kenshuusei would be joining the group, and would be introduced through the group's YouTube channel on June 14th. The new members were revealed to be Kudou Yume and Matsunaga Riai, from Hello Pro Kenshuusei Hokkaido and Hello Pro Kenshuusei respectively. Their first appearance with the group would take place on June 17th during Miyazaki Yuka's graduation concert at Budokan.
On January 23, 2020 it was announced that Juice=Juice would visit Vladivostok, Russia in early June as part of Hello! Project's participation in a Japan-Russia Regional Exchange Program surrounding music, tourism, and general cultural exchange. The following month on February 10th, original member Miyamoto Karin announced her graudation from the group and Hello! Project through the official website and a special video upload to the Hello! Project Station YouTube channel, where she revealed she would continue performing as a soloist. She had been considering her graduation since fall 2018 and had discovered many things she had an interest in, including DIY and interior design, and wanting to learn about and share those things over SNS. Her graduation will take place at the end of "Juice=Juice CONCERT TOUR 2020 Spring" on June 3rd, and she is set to begin solo activities in Fall 2020. Within her announcements she also discussed wanting to find her own ways of expression to utilize in her performances, and the hope that she would be able to continue working with Juice=Juice and Hello! Project members in some way even after graduating.
During an April 1st YouTube mini-live promoting the group's 13th major single, "Pop Music / Suki tte Itte yo", leader Kanazawa Tomoko revealed that former Kobushi Factory member Inoue Rei would join Juice=Juice. Her activities with the group would begin following Miyamoto Karin's graduation in June. On April 3rd the previously announced travel tour to Vladivostok, Russia was postponed until October in order to protect the health of all involved during the coronavirus outbreak, dependent on the situation at the time. Miyamoto Karin's graduation was additionally postponed until further notice due to circumstances regarding the virus. A special concert for her graduation, titled "Juice=Juice Concert 2020 ~Tsuzuite Iku STORY~ Miyamoto Karin Sotsugyou Special", was later scheduled to take place on December 10, 2020 at Nippon Budokan in Tokyo.
A special joint audition to find new members for Juice=Juice and Tsubaki Factory was announced on January 20, 2021, through episode #359 of the "Hello! Station" webshow. The audition would accept applications from January 22 through March 1, from girls living in Japan between 6th grade elementary and the 2nd year of high school. This was the first audition ever held for Juice=Juice.
Original member, and sub-leader at the time, Takagi Sayuki announced her decision to leave both Juice=Juice and Hello! Project, effective immediately, on February 12, 2021, following a story from tabloid Bunshun regarding her relationship with singer-songwriter Yuuri. In her statement she apologized for the sudden decision, saying that she came to this conclusion after trying to think of a way to take responsibility, expressed thanks to the group, fans, and staff, aand requested that fans continue to support Juice=Juice. Up-Front stated they would be discussing possible future activities with her, and asked that fans allow for some time for a decision to be revealed. She later shoe to leave the company.
On July 7, 2021 Irie Risa was revealed to be the winner from the joint Juice=Juice and Tsubaki Factory audition that would join Juice=Juice, in episode #383 of Hello! Project Station. Two additional members from Hello Pro Kenshuusei, Arisawa Ichika and Ebata Kisaki, were announced alongside her. They began activities with the group at the Hello! Project 2021 Summer Sapphire & Ruby concerts starting July 17.
On October 6, 2021 it was announced that Kanazawa Tomoko would graduate from Juice=Juice and Hello! Project to focus on the treatment of her endometriosis. A concert titled "Juice=Juice Concert 2021 ~FAMILIA~" was announced for schedule on November 24, 2021 at Yokohama Arena, which will also be the date of Kanazawa's graduation. The group's fifteenth single was also announced for release in December 2021.
Inaba Manaka and Dambara Ruru were announced to be new sub-leaders of Juice=Juice on December 31, 2021 at the Hello! Project Year-End Party 2021 ~GOOD BYE & HELLO!~ Juice=Juice Premium. Sub-leader Inaba Manaka announced her graduation from Juice=Juice and Hello! Project on March 18, 2022. Her graduation would take place at Nippon Budokan on May 30, during the group's Juice=Juice CONCERT TOUR ~terzo~ tour as part of the Hello! Project 2022 Spring CITY CIRCUIT.
On June 29, 2022 the results from the Hello! Project "Morning Musume '22" "Juice=Juice" Joint New Member Audition was announced and that Hello Pro Kenshuusei member Ishiyama Sakura and new member Endo Akari were the winners to join.
On May 23, 2023 it was announced that Hello Pro Kenshuusei member, Kawashima Mifu would be joining the group.
Discography
Albums
Best Albums
Mini-Albums
Singles
Digital Singles
Compilations / Other
Video Releases
Concerts / Live
Single V / Event V
Stage Play
Documentary
Drama
DVD Magazines
Works
Filmography
TV Dramas
Publications
Photobooks
Accolades
[2013] The 55th Japan Record Awards 2013 "New Artist"
External Links