Due to an influx of spam accounts getting through and joining the site, user registrations have once again been disabled until further notice as we work on a different solution.
Abe Natsumi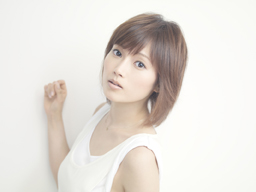 Abe Natsumi was one of the original five members of Morning Musume in 1997. She graduated from Morning Musume in 2004, and became a soloist in Hello! Project that year. On March 31, 2009, Abe Natsumi graduated from Hello! Project with the rest of the Elder Club. She is now a soloist and part of Morning Musume OG signed with Up-Front Agency.
Profile
Name: Abe Natsumi (安倍なつみ)
Nicknames: Nacchi, Naccho, Nachimi, Nachinachi
Birthday: August 10, 1981
Blood type: A
Height: 152 cm
Hobbies: Looking at different fashions
Favorite words: Freedom, life, love, heart
Favorite colors: Baby pink, Blue, sparkling colors
Favorite flowers: Sunflowers, gerberas, cherry blossoms
Favorite season: Autumn
Favorite food: Sushi
Disliked food: Cilantro, pickles, wasabi
Favorite song: 22sai no Watashi
Hello! Project groups:
Special Groups:
History
Abe Natsumi is one of the five original members of Morning Musume. She often took the lead in songs, on occasion singing the entire lead vocal with the other girls acting as backup singers. In 2004, she graduated from the group to pursue a solo career.
In 2003, Abe teamed up with Yosumi Keiko, a former member of Rokusenmon, as a so-called "mother and daughter" duo and released a single to prepare her for her solo efforts. To date she has released two albums, one mini album, and ten solo singles.
In late 2004 she was temporarily suspended for plagiarism, but as of early 2005, she is once again recording and performing. The song that was already recorded and supposed to be released as a single was Nariyamai Tambourine, which never was publicly released because Abe was suspended. The song was only released in 2008 in Abe's Best album as a new track.
Abe has participated in many Hello! Project shuffle units and subgroups, the latest being Morning Musume Tanjou 10nen Kinentai.
On November 16, 2007, it was announced that Abe would be collaborating with ºC-ute member Yajima Maimi. They will release the single 16sai no Koi Nante on January 16, 2008. It will be the first Hello! Project single of 2008.
On March 31, 2009, Abe Natsumi graduated from Hello! Project with the rest of the Elder Club.
In 2014, she changed directions in her music style. Going from releasing Jpop songs to venture into the world of classical music. In 2016, she became a mother of a boy.
Concerts
Morning Musume OG Concert
Discography
Albums
Mini-Albums
Best-Of Albums
Other Albums
Singles
Digital Singles
Compilations / Other
Concert DVDs
Other DVDs
Photobooks
[1999.12.??] ナッチ (Nacchi)
[2001.11.01] なつみ (Natsumi)
[2003.09.??] ポケットモーニング娘。〈Vol.2〉 (Pocket Morning Musume. (Volume 2)) (With Yaguchi Mari, Goto Maki, Iida Kaori)
[2004.02.24] 出逢い (Deai; Meeting)
[2005.05.26] ふう (Fuu)
[2005.10.02] アロハロ!安倍なつみ (Alo Hello! Abe Natsumi)
[2006.06.09] エクリュ (écru
[2007.03.28] sCene
[2007.11.25] カム オン (Cam On)
[2008.08.26] End of Summer
[2010.10.30] 夏・美 (Natsu・mi)
Concert


Abe Natsumi + Berryz Koubou Hello! Project 2005 Natsu no Kayou Show '05 Selection! Collection!

Essay Books
Other Works
Filmography
Movies
TV Dramas
Theater
Radio
[1999-2000] 安倍なつみのスーパーモーニングライダー (Abe Natsumi no Super Morning Rider)
[2001-2003] エアモニ。 (Airmoni.)
[2005] TBC FUNふぃーるど・モーレツモーダッシュ (TBC FUN Field Moretsu Moodush)
[2008-2009] インターFM 「FIVE STARS」 (InterFM "FIVE STARS") (on Mondays)
[2009-] bayfm FRIDAY NIGHT MEETING 安倍なつみ「あなたに会えたら」 (Anata ni Aetara)
Trivia
From the date Morning Musume was formed (September 7, 1997) to the date she graduated (January 25, 2004), Abe's tenure in Morning Musume lasted 2,331 days.
Attended Hokkaido Noboribetsu High School (currently known as Hokkaido Noboribetsu Seiryou High School).
Tsuji Nozomi calls her "Nachimi." Nakazawa Yuko and Yasuda Kei sometimes call her "Natsuan." Rinne was the first person to call her "Naccho." Yaguchi Mari calls her "Nacchio."
Abe has credited her desire to become a singer during her time in middle school when she was feeling depressed after being bullied, she heard JUDY AND MARY's "Chiisa na Koro Kara" playing on the radio. Even now, she still has a great deal of respect for YUKI, the former lead singer of the band.
Abe got the name of "Natsumi" from a 1979 TV dorama series called "Chotto My Way" in which Momoi Kaori played the main character named "Asai Natsumi," and Abe's mother decided to name her daughter "Natsumi."
Her younger sister Asami started a musical career on her own in 2003.
As shown on ASAYAN, she originally wasn't the main vocalist for Morning Coffee. Iida Kaori was original main vocalist, but Tsunku switched his mind, and the rest is history.
External links