Due to an influx of spam accounts getting through and joining the site, user registrations have once again been disabled until further notice as we work on a different solution.
Berryz Kobo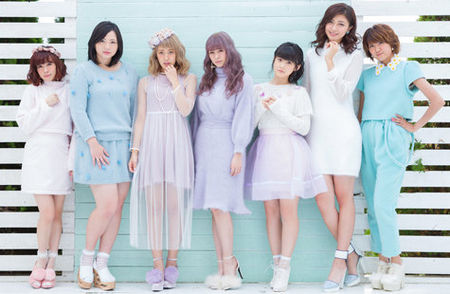 Berryz Kobo (Berryz工房) was a Japanese pop girl group managed by Up-Front Promotion and part of Hello! Project from 2004 to 2015.
Members
Former Members
History
The name Berryz Kobo, which means "Berryz Workshop", reflects the initial idea that the group's line-up would change from time to time, with each of the Hello! Project Kids eventually participating in the group. However, this idea was apparently dropped and in 2005, the other seven Hello! Project Kids ended up forming their own group, °C-ute.
Berryz Kobo had a weekly 15 minute radio show called Berryz工房 起立! 礼! 着席! (Berryz Koubou Kiritsu! Rei! Chakuseki!, roughly meaning Berryz Koubou Stand Up! Bow! Sit Down!, as in a class honoring the teacher entering the classroom). It began on March 30, 2004 and airs on JOQR every Tuesday from 23:35 to 23:50. However, it ended on April 7, 2009 when Tsugunaga Momoko's solo radio show took over the timeslot. As of April 8, 2009 a new podcast called Beritsuu! featuring Shimizu Saki, Tokunaga Chinami and Sudou Maasa airs weekly on Fridays on JOQR.
Berryz Kobo debuted at a concert on March 3, 2004, and they performed as backup dancers for W's promotional videos.
Even though there are exceptions (such as album songs) the lead vocals in Berryz Kobo's main single songs are most often Natsuyaki Miyabi, Sugaya Risako,Tsugunaga Momoko and Kumai Yurina.
On September 11, 2005, it was announced that Ishimura Maiha would graduate from the group and Hello! Project to focus on her studies. Her graduation took place on the last night of their fall tour, October 2, 2005.
On April 1, 2007, Berryz Kobo held a concert at Saitama Super Arena, becoming the youngest female group ever to perform there. The tickets sold out two months before the concert, and a few days before the concert it was announced that there would be extra seats available.
On March 3, 2009 the group celebrated their 5th anniversary. Also in 2009 during their "Berryz Kobo Concert Tour 2009 Haru ~Sono Subete no Ai ni~" the group also celebrated their 100 concert tour date. A video showing clips from their past concerts was shown on the 100th concert date.
On March 12, 2011, it was announced that their concert in Sendai on 3/12 and other events has been canceled do to the earthdquake and tsunami.
On August 2, 2014, it was announced that Berryz would be going on an indefinite hiatus starting March 3rd, 2015.
Discography
Albums
Mini-Albums
Best Albums
Boxsets
Singles
Split Albums
Split Singles
Compilations / Other
Video Releases
Photobooks
[2005.05.19] Berryz Kobo (Berryz工房)
[2005.08.02] SEASONZ
[2009.06.10] 5th Anniversary Alo Hello! Berryz Kobo in HAWAII ~LIVE & DVD MAKING~ (5th Anniversaryアロハロ! Berryz工房 in HAWAII ~LIVE&DVD MAKING~)
[2010.11.17] Alo Hello! Rainbow Berryz
[2011.03.03] Berryz Kobo 7 Shuunen Kinen PHOTO BOOK 「7」
Concert
[2005.08.25] marugoto (まるごと)
[2005.10.25] Abe Natsumi + Berryz Kobo in Hello! Project 2005 Natsu no Kayou Show (安倍なつみ+ベリーズ工房 in Hello! Project 2005 夏の歌謡ショー) (with Abe Natsumi) amazon.co.jp
[2005.12.02] switch on!
[2006.07.05] nyoki nyoki champion! (にょきにょきチャンピオン!)
[2006.09.21] Berryz Kobo & °C-ute in Hello! Project 2006 Summer Wonderful Hearts Land (Berryz工房&℃-ute in Hello! Project 2006 Summer ワンダフルハーツランド) (with °C-ute)
[2007.10.04] Welcome! Berryz Kyuuden (ウェルカム! Berryz宮殿)
[2008.07.01] Berryz Kobo & °C-ute Nakayoshi Battle Concert Tour 2008 Haru Berryz Kamen vs Cutie Ranger Live Photobook Stage ver. (Berryz工房&℃-ute 仲良しバトルコンサートツアー2008春 ~Berryz仮面 vs キューティーレンジャー~ ライブ写真集 ステージver.)
[2008.07.04] Berryz Kobo & °C-ute Nakayoshi Battle Concert Tour 2008 Haru Berryz Kamen vs Cutie Ranger Live Photobook Document ver. (Berryz工房&℃-ute 仲良しバトルコンサートツアー2008春 ~Berryz仮面 vs キューティーレンジャー~ ライブ写真集 ドキュメントver.)
Media
TV
Radio
Internet
[2006] Hello Pro Hour (ハロプロアワー)

Vol.5 (Natsuyaki Miyabi, Sugaya Risako)
Vol.6 (Shimizu Saki)
Vol.7 (Kumai Yurina, Tsugunaga Momoko)
Vol.8 (Sudo Maasa, Tokunaga Chinami)
Vol.9 (Tsugunaga Momoko, Sugaya Risako)
External Links