Due to an influx of spam accounts getting through and joining the site, user registrations have once again been disabled until further notice as we work on a different solution.
Imai Eriko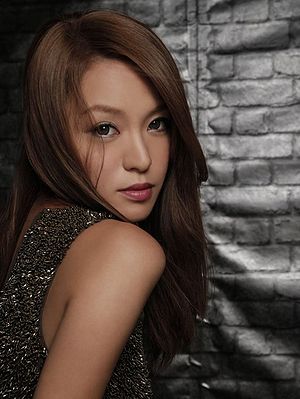 Imai Eriko (今井絵理子) is a Japanese pop artist. She made her debut in the early 1990's as part of the group SPEED. Eriko started her solo work during 1998, releasing "Tsumetakushinade" using Eriko with Crunch as stage name instead of her full name, under SPEED single "ALL MY TRUE LOVE".
Profile
Birth Name: Imai Eriko (今井絵理子)
Stage Name: Imai Eriko/elly
Nickname: Mikan Seijin (Tangerine Alien)
Date of Birth: September 22, 1983
Blood Type: O
Bands / Groups:
Crunch Members
Information
Introduction & Start of Solo under Eriko with Crunch in 2000
Imai Eriko is the second youngest member in SPEED. She was born in Okinawa and was one of the main vocals in the group. After SPEED popularity spread widely in Japan, they were ask to act in a movie Andromedia 1998, which begins Eriko acting career. Eriko also attempt acting in a drama LxIxVxE in 1999 with fellow SPEED member Arakaki Hitoe. When Eriko began her real solo debut career in early 2000, she merged with the dance group Crunch and were named Eriko with Crunch. Their first two maxi singles, Red Beat of My Life and Luv Is Magic were released the same year. Imai's style of music is rockish pop, which suits her voice, but she also sang ballads and slow numbers as well, not forgetting her attempt at rapping in Don't Stop the Music.
Begin of Eriko Imai in 2000
The group Eriko with Crunch didn't last long, she went on without them and pursue her solo career starting from single in the Name of Love using the title Eriko Imai. Since then before her marriage in 2004, she released 6 singles, 1 album & 1 single collection album under Eriko imai. Also during this year, Eriko did her first Musical challenge Hinotori, which earn her a Best New Comer in Theater in Golden Arrow Awards 2001.
Her fourth single, "Identity", is viewed as a declining point in Imai's career. Many viewed the music as hard-core rock. Moreover, in the promotion of the music, she remarked "Many artists these days succeed by popularity, not by hard work." Imai's comment was perceived to be a criticism of Morning Musume and triggered a wave of criticism toward her. After "Identity" and her criticism-engendering comments, Imai's CD sales fell to below 50,000 copies. Her fifth single, "Set Me Free!", was filmed in Australia and she performed it in Kuala Lumpur during the 2001 Asia Music Festival. Afterwards, she released her first album, "My Place". Including her self-composed songs "Himawari" and "Dawn", it sold 93,700 copies and was ranked in the top 5 but utimately placed at #7 for the weekly sales. During this year, Imai did her second drama Rouge, which she transformed from a simple girl to a popular star & acted in a hit movie Onmyouji as a fairy sort chracter.
Imai 6th "Don't Stop the Music" was aired in Imai's weekly Monday night radio talk show by TBS 954, "Eriko Imai Hotlink" more than a month before its release in January 2002. "Don't Stop the Music" was seen as a change of genre in Imai's music. At around this time, Imai considered changing her hairstyle to an Afro-style. She said that she wanted something new, but was willing to return to a more Japanese-typical hairstyle if the Afro hairstyle reduced her appeal. In July, Imai released her 7th single "Our Relation" which was a upbeat fast tempo ballad. "Our Relation" was the 2nd single to be fully produced by Hiroaki Hayama. During this year, Imai was in her 2nd musical Footloose with V6 Sakamoto Masayuki, this was a extremely musical took from overseas.
As from the end of 2002 to mid 2003, Imai did not have any solo release. Mainly due to the temporary formation of SPEED for a fund raise charity Save The Children. SPEED became the ambassador of Save the Children from early mid to end of 2003 which they did Nationwide Tours & releasing of singles & album to raise funds for the charity. It was not until July, Imai released her 8th and last single before her marriage "Butterfly". "Butterfly" was a slight mid tempo ballad which the lyrics was written by Imai under the name of elly. This is also the first time she officially uses elly on her works. Butterfly was also the theme song for anime movie Boku no Songoku, which Imai first participated in dubbing one of the character. Also in October, Onmyouji 2 were show on Japan's Cinemas, which Imai participated in the same character.
In Feb to March, Imai perform in Musical Star Tanjou with Shimatani Hitomi & Yukie. This musical was to celebrate the 40 years anniversary establishment of Japan's Music Scene.
Marriage
During May 2004, Imai posted a short but sincere message to officially announce on her marriage to 175R vocalist SHOGO. The message was briefly on the marriage and she apologize to everyone who was concern with her marriage as it was a real sudden. She also mention about a new life which will be with us on earth during October. Lastly in the message, Eriko sincerely ask for guidance for her change of position from single to a wife and soon a mother. On June 9th, 2004 she married SHOGO, lead vocalist of 175R in a shotgun wedding. She also registered her name as Kinoshita Eriko upon the change. Their son, Kinoshita Raimu, was born on October 18th, 2004 weighing 3492g. On November 25th, 2004, Imai released her Single Collection ~Stairway~ to mark her new life journey as a mother and wife and as a gift for all Imai fans around the world.
Return to the Music Scene as elly
On 9th June 2005, Imai announced on her new website that she will return to the music industry as elly. She will try to compose and write her own songs as well. September 22nd, 2005 marks Imai's 22nd Birthday and her new start as 'elly' when she performed her 'elly live 2005 ~Rebirth~' concert. She also released her 1st indie single "star" under stage name "elly" that was exclusively limited & is only sold over in her concert. On October 18th, 2005 which was the 1st birthday of her son, Raimu, elly releases her 1st photo-essay book, Egao de Ikou, which include self written thoughts during periods of her life, including times with SPEED, solo & pregnancy period. She held a autograph session over at Shibuya HMV on Nov 6th.
elly released her 2nd independent single, "journey" on May 13th, 2006, following up the release with a concert 'elly live 2006 ~journey~' on the same day. In June 2006, elly held a secret marriage party in Guam. Only her close friends such as hiro and team-F were invited. elly was last seen in public on July 16th where she attended Vision Festival Vol.2. She appeared in a yukata and performed her new song "journey" with Vanilla Mood. At the festival, elly also announced to her fans that her new album "Neverland" was to be released on the September 27th, 2006. "Neverland", given a lack of promotion and elly's declining popularity, "Neverland" debuted at #149 on the Oricon charts. She started 'elly LIVE 2006 ~Neverland~ from October to November, which one of the live were attended by 3 other SPEED members & SPEED long-term producer Ijichi Hiromasa. During that particular live, elly sang SPEED last single Walking in the rain & White Love with Ijichi Hiromasa.
In February 2007, elly released a live DVD captured from 'elly LIVE 2006 ~Neverland~' and a new live concert 'elly LIVE 2007 ~Soar~' following in April.
In July 2007, it was reported from various sources that Imai had separated from her husband, SHOGO. Reports from Tokyo Graph and J!-Ent news sources indicated the separation was due to Imai's focus on her career and social calendar, with SHOGO wanting to raise Raimu. However, this matter were not clarify by both of their management. After this were reported, Imai posted some unclear thoughts "only believe what was seen and heard from ownself" which she didn't specific what was the post for. Many fans took it as a indirect reply for the separation report which Imai was trying to indicate report were untrue.
In 2008 SPEED reunited as a four member girl band.
Discography
Albums
Best Albums
Singles
Digital Singles
Video Releases
Compilations / Other
Filmography
Movies
Musicals
[2000] NINGAWA Hi no Tori
[2002] Footloose
[2004] Star Tanjou
Dramas
Publications
Books
[2005.10.18] Egao De Ikou (elly)
[2011.04.xx] Oyako Gekijo
[2011.07.xx] Korogatte Goran
External Links