Generasia would not be what it is today without the countless contributions by both staff and members alike! Thank you for all that you do!!
GAM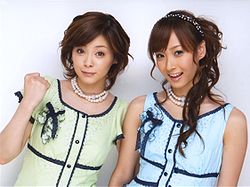 GAM (Great Aya & Miki), pronounced 'Gyamu', is a Hello! Project unit consisting of Matsuura Aya and Fujimoto Miki.
Tsunku's Comments
2006-06-15
And so, this time, we're trying something new, we have formed a new unit which consist of the two, Matsuura Aya and Fujimoto Miki.
If you ask, "till when will this unit last?" I have yet to think about it.
The unit name is "GAM" (Gyamu). To start with, they will be singing the theme song for the fall premiered movie "Sukeban Deka Code Name = Asamiya Saki".
"Great Aya & Miki" if we take the initials, then we have "GAM". I wonder if it means anything in English? As I research it, turns out it's a slang for "attractive legs".
"Ah! Then the theme for these two is to deliver song which radiates from their legs and echoes within your heart!" lets do that! A unit which sings a cool song with a dress ::that attracts people with their "beautiful wonderful legs" is what we're aiming for!
The debut song "Thanks!" is about expressing feelings of gratitude towards those precious glorified youth times.
Even after this, the Sexy Cool Unit, GAM, will become something solid.
Please give them lots of support!
History
Their first single "Thanks!" was released on September 13th, 2006 with a Single V following on the 20th and is the main theme for the movie Sukeban Deka Codename Asamiya Saki that Matsuura Aya stars in.
In March, Tsunku announced that GAM would be singing the new Rakuten Eagles cheer song, which previously had been sung by Morning Musume (The Manpower!!!) and DEF.DIVA (Let's Go Rakuten Eagles). This single was only available for order on the Rakuten Eagles website.
A fourth single, entitled "Atsui Tamashii", was said to be released in August, but no further info was given on the single. Later, it was revealed that the song would be released on the album Petit Best 8.
Members
Discography
Albums
Singles
Compilations / Other
DVDs
External Links