Due to an influx of spam accounts getting through and joining the site, user registrations have once again been disabled until further notice as we work on a different solution.
Aiba Masaki
Aiba Masaki is a member of the Johnny's Entertainment group ARASHI.
Profile
Name: Aiba Masaki (相葉雅紀)
Nickname: Aiba-chan
Birthdate: December 24, 1982
Birthplace: Chiba, Japan
Height: 176 cm
Weight: 58 kg
Blood Type: AB
Horoscope: Capricorn
Measurements: B:82 cm; W:70 cm; H:88 cm
Foot Size: 26.5cm
Family: Mom, Dad, younger brother (Yusuke)
Pets: 2 dogs (Hime and Uran), a parrot, a turtle (Gonta)
Favorite Subjects: none
Least Favorite Subjects: Physical Education (during winter season)
Favorite Sports: Baseball, Basketball
Favorite Food: Ramen, Fried Chicken
Favorite Season: Summer
Favorite Color: Blue
Precious Treasures: Everyone around him, his pets and his stuffed animal
Reason to Enter Johnnys: Wanted to play Basketball with SMAP
Admired Sempai: Matsuoka Masahiro (TOKIO)
Career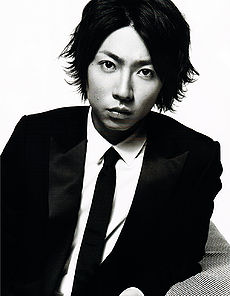 Aiba joined Johnny's Jimusho in August of 1996 for the sole reason of wanting to play basketball with SMAP. It is a good example of the type of person he is-- whimsical and never thinking ahead. His cheerful and easygoing personality distinguished him from the rest of the Jrs. and he soon became one of the popular members within the group, going so far as to acquire the nickname "Super Idol Aiba-chan" somewhere along the way. He was the last to know about his part in the formation of Arashi, learning of the fact only three days before their official debut in Hawaii in September of 1999.
As the childish if not somewhat ditzy member of the group, Aiba is often the first to suggest crazy, off-the-wall ideas; even if not, he would definitely be one of the first to throw his support behind the others. As a result, Aiba had his own segment on their regular variety show ("G no Arashi") called "A no Arashi", in which he carried out many bizarre but fun experiments with the assistance of the other members. "A no Arashi" ballooned into the popular "Odoroki no Arashi", 1 hour specials filled with Aiba's signature experiments, which has aired 5 times during prime time. Outside of group activities, Aiba is also one of the regulars on a children's show called "Tensai! Shimura Dobutsuen", where he interacts with a wide variety of animals.
Aiba was cast in his first lead drama in 2009, "My Girl". He plays a young man who discovers that his deceased ex-girlfriend had borne his daughter, and decides to raise her.
Filmography
Dramas
2015 Yokoso Wagaya E (ようこそ、わが家へ)
2013 Last Hope (ラストホープ)
2012 Mikeneko Holmes no Suiri (三毛猫ホームズの推理)
2011 Bartender (バーテンダー)
2010 Freeter, ie wo kau - Episode 10 (フリーター、家を買う。)
2010 Saigou no Yakusoku (最後の約束)
2009 My Girl (マイガール)
2006 Kuitan - [Cameo] (喰いタン)
2006 Triple Kitchen SP (トリプルキッチン)
2003 Yankee Bokou ni Kaeru (ヤンキー母校に帰る)
2003 Engimono "Kuruugamama" (演技者.「狂うがまま」)
2003 Yoiko no Mikata, Chap.9 (よい子の味方~新米保育士物語~) (cameo)
2001 Mukodono (ムコ殿)
1999 V no ARASHI (Vの嵐)
1999 Kowai Nichiyoubi, Chap.5 "Ugokasuna!"(怖い日曜日 第5話 「動かすなっ!」)
1999 Ppoi! (っポイ!)
1997 Bokura no Yuuki, Mimantoshi (ぼくらの勇気 未満都市)
Movies
2014 Miracle Debikuro-kun Koi to Maho (MIRACLE デビクロくんの恋と魔法)
2014 Pika☆★☆nchi LIFE IS HARD Tabun HAPPY (ピカ☆★☆ンチ LIFE IS HARDたぶんHAPPY)
2007 Kiiroi Namida (黄色い涙)
2004 Pika★★nchi LIFE IS HARD Dakara HAPPY (ピカ★★ンチ LIFE IS HARDだからHAPPY)
2002 Pika✩nchi LIFE IS HARD Dakedo HAPPY (ピカ✩ンチ LIFE IS HARDだけどHAPPY)
1998 Shinjuku Shounen Tanteidan (新宿少年探偵団)
Theatre
2009.02.23 ~ 03.23 Green Fingers (グリーンフィンガーズ)
2007.10.22 ~ 11.18 Wasurerarenai hito (忘れられない人)
2005.09.06 ~ 06.27 Tsubame no iru eki (燕のいる駅)
1997.07.23 ~ 08.21 STAND BY ME
Recognitions
13th Nikkan Sports Drama Grand Prix (Fall 2009): Best Actor for My Girl
Publications
Magazines
[2011.01.xx] POTATO February 2011 Issue (Feature)
[2011.01.xx] LOOK at STAR! OVATION 2011 (Feature)
[2011.03.xx] POTATO 2011 April Issue (Feature)
[2011.10.xx] M girl 2011-2012 AUTUMN/WINTER (Feature)
External Links