New user registrations have been disabled until further notice. If you would like to create an account, please message
Generasia on Facebook
. Thank you!
Hora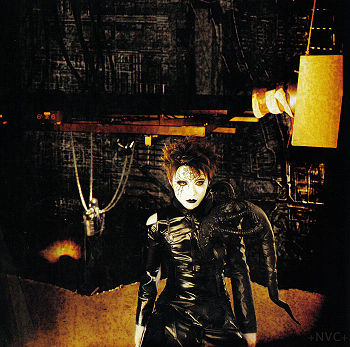 Hora is a Japanese musician and composer. He started his solo career in 2005, after the disbandment of the gothic aesthetic visual-kei electronic duo Schwarz Stein. Like the group and its predecessor Rudolf Steiner, Hora's music contains a mixture of EBM, dark wave, techno, and other electronic influences. All of his solo work is self-published and released only through his official website. In the summer of 2010 he announced that because of an unspecified illness, he would take a break from making music until he regains his health.
Profile
Stage Name: Hora (洞)
Birth Date: May 10th
Blood Type: AB
Family Wife, son
Bands:
Biography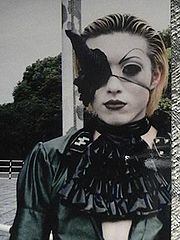 Hora started in the music business in 2000 when he joined the visual-kei band VELVET EDEN as their keyboardist, replacing KALM. He remained with the group for a year and two releases; their debut single "Suteneko" and their third demo tape "Kumo Onna". For the band he wrote "Karesusuki", the B-side song of the aforementioned single, and the titular "Kumo Onna". During his time in VELVET EDEN he met Kaya (then known as Hime, the vocalist of the rock band ISOLA) after a live. The two had then kept contact and became friends.
In 2001 after Hora left VELVET EDEN on February 21st and ISOLA disbanded, he and Hime together crafted the gothic and visual-kei unit Rudolf Steiner. The groups' first releases were two demo tapes in 2001; "Queen of Decadence" was released on June 1st and "Perfect Garden" was released on November 12th. Hora's previous bandmate R.Y.O (ex-VELVET EDEN) was the producer of the demos.
In April of 2002 Mana of Moi dix Mois (ex-MALICE MIZER) signed Rudolf Steiner to his then newly created independent label Midi:Nette, changing the unit's name to Schwarz Stein and Hime's name to Kaya in the process. The duo's concept was "near future digital decadence", with Hora being the near future and Kaya being the decadence. Mana would also be their producer. Their first live with the new name was on July 31st at Shibuya-AX for Moi dix Mois's "Dis inferno" event. This was also the date for the release of their debut single "Perfect Garden".
About a year later on June 30th, 2003 Schwarz Stein released their debut album New vogue children. The album included a studio version of their first demo tape as Rudolf Steiner, "Queen of Decadence". It would reach #231 on the major Oricon charts, where it charted for a week. Five months later they released their second and last single "Current". It would reach #6 on the indies Oricon charts.
In February of 2004 it was announced that Schwarz Stein would disband, the reason being that the two's musical goals had changed too much for them to work together anymore. Their last release and second album, Artificial Hallucination, was released on February 25th. This was also their first totally self-produced release. The album reached #272 on the major Oricon charts, where it charted for a week. Their last live as a group was their one-man concert on March 19th at Shibuya O-WEST. Schwarz Stein would later be a guest at the "Dis inferno Vol.3" event presented by Midi:Nette on December 15th at Shibuya O-EAST.
In the duo's final interview, Hora announced that he'd retire from performing on the stage. He also stated that from then on he wanted to (and would) concentrate on working as a composer and accepting commissions from other artists. Since then he has kept a low profile; he doesn't participate in concerts or any other music related events and won't reveal who his clients are, other than Kaya (the songs he writes for them are "very pop-y").
After their special appearance at the "Dis inferno Vol.3" event both of the members planned to start their solo careers. Hora's official website opened in January of 2005 while Kaya's opened later in 2006. Two months later he released his debut mini-album INNER UNIVERSE on March 29th. The six track release was limited to 1,000 copies. The year finished with the release of his debut album THE WORLD on December 21st. The 10 track album was limited to 500 copies.
Hora and Kaya reunited in February of 2006 calling themselves another cell. The new unit didn't perform any lives, but only released one another cell on April 1st. The release included new versions of the songs "INNER UNIVERSE", "FROZEN PAST", and "INDWELL" from Hora's mini-album INNER UNIVERSE and album THE WORLD. Also included a studio version of Rudolf Steiner's song "Kuro Ageha", the B-side from their demo tape "Queen of Decadence".
Discography
Albums
Mini-Albums
External Links