Due to an influx of spam accounts getting through and joining the site, user registrations have once again been disabled until further notice as we work on a different solution.
Kaya
Kaya (カヤ) is a Japanese pop and electronic singer in the visual-kei scene. His music career started in 1999 when, under the moniker Hime, he was the vocalist for the Shikoku based rock band Meties. After they disbanded, he joined another rock group called ISOLA in 2000. During his time in that band he met Hora and the two of them in 2001 formed the unit Rudolf Steiner. In 2002 they became Schwarz Stein, with Hime changing his name to Kaya, and in two years they disbanded. Kaya started his solo career in 2006 with the release of his debut single "Kaleidoscope".
Profile
Biography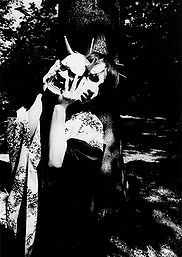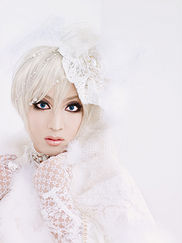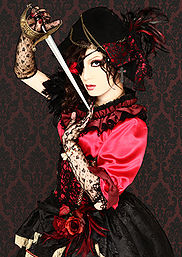 1999~2006
Kaya, who was then known as Hime, began his music career in 1999 when he joined the Shikoku based and unsigned Japanese rock band Meties as the vocalist. Hime was still in high-school when he was in the four-piece group. They only had one release, a demo tape titled "RECUR to MIND", which was released on March 12th and available only at their lives. The band had also contributed one track to the compilation album Nouvelle Vague 2 in 1999.
After Meties disbanded in 1999 Hime joined another rock group, the visual-kei band ISOLA, in 2000 as the vocalist. It was another four member group, but with two guitarists and without an drummer. They released two demo CDRs, one called "Over..." and the other titled "Egoiste Butterfly". During this time Hime met Hora at a VELVET EDEN concert, he was their keyboardist. After the live the two had kept contact and became friends.
In 2001, after both ISOLA disbanded in and Hora left VELVET EDEN on February 21st, the two of them formed the gothic and visual-kei unit Rudolf Steiner. The duo's music was a change for Hime, as it was a mixture of electronic body music, darkwave, and electro-pop. The groups first releases were two demo tapes in 2001; "Queen of Decadence" was released on June 1st and "Perfect Garden" was released on November 12th. R.Y.O (ex-VELVET EDEN) was the demo's producer.
In April of 2002 Mana of Moi dix Mois (ex-MALICE MIZER) signed Rudolf Steiner to his then newly created independent label Midi:Nette, changing the unit's name to Schwarz Stein and Hime's name to Kaya in the process. The duo's concept was "near future digital decadence", with Hora being the near future and Kaya being the decadence. Mana would be their producer. Their first live with the new name was on July 31st at Shibuya-AX for Moi dix Mois's "Dis inferno" event. This was also the date for the release of their debut single "Perfect Garden".
About a year later on June 30th, 2003 Schwarz Stein released their debut album New vogue children. The album included a studio version of their first demo tape as Rudolf Steiner, "Queen of Decadence". It would reach #231 on the major Oricon charts, where it charted for a week. Five months later they released their second and last single "Current". It would reach #6 on the indies Oricon charts.
In February of 2004 it was announced that Schwarz Stein would disband, the reason being that the two's musical goals had changed too much for them to work together anymore. Their last release and second album, Artificial Hallucination, was released on February 25th. This was also their first totally self-produced release. The album reached #272 on the major Oricon charts, where it charted for a week. Their last live as a group was their one-man concert on March 19th at Shibuya O-WEST. Schwarz Stein would later be a guest at the "Dis inferno Vol.3" event presented by Midi:Nette on December 15th at Shibuya O-EAST.
After their special appearance at the aforementioned event, both Kaya and Hora planned to start their solo careers. Hora's official website opened in 2005 while Kaya's opened in 2006. They again reunited in February of 2006 calling themselves another cell. The new unit didn't perform any lives, but only released one self-titled mini-album another cell on April 1st. The mini-album included new versions of the songs "INNER UNIVERSE", "FROZEN PAST", and "INDWELL" from Hora's mini-album INNER UNIVERSE and album THE WORLD. Also included a studio version of Rudolf Steiner's song "Kuro Ageha", the B-side from their demo tape "Queen of Decadence".
Before his solo start, Kaya was originally slated to be the vocalist of the Japanese rock band ALvino. The band was formed by visual-kei musicians KOJI (ex-La'cryma Christi) and Jun (ex-PIERROT). Kaya didn't join the group because of musical differences. ALvino instead acquired former NIOI member Shouta for vocals.
another cell was supposed to be a stepping stone for Kaya's solo career which then started two months later. Kaya had signed with the independent label Träumerei. On June 23rd he held his first one-man concert called Kaleidoscope at Takadanobaba AREA, the 400 tickets to show were sold-out the first day they were available. At this live he sold advanced copies of his debut single "Kaleidoscope", which was also released on June 28th through his official website and at select stores. It was Kaya's first time working without Hora since 2001, KALM (ex-VELVET EDEN) composed both songs. The single reached #15 on the indies Oricon charts.
Over the rest of the summer, in August, Kaya participated in an event and released his second single. The event was "Otsukare Summer" (a pun on 'otsukare-sama' which means thank you for your hard work), which was held on the 31st at Takadanobaba AREA. On September 6th he released his second single "Masquerade" and unlike his debut single, it was a country-wide release. The title song is a different sound of music for Kaya as it's a jazz number instead of electronic music. The month concluded with the "New Born" event presented by MTPM (Mad Tea Party Magazine by D) on the 24th at Takadanobaba AREA.
There were three events spanning October and November, two in the first month and one in the second. The events in October were: "nanison?1" on the 13th at Osaka MUSE and "New A Rule Night" on the 24th at Shibuya O-EAST. The sole event Kaya participated in November was the "-Akiakane-2006" event, presented by Like an Edison, on the 13th at Nagoya E.L.L.
In the last month of 2006 he took part in three events as well as released his debut album. The first event of December was the "Yakai ~Suukou Naru Tousaku-teki Biishiki~" event at Harajuku Laforet Museum on the 9th. For three consectives days at Takadanobaba AREA, starting on the 24th, he was a part of the event titled "Winter Romantic Festival" presented by KAMIJO (ex-LAREINE) and Kanoma (ex-Fatima). On the last of those days (the 27th) Kaya also released his debut album GLITTER. The album included different versions of then previously released songs. The month ended with the "Angelic Conversation ~Tokyo no Sora~" event at Sangenjaya HEAVEN'S Door on the 28th.
Discography
Studio Albums
Mini-Albums
Other Albums
[2019.06.23] DRESS (cover album)
Singles
Digital Singles
Other Singles
Video Releases
Compilations / Other
Publications
Calendars
[2011.11.10] Calendar 2012
External Links