It is thanks to each and every one of you that has made Generasia the largest resource for Asian media info. To our wonderful contributors, thank you!
Inoue Mao
From generasia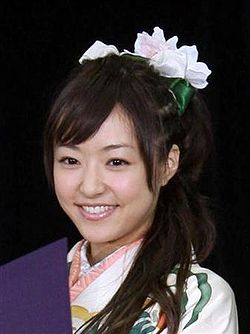 Inoue Mao is a Japanese actress and former U-15 idol.
Profile
Name: Inoue Mao (井上真央)
Birthdate: January 9, 1987
Blood Type: O
Height: 158cm
Bust: 79cm
Waist: 59cm
Hips: 80cm
Favorite Food: Nattou
Hobbies and Skills: Basketball, badminton, Japanese dance, music, oil painting
Admired Actress: Otake Shinobu
Favorite Male Talent: Kimura Takuya (SMAP)
Favorite Artist: Hanaregumi
Talent Agency: Seventh Avenue
Information
Inoue Mao was a popular U-15 idol from 1999; she was well known for her role as Imai Akane in the dorama Kids War. Before that, she had had parts in several other dramas from the age of five, but it wasn't until the debut of Kids War in 1999 that Japanese audiences took notice of Inoue. In 2005, she was cast as the star of Hana Yori Dango on TBS. Inoue played Makino Tsukushi in the live-action adaptation of the manga and anime, a lower middle-class girl who is trying to survive unnoticed in an elite high school full of playboys and rich snobs. A sequel to the 2005 drama, Hana Yori Dango 2, was aired in the winter 2007 season.
At 19, Inoue was enrolled in Meiji University, studying theater and literature, with her second major being Mandarin. In 2006 she co-starred in the movie Check It Out, Yo! with Ichihara Hayato, Hiraoka Yuta, and Emoto Tasuku. The film was in theaters April 22nd, 2006. Inoue also co-starred in the summer 2007 drama First Kiss with "Check It Out, Yo!" co-star Hiraoka.
After the success of the two Hana Yori Dango dramas, a film was announced in August 2007, just months after the end of the 2007 sequel. It will be Inoue's first starring role in a movie, which is to be called Hana Yori Dango Final. Filming is to start January 2008.
Works
Dramas
[1992] Manatsu no Keiji
[1992] Gakkou ga Abunai!
[1992] Itsumitemo Haran Banjou
[1992] Tsubusareta Kao! Zankoku na Shashin
[1993] Kokoro no Tabi Series
[1994] Kagishi
[1994] Mayonaka no Joukyaku
[1994] Ninja Sentai Kakurenjaa
[1995] Tooryanse
[1995] Kura
[1996] Genki wo Ageru
[1996] Asahi no Wakare no Seppun wo
[1997] Abarenbou Shogun VII
[1997] Mitokoumondaibu 25nen
[1997] Terakoya Yume Shinan
[1997] Kin no Tamago #3
[1997] Shin Hanshichi Torimonochou
[1997] Gourmet Mystery Onna Shucchuu Ryourinin ga Iku!
[1998] Ake no Rousen
[1998] Enzan no Kinsan VS Onna Nezumi
[1999] Kai
[1999] Kids War ~Zaken na yo~
[2000] Kids War 2 ~Zaken na yo~
[2000] 2000 FNS 1 Oku 2700 Banjin no 27 Jikan Television Yume Rettou ~Kazoku-ai Love You~ Special Drama
[2001] Kids War 3 ~Zaken na yo~
[2002] Kids War Special ~Zaken na yo~
[2002] Kids War 4 ~Zaken na yo~
[2002] Kids War Special ~Ai Koso Subete da! Zaken na yo~
[2003] Kids War 5 ~Zaken na yo~
[2003] Kids War Special ~Kore de Final! Zaken na yo~
[2004] Home Drama
[2005] Kyuumei Byoutou 24 Toki
[2005] Hana Yori Dango
[2005] Hotaru no Haka
[2007] Hana Yori Dango 2
[2007] Osama no Shinzo
[2007] First Kiss
[2007] Hanaikusa
[2008] Anmitsuhime
Films
[2006] Check It Out, Yo!
[2007] Gegege no Kitaro
[2007] Kaidan
[2008] Hana Yori Dango Final
Stage
Commercials
Sega
Fujikko
Toshiba
Nihon Unisys
Mitsui Fudousan Hanbai
Kaori
Photobooks
[2002.10.xx] Juugo no Natsu ni
[2007.03.16] Mao Inoue 2007
DVD / VHS
[2002.10] Juugo no Natsu ni
External Links