New user registrations have been disabled until further notice. If you would like to create an account, please message
Generasia on Facebook
. Thank you!
Johdago Malhae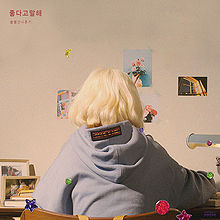 Artist

Song

Johdago Malhae (좋다고 말해; Tell Me You Love Me)

Lyrics

Music

Other Information

Arrangement: Vanilla Man
Information
"Johdago Malhae" is a song recorded by Bolbbalgan4. It can be found as track #1 on their second digital single RED PLANET [Hidden Track]. Originally the song was planned to be the title track of their first full-length album RED PLANET but was replaced with "Ujuleul Julge" due to fans demand.
Gaon Chart Positions
Digital Chart
Based on download, streaming and BGM charts.
| Year | Week | Rank |
| --- | --- | --- |
| 2016 | 52 | 3 |
| 2016 | 53 | 2 |
| 2017 | 1 | 10 |
| 2017 | 2 | 9 |
| 2017 | 3 | 13 |
| 2017 | 4 | 9 |
| 2017 | 5 | 12 |
| 2017 | 6 | 10 |
| 2017 | 7 | 12 |
| 2017 | 8 | 11 |

| Year | Week | Rank |
| --- | --- | --- |
| 2017 | 9 | 9 |
| 2017 | 10 | 9 |
| 2017 | 11 | 12 |
| 2017 | 12 | 13 |
| 2017 | 13 | 10 |
| 2017 | 14 | 15 |
| 2017 | 15 | 13 |
| 2017 | 16 | 22 |
| 2017 | 17 | 26 |
| 2017 | 18 | 19 |

| Year | Week | Rank |
| --- | --- | --- |
| 2017 | 19 | 28 |
| 2017 | 20 | 32 |
| 2017 | 21 | 27 |
| 2017 | 22 | 34 |
| 2017 | 23 | 37 |
| 2017 | 24 | 38 |
| 2017 | 25 | 36 |
| 2017 | 26 | 37 |
| 2017 | 27 | 37 |
| 2017 | 28 | 39 |

| Year | Week | Rank |
| --- | --- | --- |
| 2017 | 29 | 43 |
| 2017 | 30 | 39 |
| 2017 | 31 | 46 |
| 2017 | 32 | 52 |
| 2017 | 33 | 55 |

| Year | Month | Rank |
| --- | --- | --- |
| 2016 | December | 10 |
| 2017 | January | 7 |
| 2017 | February | 12 |
| 2017 | March | 11 |
| 2017 | April | 15 |
| 2017 | May | 23 |
| 2017 | June | 36 |
| 2017 | July | 38 |
Download Chart
| Year | Week | Rank | Sales |
| --- | --- | --- | --- |
| 2016 | 52 | 1 | 242,826 |
| 2016 | 53 | 3 | 128,576 |
| 2017 | 1 | 13 | 90,643 |
| 2017 | 2 | 11 | 65,192 |
| 2017 | 3 | 17 | 55,035 |
| 2017 | 4 | 13 | 56,463 |
| 2017 | 5 | 17 | 54,928 |
| 2017 | 6 | 11 | 52,625 |
| 2017 | 7 | 18 | 50,418 |
| 2017 | 8 | 16 | 50,439 |
| 2017 | 9 | 22 | 53,339 |
| 2017 | 10 | 11 | 45,447 |

| Year | Week | Rank | Sales |
| --- | --- | --- | --- |
| 2017 | 11 | 15 | 44,048 |
| 2018 | 12 | 20 | 42,578 |
| 2017 | 13 | 12 | 42,130 |
| 2017 | 14 | 18 | 43,397 |
| 2017 | 15 | 20 | 39,755 |
| 2017 | 16 | 27 | 38,560 |
| 2017 | 17 | 36 | 37,064 |
| 2017 | 18 | 25 | 38,999 |
| 2017 | 19 | 35 | 33,361 |
| 2017 | 20 | 34 | 34,618 |
| 2017 | 21 | 29 | 34,466 |
| 2017 | 22 | 43 | 32,923 |

| Year | Week | Rank | Sales |
| --- | --- | --- | --- |
| 2017 | 23 | 40 | 30,113 |
| 2018 | 24 | 40 | 30,825 |
| 2017 | 25 | 39 | 31,051 |
| 2017 | 26 | 42 | 30,572 |
| 2017 | 27 | 37 | 28,928 |
| 2017 | 28 | 41 | 28,138 |
| 2017 | 29 | 41 | 28,533 |
| 2017 | 30 | 39 | 28,271 |
| 2017 | 31 | 48 | 28,057 |
| 2017 | 32 | 50 | 26,858 |
| 2017 | 33 | 57 | 25,533 |

| Year | Month | Rank | Sales |
| --- | --- | --- | --- |
| 2016 | December | 6 | 371,402 |
| 2017 | January | 9 | 290,473 |
| 2017 | February | 15 | 207,950 |
| 2017 | March | 12 | 198,554 |
| 2017 | April | 27 | 171,257 |
| 2017 | May | 31 | 154,009 |
| 2017 | June | 45 | 132,333 |
| 2017 | July | 37 | 126,240 |
Total Reported Sales: 1,724,709*
Streaming Chart
| Year | Week | Rank | Count |
| --- | --- | --- | --- |
| 2016 | 52 | 3 | 5,317,715 |
| 2016 | 53 | 2 | 6,502,662 |
| 2017 | 1 | 3 | 5,694,765 |
| 2017 | 2 | 5 | 5,076,561 |
| 2017 | 3 | 7 | 4,617,751 |
| 2017 | 4 | 5 | 4,383,717 |
| 2017 | 5 | 6 | 4,318,693 |
| 2017 | 6 | 9 | 4,228,642 |
| 2017 | 7 | 9 | 4,005,206 |
| 2017 | 8 | 8 | 3,902,071 |
| 2017 | 9 | 6 | 3,987,427 |
| 2017 | 10 | 5 | 3,926,969 |

| Year | Week | Rank | Count |
| --- | --- | --- | --- |
| 2017 | 11 | 6 | 3,873,806 |
| 2017 | 12 | 7 | 3,759,074 |
| 2017 | 13 | 8 | 3,679,349 |
| 2017 | 14 | 7 | 3,637,417 |
| 2017 | 15 | 9 | 3,612,932 |
| 2017 | 16 | 10 | 3,370,329 |
| 2017 | 17 | 17 | 3,087,616 |
| 2017 | 18 | 15 | 3,036,328 |
| 2017 | 19 | 17 | 2,805,960 |
| 2017 | 20 | 17 | 2,725,145 |
| 2017 | 21 | 20 | 2,744,702 |
| 2017 | 22 | 23 | 2,542,514 |

| Year | Week | Rank | Count |
| --- | --- | --- | --- |
| 2017 | 23 | 28 | 2,355,023 |
| 2017 | 24 | 28 | 2,356,205 |
| 2017 | 25 | 27 | 2,310,540 |
| 2017 | 26 | 28 | 2,149,290 |
| 2017 | 27 | 29 | 2,094,953 |
| 2017 | 28 | 29 | 2,054,658 |
| 2017 | 29 | 32 | 1,957,897 |
| 2017 | 30 | 32 | 1,865,080 |
| 2017 | 31 | 35 | 1,746,231 |
| 2017 | 32 | 45 | 1,619,832 |
| 2017 | 33 | 46 | 1,527,809 |

| Year | Month | Rank | Count |
| --- | --- | --- | --- |
| 2017 | May | 51 | 6,620,167 |
| 2017 | June | 24 | 9,971,792 |
| 2017 | July | 30 | 8,760,848 |
External Links