It is thanks to each and every one of you that has made Generasia the largest resource for Asian media info. To our wonderful contributors, thank you!
Kawakita Ryo
From generasia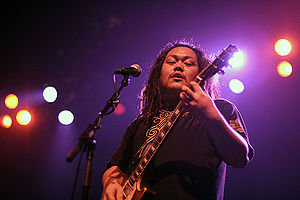 Kawakita Ryo (川北 亮) is a vocalist, the lyricist and the guitarist of the band MAXIMUM THE HORMONE
Profile
Name: Maximum the Ryo-kun (マキシマムザ亮君)
Real Name: Kawakita Ryo (川北 亮)
From: Tokyo, Japan
Birth Date: December 13, 1978
Blood Type: O
Favorite Bands: Everything Mike Patton related, Tool, System of a Down, Queers, Skindred, clubbing Sukan, Snot, NOFX, Rage Against The Machine, electric groove, Turbing, RANCID, Korn, Oasis, The Ramones, Molotov, Nirvana, Queen, The fall of troy, Pantera, Look What I did, Jellyfish, The vandals, Pinkpanthers, Asian Dub
Equipment:

Gibson: Les Paul Gold Top
Gibson: Les Paul Standard
Randall: Warhead
Mesa boogie: Rectifier Stereo 2:100
Genz benz: GB412 G-FLEX
Roland: Jazz Chorus JC-10
Randall: Warhead foot switch
Hao: A/B & Para box (A/B Box)
Ryo has played guitar since junior high school, and as a child, was heavily influenced by punk, metal, and hard rock bands, whose influenced are shown today in his playing. Ryo joined MAXIMUM THE HORMONE after the band had released their first album under an independent label, A.S.A. Crew in 1998. When former guitarist SUGI had left the band, he joined after a proposition from his older sister, the band's drummer and co-founder, Kawakita Nao. Ryo's involvement in the band after his recruitment drastically changed both the sound and image of MAXIMUM THE HORMONE. Where previously, band frontman Tsuda Daisuke would write lyrics, majority of which would be in English, Ryo now became the main lyricist for the band, writing all lyrics and becoming a vocalist for the band as well. Ryo would also now take over full composition of the band's music, creating a completely different sound from what was heard in their first album. Ryo is also responsible for all the t-shirt designs as well as illustrations, including the band's katakana logo, adopted after their first album.
Ryo was secretly married in 2008, and had their first child January of 2009.
He hates to wear shoes, but is always wearing sandals, which can be seen during the band's PVs and live performances. He has claimed that he hates shopping for shoes, and just wearing sandals is easier. He always wears rubber soled slip-on sandals bearing the "VIC" branding.
The -kun in Maximum the Ryo-kun is not an honorific, as would be given traditionally in Japanese culture, but a part of words, such as "Syu-kun" (主君, the Lord), a "Kun-syu" (君主, monarch), and a "Bō-kun" (暴君, tyrant).
Ryo is the reclusive menber of MAXIMUM THE HORMONE, and is very shy, which can be seen in many of their interviews.
Ryo has a special bi-monthly column in Japanese magazine Bubka.
Ryo also mande a guest appearance with Wagdug Futuristic Unity on the track "Systematic People" from Wagdog's Hakai album. The song was also features as the opening theme for the anime Kurozuka.
He is a frequent rugby player, and was captain of his middle school team for three years.
External Links