New user registrations have been disabled until further notice. If you would like to create an account, please message
Generasia on Facebook
. Thank you!
Kawamura Kaori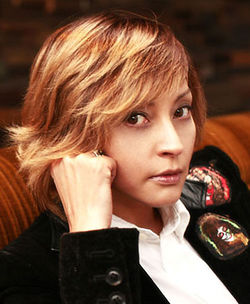 Kawamura Kaori (川村カオリ) was a Russian-born Japanese pop-rock musician.
Profile
Real Name: Kawamura Kaori (川村かおり)
Birthdate: January 23, 1971
Deathdate: July 28, 2009 (aged 38)
Birthplace: Moscow, Russia
Blood Type: B
Information
Kawamura Kaori was born on January 1971 in Moscow to a Japanese father and a Russian mother. She lived there untill she was 11 years old when she moved to the Chiba Prefecture in Japan. When in school in Japan, she hated the Japanese style of schooling as she hid her slippers, tore up her textbooks, and even threw away her lunches. In middle school, she faced tough words one day when her teacher told her to get out of his classroom after the incident where a Korean airplane was shot down by a Soviet aircraft in 1983. But it didn't stop her dream of becoming a singer when she met producer Tsuji Jinsei in 1988 at a club named LOFT.
Kawamura debuted in 1988 with the Tsuji-produced single, "ZOO". But, she didn't gain major hit until 1990 when she released the single "Kamisama ga Furite Kuru Yoru" and then "Tsubasa wo Kudasai" a year later. She also released her first essay book, entitled volume -Boku no Te no Naka, in 1992. New
Then in 1993, Kawamura took a pause from her music career to live in New York City. It didn't last long as started her music career back up three years later with the single "Big Beat". She also joined the solo project SORROW in 1998 and attended club events as a DJ. But sadly, before the year was up, her mother died of breast cancer.
Before the decade was up, Kawamura married SOBUT guitarist MOTOAKI in February 1999. She also had the couple's only daughter two years later in 2001. But, in 2004, Kawamura was diagnosed with breast cancer and was eager to battle it by going to pink ribbon events and encouraging girls to get a mammogram each year. Her solo project, SORROW, split up and she divorced her husband by the end of 2007.
In 2008, she announced that she was going to go through chemotherapy because of a lymph node found near her lungs that was surgically impossible to get out. But, it didn't stop Kawamura as she release her last single, "Butterfly ~Ano Hareta Sora no Mukou e", and promoted it widely at Tokyo's HMV stores.
She also started her own radio show in April 2009, entitled Kawamura Kaori no All Night Nippon. She performed at the C.C. Live Hall for the first time in so many years. She released her final album, K, a month later in May. Sadly, Kawamura lost the battle to breast cancer and died on July 28, 2009 at 11:01 am JST at the age of 38 due to complications of the cancer.
Discography
Albums
Singles
Books
[1992] volume -Boku no Te no Naka (volume ― 僕の手の中)
[2000] THESE ARE THE DAYS
[2004] True Romanc
[2005] Helter Skelter
[2009] MY SWEET HOME ~Kimi ni Tsutaetai Koto~ (MY SWEET HOME ~君に伝えたいこと~)
External Links