New user registrations have been disabled until further notice. If you would like to create an account, please message
Generasia on Facebook
. Thank you!
Kitade Nana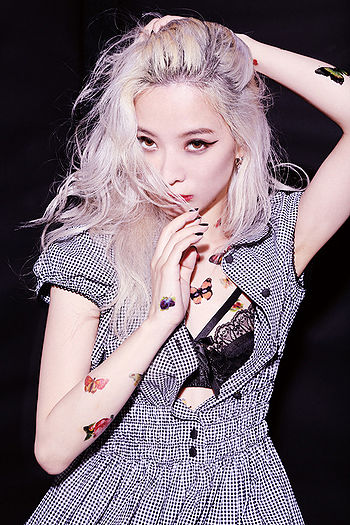 Kitade Nana (北出菜奈) is a Japanese rock musician. She made her start by winning the Sony Music Audition in 2002, making her debut with the popular Full Metal Alchemist theme song "Kesenai Tsumi". Since Kitade's debut her look has gravitated towards gothic lolita image. She has also done some modeling work for magazines such as CUTiE. In 2009, after the release of her third studio album Bondage, Kitade went on a hiatus citing poor health, and split with her label. She soon continued activity in the band Loveless, and in 2012 transition into new group THE TEENAGE KISSERS.
In 2016, Kitade announced her solo return with the release of "Bad Babe's Dreamer / Isolation" through her official website.
Profile
Birth Name: Kitade Nana (北出菜奈)
Date of Birth: May 2, 1987
Height: 160cm
Blood Type: O
Bands / Group:
Information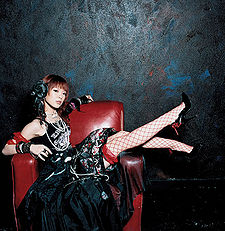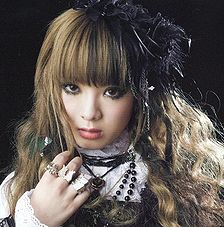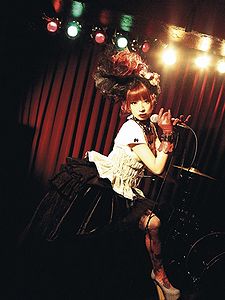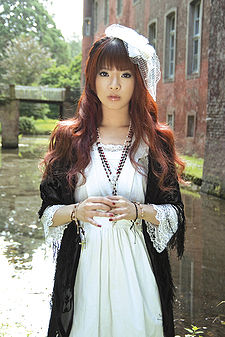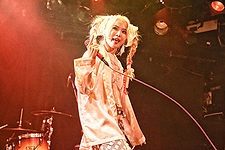 Kitade Nana started her career by entering the Sony Music Audition in 2002. After winning the competition she graduated from Hokkaido University of Education (which is attached to Sapporo Junior High School) and came to Tokyo.
On October 29, 2003, she debuted with the single "Kesenai Tsumi", which was used as the first closing theme song of the anime Fullmetal Alchemist. The single was a success, gaining the #14 spot on Oricon and stay on the charts for twenty-two weeks. With the success of "Kesenai Tsumi", Kitade then released "Kesenai Tsumi ~raw "breath" track~", which was a slowed down version of the song.
After Kitade's her debut single, her CD sales began to steadily decline on the Oricon charts. Though her first album "18 -eighteen-" sold fairly well reaching the #15 spot and charting for five weeks.
After the release of "pureness / Nanairo", Kitade's clothing style began to slowly switch to Gothic Lolita. Her new image was shown in full force with the release of "KISS or KISS" single. During the releases of "KISS or KISS" and "Kanashimi no Kizu" her Gothic Lolita clothing was more subtle, but then changed drastically with the release of her eighth single, "SLAVE of KISS".
Although by this time Kitade's popularity dwindled. Yet, interestingly she developed a small fan base and gained interest in Gothic Lolita clothing companies such as BABY, THE STARS SHINE BRIGHT (which she has repeatedly stated to be her favorite brand). Other than BABY, THE STARS SHINE BRIGHT, Kitade is a regular model in the magazines KERA and Gothic & Lolita Bible. Many young girls in Japan have stated that Kitade influenced them into dressing in Gothic Lolita clothing.
Beginning on April 27th, 2006, Kitade released 13 singles in a row. These were available exclusively via cell phone downloads, each for 100yen. Each single was released on the 7th, 17th, or 27th of each month until August 27th, 2006. Most of the songs were covers of 1980's hit song, but a few tracks were new. In July 2006, Kitade released a mini cover album, containing six of her recent cell phone singles.
She was one of the musical guests at Otakon 2006 in Baltimore, Maryland. Her debut album was also released in the United States through Tofu Records on July 11th, 2006 with the bonus track "KISS or KISS (English Version)".
The end of 2006 brought about Kitade's second album, "I scream". The album didn't do well, only charting for a week, peaking at #150.
In 2007, Kitade released "Antoinette Blue", which gained moderate success. The single lead-up to her first best of album entitled, "Berry Berry SINGLES ". The album didn't receive much promoting and only peaked at #95.
In France, Kitade has also performed at Japan Expo, which took place in Paris in 2007. Her best album "Berry Berry SINGLES " includes footage of her travel and performances there.
On June 1st 2009, Kitade issued a statement on her offical website stating that she would be taking a small hitaus from her career. The reason she stated for the hiatus is due to her bad health.
In early 2013 she announced that they are creating a VOCALOID with her voice.
Discography
Studio Albums
Mini Albums
Other Albums
Singles
Other Singles
Video Releases
Works
Live Events
Magazine Features
External links