Due to an influx of spam accounts getting through and joining the site, user registrations have once again been disabled until further notice as we work on a different solution.
MALICE MIZER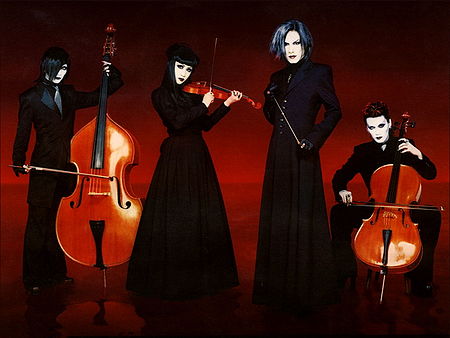 MALICE MIZER (1992 – 2001) is widely considered one of the most influential bands of Japan's visual-kei music scene. Formed by Mana and Közi, the band's name stands for malice and misery – the answer to the question 'what is human?' MALICE MIZER were as famous for their one-of-a-kind music as for their spectacular live shows, featuring lavish historical costumes and stage sets, whimsical dance routines and band members 'flying in' suspended from wires. During their rocky history, the band went through several different lineups and three drastic image changes but their work always maintained the highest professional standards. Following a series of tragedies, Malice Mizer went into an 'indefinite hiatus' and effectively disbanded.
Members
Former Members
Biography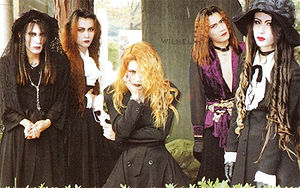 Tetsu Era (1992 – 1994)
MALICE MIZER was formed in 1992 by Mana and Közi with Tetsu on vocals, both Mana and Közi on guitar / synthesizer, Yu~ki on bass and GAZ on drums. MALICE MIZER's sound during the Tetsu era was a mixture of early 1980s goth and strong classical influences. Their first official release was the song Speed of Desperate on the 1993 compilation Brain Trash. Shortly after its release, GAZ left the band to join KneuKlid Romance and KneuKlid Romance's drummer Kami in turn joined MALICE MIZER. In 1994, the band released their first album, memoire, on Mana's newly founded Indie music label, Midi:Nette, and shortly after re-released it with an additional bonus track under the title memoire DX. Only days later, singer Tetsu left the band, reportedly due to creative differences. The split was most likely amicable, considering they continued to use songs written by Tetsu.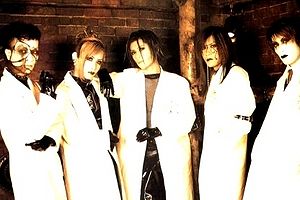 Gackt Era (1995 – 1999)
In 1995, after a year of inactivity, MALICE MIZER recruited Gackt as vocalist. Under his influence, the band's music became more wistful and romantic in its mood, incorporating even stronger classical influences as well as French pop music. Visually, the band abandoned their 1980s gothic look for colorful historical costumes. In 1996, MALICE MIZER released their second album, Voyage sans retour. The band became increasingly popular and in 1997 signed with the major label Nippon Columbia, where they released a number of successful singles, a short film, Verte Aile, and, in 1998, their first and only major label album, the hugely popular merveilles. They even had their own radio show. In January 1999, at the height of Malice Mizer's success, Gackt parted ways with Malice Mizer, taking a substantial part of their fan base with him. MALICE MIZER left Nippon Columbia and returned to Mana's indie music label, Midi:Nette.
A few months after Gackt's departure, drummer Kami died of a subarachnoid hemorrhage, leaving behind a handful of songs, which the band eventually released as part of the mini-album / video boxset Shinwa. Kami was never replaced. From that point onward, Malice Mizer would only use support drummers and Kami would be credited as 'eternal blood relative' on all their future releases.
Klaha Era (2000 – 2001)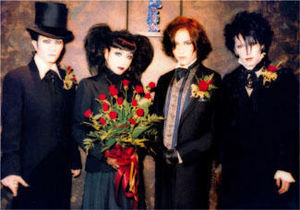 In the second half of 1999 and the beginning of 2000, MALICE MIZER – still without an official vocalist – released a number of singles and began to work on a new album. Eventually, they recruited classically trained Klaha, previously a singer with visual kei / darkwave band Pride of Mind. By now, the band had abandoned the lighter pop music sound of the Gackt era for a dramatic mixture of classical music, gothic and heavy metal music and adopted an elaborate funereal goth look. In the summer of 2000, they released what would be their last album, Bara no Seidou, followed by their most spectacular live show ever, featuring pyrotechnics, a choir of veiled nuns and a life size cathedral as stage prop. In 2001, Malice Mizer starred in a feature length vampire movie, Bara no Konrei ~Mayonaka ni Kawashita Yakusoku~, and released three more singles, amongst them the fan favorite "Beast of Blood", but eventually the band members decided to go their separate ways.
Post Projects
Gackt and Klaha are both pursuing solo careers. Mana has formed his own solo project, Moi dix Mois, and simultaneously pursues a career as fashion designer for his Gothic Lolita fashion label, Moi-même-Moitié. He continues to also run his own Indie music label, Midi:Nette, and is looking for bands to sign and produce. Közi has joined Haruhiko Ash's goth / industrial music band Eve of Destiny and also has a solo project. In 2012 he formed band ZIZ. Tetsu went on to be in ZIGZO, and is currently in NIL. The whereabouts of Yu~ki were unknown until he resurfaced in 2004 as co-writer of one of Közi's solo songs.
Discography
Studio Albums
Best Albums
Boxes
Singles
Demos
Video Releases
Compilations / Other
Publications
Books & Magazines
External Links