New user registrations have been disabled until further notice. If you would like to create an account, please message
Generasia on Facebook
. Thank you!
MixxZine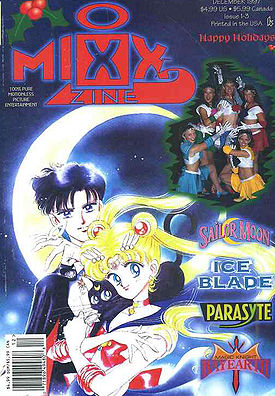 MixxZine was an North American-based, monthly manga magazine, published by Mixx Entertainment. The magazine started in October 1997, to compete with Viz Media's Manga Vizion. The magazine was quite successful in the beginning, but after a series of problems, the magazine ended in 2000.
Series
Information
Mixx Entertainment was an up and coming manga company. To put themselves on the market they created a monthly manga anthology, MixxZine. During this time the only other manga magazine was Viz Media's Manga Vizion. The first issue hit stands in October 1997, and contained two shojo (Sailor Moon and Magic Knight Rayearth) and two shonen (Parasyte and Ice Blade) series. Sailor Moon was the main draw of the magazine, and the people at Mixx hoped that people would by the magazine for it, but end up liking the other series as well. They also offered "MixxMoney" to subscribers and to people who filled out the surveys from the magazine, which could be used to purchase Mixx Entertainment media.
In July 1998, it was announced that a separate arc of Sailor Moon would run in it's own stand alone monthly comic. It also annoucned that Mobile Suit Gundam: Blue Destiny and Bakuretsu Hunter would be joining the magazines line-up. In September, Sailor Moon was taken out of the magazine, without any notice given to readers, and moved to Mixx's new teen girl magazine, SMILE.
In 1999, Mixx Entertainment renamed themsevles Tokyopop, and so the magazine was renamed Tokyopop as well. The magazine was later cancelled in 2000.
External Links