New user registrations have been disabled until further notice. If you would like to create an account, please message
Generasia on Facebook
. Thank you!
Nozawa Yuki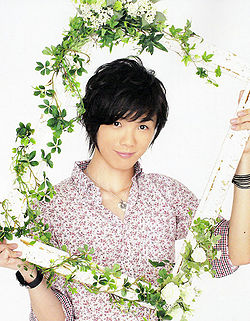 Nozawa Yuki (野澤祐樹) is a member of Johnny's Jr. group Mis Snow Man.
Profile
Name: Nozawa Yuki (野澤祐樹)
Nicknames: Nonchan, Nokkun
Birthday: December 30, 1992
Blood Type: O
Weight: 57kg
Height: 183cm
Admired sempai: Miyake Ken (V6)
Hobby: Listening to music
Recent Interest: The color pink (especially on cell phone straps and rings)
Treasure: Encouraging words he got from Fujigaya in EbiKisu con (2008)
Strong point: Can sleep anywhere at anytime and looking after little kids
Weak point: Talking about love, falling asleep (will fall asleep if not moving, has to pinch self to stay awake), scatterbrain
Loves: V6, music (can't be without his music player), shopping, tea
Favorite food: Shogayaki (ginger-grilled pork), anchovies
Disliked food: Celery (can't stand the bitterness)
Energy song: Everything from V6 but especially "Good Day!!" and "Spirit"
Best subject: Gym
Weak subject: English, Japanese
Former Groups:
Information
Nozawa Yuki entered Johnny's Entertainment on June 12, 2005.
Trivia
He is bad at cooking.
He has a younger brother and sister.
He started learning Hip-Hop dance in the 3rd grade of elementary school.
Doesn't like being tall because it's difficult to find clothes & makes dancing difficult.
He feels awkward when it comes to love/girl related topics and can't talk about romance.
Always carries a ton of stuff with him. (hair dryer, flat iron, charger for his portable music player, small speakers, extra batteries for the speakers, charger for his video game and even 3 cell phone chargers in case several others need to borrow them at the same time - he even owns an emergency charger in case the power goes out.)
According to the other members his mental age is 38 (while all the other members - aside from Abe who is also adult - are about 5)
Works
CM
NTT東日本 フレッツ光・マンションの絵篇 [2006]
日清レンジSpa王 [2009]
Variety
Drama
Movie
External Links