New user registrations have been disabled until further notice. If you would like to create an account, please message
Generasia on Facebook
. Thank you!
RENTRER EN SOI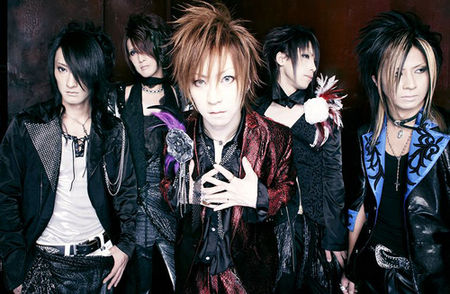 RENTRER EN SOI (pronounced rientooru an soi) was a Japanese visual kei band, consisting of five members: Satsuki (Vocals), Takumi (Guitar), Shun (Guitar), Ryo (Bass), and Mika (Drums). The band had been produced by ex-BAISER vocalist, Yukari, but later were producing themselves. Rentrer en Soi means "Self Revolution" or "Return to one's self."
Biography
Rentrer en Soi formed in early to mid 2001, with the original line up of Satsuki (vo), Takumi (gu), Ao (gu) and Ryo (ba), promoting only one demo tape at the time. Their first single, hitsuu kizuato was released only almost a year later, in March, 2002. In March of 2003, Mika joined as the drummer and the band began a tour across the Kanto region, passing out "Hoshikuzu no Rasen-ReSpirial-", "Shinwa" and "Ichigo Oblate" for free. Later that year, Rentrer en Soi started playing in Tokyo and participated in an omnibus album, "Gekokujou". On January 31, 2004 Rentrer en Soi released their first album Yurikago, and did a one-man live shortly after. After the one-man live ended, Ao left the band. In an effort to continue making music, Shun replaced Ao as the guitarist. The second press of Yurikago was then released. The band then embarked on a nationwide tour, spring of that year. Since then, Rentrer en Soi has released 1 DVD, 4 singles, 1 album and 2 mini albums in only a year and a half.
In September 2008, the band announced they would be breaking up. No clear reasons for the disband were never given. RENTRER EN SOI performed their last live on Christmas day 2008.
Members
Former Members
Discography
Albums
Mini-Albums
Best Albums
Singles
Omnibus
Demotapes
Videography
External Links