Due to an influx of spam accounts getting through and joining the site, user registrations have once again been disabled until further notice as we work on a different solution.
SHAZNA
SHAZNA (シャズナ) is a Japanese visual-kei rock band that was formed back in 1993. After a successful indie career, the band was signed to the major label BMG FUNHOUSE. After making their major debut in 1997 the band soon became quite popular, having a couple top twenty hits. In 2000, the band broke up and have since reunited in fall of 2006.
Members
Former Member
Information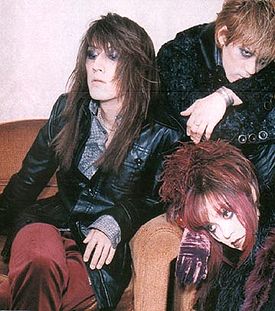 SHAZNA formed back in 1993. The band started out playing local shows at clubs in Shinjuku. The band became well-known mainly for IZAM, whom dressed very feminine; he often wore gothic lolita dresses, heavy make up, and hair in female styles. They soon signed to a local indie label where they started releasing music.
On 1994.04.17, the band released their debut single, "Stilness For Dear". They followed up a couple months later with their first mini-album, Sophia. It wasn't until 1996 that the band's mini-album, Raspberry Time made its way onto the Oricon chart.
In early 1997, the band released another mini-album, Promise Eve. This album sold more than any previous release and charted higher. The band's last indie releases, the Lavender Color video also rose to the top of the Oricon indies charts. Then they started playing to sold out venues.
KATSURA eventually left SHAZNA. He joined another visual-kei band called BAISER, and later enjoyed some success.
In late 1997, SHAZNA was offered a record deal and signed to the major label, BMG FUNHOUSE. With this transition from indies, the band changed their style adopting more of a pop sound. The band made their major label debut on August 27th 1997, with the single "Melty Love". The song originally was found on the bands indie Promise Eve mini-album. With this release the band became an instant success; the single reached #2 on the Oricon charts, selling around 700,000.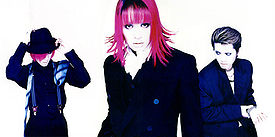 The band soon followed-up releasing their second single, "Sumire September Love". The title track was a cover of an IPPU-DO song. The single also became a hit, reaching #2 on the Oricon charts. The group's next single gained even more success, reaching #1 on the Oricon.
In 1998, SHAZNA released their first full-length album, GOLD SUN AND SILVER MOON. The limited edition of the album was released on January 22nd 1998, and came with a slipcase, 3-Discs, and a photobook containing mainly pictures of IZAM.
Throughout 1998, the band continued to release successful singles that topped the Oricon charts. After the release of "Love is Alive", the band moved to the Toshiba EMI record label. By 1999, the bands popularity had started to decrease. That year, they released three singles that all charted in the lower end of the Oricon top twenty.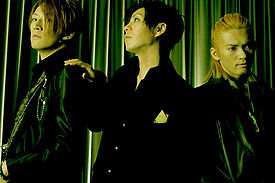 On June 30th 1999, SHAZNA released their second album, PURE HEARTS. The album did poorly compared to their debut and the singles leading up to its release. It reached #15 on the Oricon charts, only selling around 41,000 copies.
The band returned in fall of 1999 and released two more singles, "AQUA" and "Winter's Review". Both sold poorly and reached #45 and #44 (respectively) on the Oricon charts. The band then split up, and their label released a best-of album.
After the band split, the members all went their different ways. IZAM became a solo artist, who scored some minor success. He also moved his way into acting, taking roles in several films. A・O・I became an acoustic artist; and NIY join another band named FANBLE.
In 2006, SHAZNA reunited after a six year absence from the music world. They held their first comeback concert in September of 2006. This time around, IZAM has shed his dress and make-up. The band has begun releasing music again, but have left pop influences behind and have returned to their rock roots.
Discography
Mini-albums
Studio albums
Best albums
Demo tapes
Singles
Videos
External Links