Due to an influx of spam accounts getting through and joining the site, user registrations have once again been disabled until further notice as we work on a different solution.
SID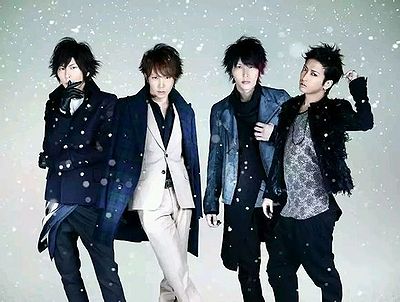 SID (シド) is a four member Japanese rock band signed with major label Ki/oon Records, a sub-label of Sony Music Entertainment. They formed in May of 2003 by Mao and Aki, though it wasn't until their first one-man live at Meguro Rockmaykan on January 14th, 2004 that Shinji and Yuuya officially joined. SID made their major debut with their 11th single "Monochrome no Kiss" on October 29th, 2008.
Members
Biography
2003-2005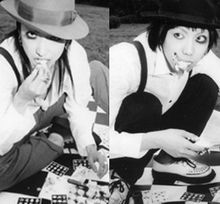 SID was formed as a visual-kei band in May of 2003 by Mao (ex-SHULA) and Aki (ex-RAM∞REM) somewhere in the Kantou region of Japan. There isn't many specicfics about their schedule in 2003, though they did release a MiniDisc titled "Yoshigai Manabu 17-sai (Mushoku)" in August 20th, 2003. A second press of it was released three months later on November 7th. Copies of both presses came to a total of 2,100 units and it's currently out of print and sold-out.
Though SID formed in 2003, they didn't consider themselves "whole" until January of 2004, when Shinji (ex-URANUS) and Yuuya (ex-SHULA) officially joined the group, as until that point they were live support members. They became members after the band's one-man concert at Meguro Rockmaykan on January 14th. The group's second one-man live was held on March 28th at Takadanobaba AREA; at the concert copies of their debut single "Kanjou Ban" was sold. At this point, the band wasn't signed with a label, and instead self-published their first releases through their own label called Aishuu Democracy.
In the coming months "Kanjou Ban" would see two different re-releases. The first of which was released as "Tsuuhan Ban" on April 4th, while the second one was released on June 6th as "Ryuutsuu Ban". As the name implies, "Tsuuhan Ban" was only available through mail order, and "Ryuutsuu Ban" was their first widely available single. It reached #7 on the indies Oricon weekly charts, and #110 on the overall charts where it charted for two weeks.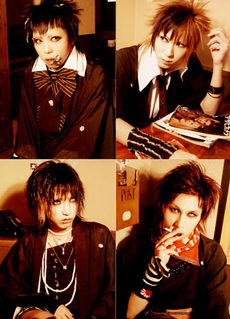 When Miyavi had to cancel his appearance at Anime Central in May of 2004, SID was chosen to fill the spot, even before they had signed with a label. Since the two-day convention, the group has gained quite a number of international fans. Anime Central was the first place their singles were available overseas, though at that time only two of the three versions of "Kanjou Ban" were released.
Soon after the American convention, the band signed with the independent label DANGER CRUE RECORDS, a prolific visual-kei label and a part of MAVERICK DC GROUP. Two more one-man lives preceded their first release with label backing: #1 was at Shibuya CLUB QUATTRO on August 30th, and #2 was at Ikebukuro CYBER on December 9th.
On December 22nd SID's debut album Ren'ai was released. The album was many firsts for the group: it was of course their first album, it was their first release to be available in more than one version, and it's their first and only album to see a re-release. Ren'ai was reprinted five years after its initial release on February 25th, 2009. The album reached #44 on the Oricon overall weekly charts, where it charted for four weeks. A band score for the album was later released on November 27th, 2008.
For two consecutive days the group participated in two events. The first event, titled "Tenka -San-", was presented by DANGER CRUE and was at Nippon Budoukan on December 25th. "Beauti-Fool's Fest 04", the second event, was presented by the magazine FOOL'S MATE and was on December 26th at Tokyo BAY NK HALL. Those two events ended the year for SID.
2005 started off with a three date tour in January to support and promote the release of Ren'ai. All three dates were sold out and had a schedule of: January 7th at Nagoya HEARTLAND, January 9th at Nanba ROCKETS, and lastly January 14th at LIQUID ROOM ebisu. The next activites were during March, as there wasn't any in February. SID was one of the bands present in the "Independence-D" event at Shinkiba STUDIO COAST on March 13th. To start April's activities, the group had a secret concert at Meguro Rockmaykan on the 21st. On the 24th they had a live at Shinigawa Prince Hotel's stella Ball called "Darkness wing of pain ~Kizutsuita Tsubasa wo Hirogete, 2005~".
That concert was important for the band as during it they announced that their next release, a single+DVD combination release titled "paint pops", was going to be put out on July 20th. They also revealed the live that was going to support and promote it, which would happen five days later. When the live's date was launched, it sold out, so a second performance the next day would take place at the same venue. Between the April concert and the release of their second single, SID was in the "event stylish wave '05 Shibuya no Tairan" event at Shibuya-AX on May 1st.
Discography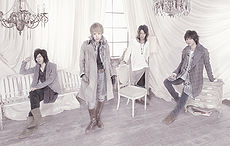 Studio Albums
Best Albums
Mini Album
Singles
Other Singles
Digital Singles
Video Releases
Compilations
Publications
Books
[2007.03.22] SID play Band Score
[2008.03.28] SID Sentimental Macchiato Band Score (センチメンタルマキアート)
[2008.05.xx] SID TOUR DOCUMENT GRAPH
[2008.10.24] SID Hoshi no Miyako Band Score (星の都)
[2008.11.27] SID Ren'ai Band Score (憐哀-レンアイ-)
[2009.01.28] SID Side B complete collection ~e.B~ Band Score
[2009.10.31] SID hikari Band Score
[2010.02.xx] SID TOUR DOCUMENT GRAPH II
Piano Piece Series
[2008.11.26] Piano Piece Series No.938 Monochrome no Kiss (バンドピース No.938 モノクロのキス)
[2009.02.25] Piano Piece Series No.957 Nidome no Kanojo (バンドピース No.957 2°C目の彼女)
[2009.06.03] Piano Piece Series No.977 Uso (バンドピース No.977 嘘)
[2009.12.11] Piano Piece Series No.1027 one way (バンドピース No.1027)
[2010.04.06] Piano Piece Series No.1055 sleep (バンドピース No.1055)
[2010.07.14] Piano Piece Series No.1083 Rain (バンドピース No.1083 レイン)
Magazines
[2005.12.xx] Zy.[zi:] No.26 (Feature & Video)
[2009.11.xx] ARENA37 Degree December 2009 (Feature)
[2010.09.xx] FOOL'S MATE 2010 November Issue (Feature)
[2011.02.xx] ARENA37 Degree March 2011 Issue (Feature)
[2011.02.xx] FOOL'S MATE April 2011 Issue (Feature)
[2011.09.xx] PATi PATi October 2011 Issue (Cover & Feature)
External Links