User registrations have now been re-enabled. If you previously had an account and logged in via OpenID, please create a new account. Thank you!
Shiratori Emiko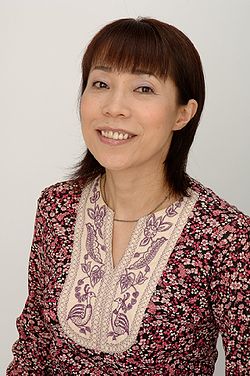 Shiratori Emiko (白鳥英美子) is a Japanese pop and folk singer firstly most known for the duo Toi et Moi with Akutagawa Sumio during the early 70's. She also became highly successful with her solo career in 1987 with the album "AMAZING GRACE". The younger generation is mostly familiar with her for singing the theme song "Melodies Of Life" for the PlayStation video game Final Fantasy IX. Her daughter is singer-songwriter Shiratori Maika, better known for her work in Taiyou no Uta.
Profile
Name: Shiratori Emiko (白鳥英美子)
Maiden Name: Yamamuro Emiko (山室英美子)
Birthday: March 16, 1950
Birthplace: Kanagawa Prefecture
Biography
Shiratori Emiko (birth name: Yamamuro Emiko) began singing at the age of 6 to which she was introduced by her mother who was a cabaret singer during the war. Yamamuro pursued a high degree in English aiming for professorship yet her passion for singing remained strong and she kept sending demo tapes in hopes of getting noticed. Her career as a singer, however, didn't start out that well until in 1969 she and Akutagawa Sumio formed the duo Toi et Moi under Toshiba EMI. The duo turned out to be highly popular which even granted Yamamuro the chance to sing the song "Niji to Ame no Ballade" in the Sapporo Winter Olympics in 1972. The year 1973, however, saw the disbandment of the duo and Yamamuro went pursuing a solo career as a composer and producer under the record label Fun Housse.
Her debut solo album "Yamamuro Emiko" was released quite quickly after the disbandment of Toi et Moi. In 1975, Yamamuro Emiko married Shiratori Sumio, a composer and producer under the independent label WOOD-GREEN, who would also end up being the producer for her future releases and changed her name to Shiratori Emiko. September 25th, 1976, Shiratori gave birth to their first child Shiratori Maki. In 1977, she returned to releasing music but under the pen name ARO which compromised of her and her husband Shiratori Sumio. They continued releasing under the record label Victor Entertainment till 1981. In 1982, she continued with her solo career under her own name releasing two new albums till 1983 when she decided to focus on her family and so moved to America.
Signed to King Records, Shiratori returned in 1987 with the commercial success with the album "AMAZING GRACE" which featured Shiratori singing completely in English and with the Los Angeles Philharmonic. The success of "AMAZING GRACE" also led her to work with the Warsaw Philarmonic Orchestra the next year. Due to the success, Shiratori also toured widely around Asia with a symphonic orchestra from 1987 to 1989. In 1990, Shiratori collaborated with her husband Shiratori Sumio in doing the music to the anime series Tanoshii Moomin Ikka, a series based on the Moomin books by the Finnish writer Tove Jansson, which turned out to be a widely celebrated show in Japan during the 90's. However, after 1991 Shiratori started to fade away from the public as her sales started to drop.
In 1993, she released her first completely self-produced album "ARCADIAN". The next year she celebrated her 25th anniversary in music business by releasing the mini-album "Shiratori Emiko". In 1995, she released "G Senjou no Aria" album comprising of her earlier songs and one new song. The same year "Dear...", a collection of her The Beatles tribute songs, was released. In 1996 she temporarily quit King Records and rejoined Fun Housse, to which Akutagawa Sumio was signed to as well. In 1997, Toi et Moi was brought together and they began releasing new material. However, Shiratori grew dissatisfied with Fun House as they released two compilation albums in a too short amount of time and so she finally quit the label in 1999.
In 1999, Shiratori was approached by Universal Music Japan but due to Shiratori's temporary leave from King Records she still had two years with them until the contract would end. With the year 2000 came Shiratori's new breakthrough as she was chosen by Uematsu Nobuo to sing the theme song "Melodies Of Life" for the PlayStation role-playing game Final Fantasy IX. The single reached #10 on the Oricon charts and sold 114,260 copies. Her next solo album "Cross My Heart" also featured her covering the Final Fantasy series' ending theme melody with Uematsu Nobuo. In the year 2001, she released yet one new album under King Records but this would turn out to be her last year with them. The same year she signed to Universal Music releasing her first single "Shizuka na Chikyuu no Ue de" with them. Her first full album with Universal Music, "I'm Here ~Toki no Uta~", in 2002 was produced in America and the album was almost completely sung in English. In the year 2005, Shiratori collaborated with Watanabe Toshiyuki under Gunboy by releasing the symphonic image album Kimi wa Su・te・ki ~Emiko Shiratori sings VIFAM~ celebrating the 20th anniversary of the anime series Ginga Hyouryuu Vifam.
Discography
Albums
Best Albums
Singles
External Links