Generasia would not be what it is today without the countless contributions by both staff and members alike! Thank you for all that you do!!
W (duo)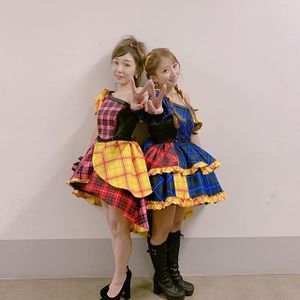 W (ダブルユー) (also known as Double U or Double You) was a Hello! Project duo consisting of Tsuji Nozomi and Kago Ai. It has been disbanded since Kago's contract was terminated. In 2019, they performed several songs at the Hello! Project 20th Anniversary!! Hello! Project Hina Fes 2019.
History
W debuted on January 3, 2004 at a Hello! Project 2004 Winter concert and consisted of Tsuji Nozomi and Kago Ai who both graduated from Morning Musume on August 1, 2004.
As W, they released two albums and six singles. They also released one photobook, one essay book, and a set of trading cards.
On January 11, 2006, the release of a new single on February 22 and the release of their third full-length album, on March 15, was announced. On Kago's 18th birthday the titles of both new CDs became available: "Dou ni mo Tomaranai" and "W3: Faithful" little was it known these would not make it to market
W was put on indefinite hiatus on 10 February 2006, following the suspension of Kago for smoking while underage. The unit was permanently disbanded on March 26, 2007 when Kago was released from her contract for socializing with an older man.
W songs continued to be performed occasionally in the interim by other Hello! Project members during tours.
2018 saw the mending of Kago's fraught relationship with Hello! Project, as she was invited to perform as a special guest at Hello! Project 20th Anniversary!! Hello! Project 2018 SUMMER. In 2019, Kago and Nozomi were announced as "Premium OG Guests" at Hello! Project 20th Anniversary!! Hello! Project Hina Fes 2019, marking the first time in over a decade that W will stand on stage together and perform again. While future activities are unconfirmed, both girls are enthusiastic about performing together again.
Following their appearance at Hina Fes 2019, W released a digital EP, Choiwaru Devil, which consists of unreleased tracks from their canceled single "Dou ni mo Tomaranai / Choiwaru Devil" and canceled album W3:faithful. On June 26 they had their next performence on the 55th Anniversary of TV Tokyo Music Festival. They sung 2 songs, Robokiss and Samishii Nettaigyo.
Members
Discography
Albums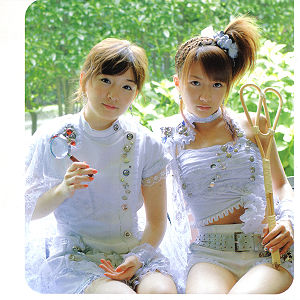 Singles
Digital Singles
Compilations / Others
DVDs
Photobooks
External links