New user registrations have been disabled until further notice. If you would like to create an account, please message
Generasia on Facebook
. Thank you!
Zwei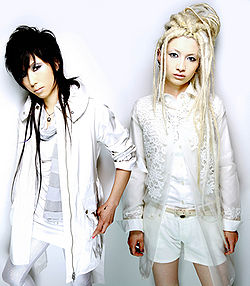 Zwei [Japanese pron: 'Dzuvai' (ヅヴァイ)] is a Japanese duo that debuted in May 2004 with the single "Movie Star". They are produced by Nick Wood, and Simon Le Bon of Duran Duran is often credited in their works.
Members
Information
Zwei was formed in 2002 after Kera model Ueno Megumi scouted her soon-to-be-vocalist Ayumu at a live house. Ayumu had been in the band Cherry Feel at that time and was doing numerous street performances with them. Ueno approached Ayumu in her dressing room and asked if she would be the vocalist for the band Ueno was starting.
The two didn't make their debut until May 2004, and several months before that Ueno had begun going by the name "Megu" for Kera. In the May 2004 issue of Kera (out in April 2004), Megu officially announced her departure from the magazine with a lengthy article that profiled her modeling career since her debut in June 1999. However, starting in July 2004 Megu was given her own column called "Zwei Megu no Suki desu - Wasshoi" ('Zwei Megu's favorites wasshoi'). This is where Megu got to talk about what she's recently been into, or she would promote new Zwei releases. It appeared in each issue of Kera since then and took up about half of a page. However, this column was ended with the March 2007 issue. Megu has come back on several occasions since leaving the magazine to do special photoshoots.
After their first single "Movie Star" was released, their second single "Watashigai no Uta" followed and shortly after its release there was news of a first album. The album, Pretty Queen, was released in October of 2004 and contained both of Zwei's singles and their b-sides. A limited edition and a normal edition were both released. They both had different booklets and the limited edition came with a DVD of three PVs, including "Pretty Queen", which was the b-side to "Watashigai no Uta".
The duo has continued to release singles on a somewhat steady basis, and in 2005 they began working with Oshima Kousuke, formerly of Wands. On September 2nd, 2006 it was announced they had been transferred to Universal Music Japan, but they have since been dropped from the label and their latest single, "Koyubi no Paradox", will be released under 5pb. Records. The title track will be used as the opening theme for Memories Off - Yubikiri no Kioku.
During 2009 the members of Zwei also did a handful of solo projects, such as video game theme songs and acting as supporting members for other bands.
Trivia
'Zwei' is the German word for 'two'.
Megu modeled exclusively for Kera from June 1999, the ninth issue.
Before forming Zwei, Megu had been in the band Pineal as their bassist.
Ayumu was the vocalist for the indies band Cherry Feel from 1998-2002.
In spring 2006, it was announced Zwei was filming the PV for their song Denny, found on the Z album. Complications arose when the band tried to get the video up for viewers on Music-Ups, a website that has Zwei listed as a POScam (Glico health snack) supporter. Word had it that the PV had been banned but Zwei did their best to make it available, and the PV was uploaded. However, the version was only a short one. A few days later, Zwei put a "NO-CUT" version of the music video on their website. It was revealed that the reason the video was banned was not due to copyrights, but because of the graphic shibari (Japanese bondage) scenes between two women.
Discography
Albums
Singles
Joint Singles
Internet Exclusive
DVD
External Links